5 Restaurants and Cafes at Hitachi Seaside Park: Enjoy Foods Unique to Ibaraki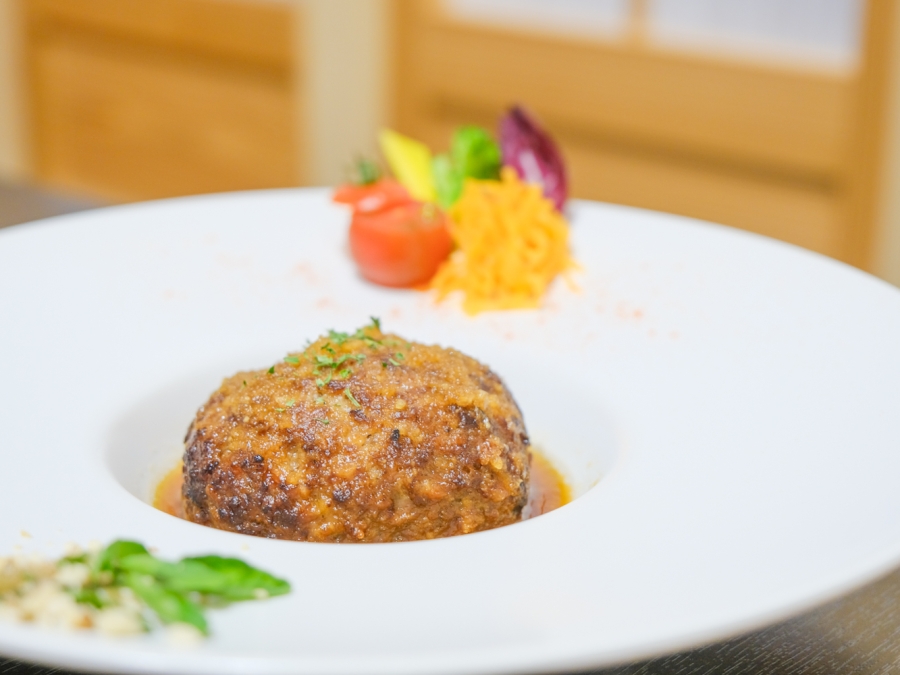 Hitachi Seaside Park in Ibaraki Prefecture is one of the most scenic locations in Japan. There are numerous restaurants, cafes, and traditional Japanese restaurants inside and near the park where you can taste Ibaraki's unique cuisine. In this article, we will introduce popular food spots in Ibaraki that use locally sourced ingredients.
Enjoy Hitachi Seaside Park and Ibaraki's Culinary Delights!
Hitachi Seaside Park has become famous both domestically and internationally. The park is home to several varieties of flowers planted across its extensive land. In mid-April to early May, the hills are painted blue with nemophila flowers, while the vibrant kochia greenery covers the ground from mid-August to late September and then dyes the area stunning red from early to mid-October. The park is most popular during these months.
Why not take the opportunity to enjoy restaurants and cafes offering delicious cuisines unique to Ibaraki on a visit to this popular travel destination?
Ibaraki Prefecture has consistently ranked in the top two or three positions in Japan's agricultural output for the past several decades. The prefecture produces many delicious ingredients, including renowned brands such as Hitachi beef and Rose pork, as well as vegetables, fruit, and more.
In this article, we've carefully selected restaurants within Hitachi Seaside Park or accessible within 20 minutes by car. Wherever you go, you can thoroughly enjoy incredible dishes made with ingredients produced in Ibaraki.
1. A Cafe with a Spectacular Ocean View! Glass House Sea Side Cafe (Inside Park)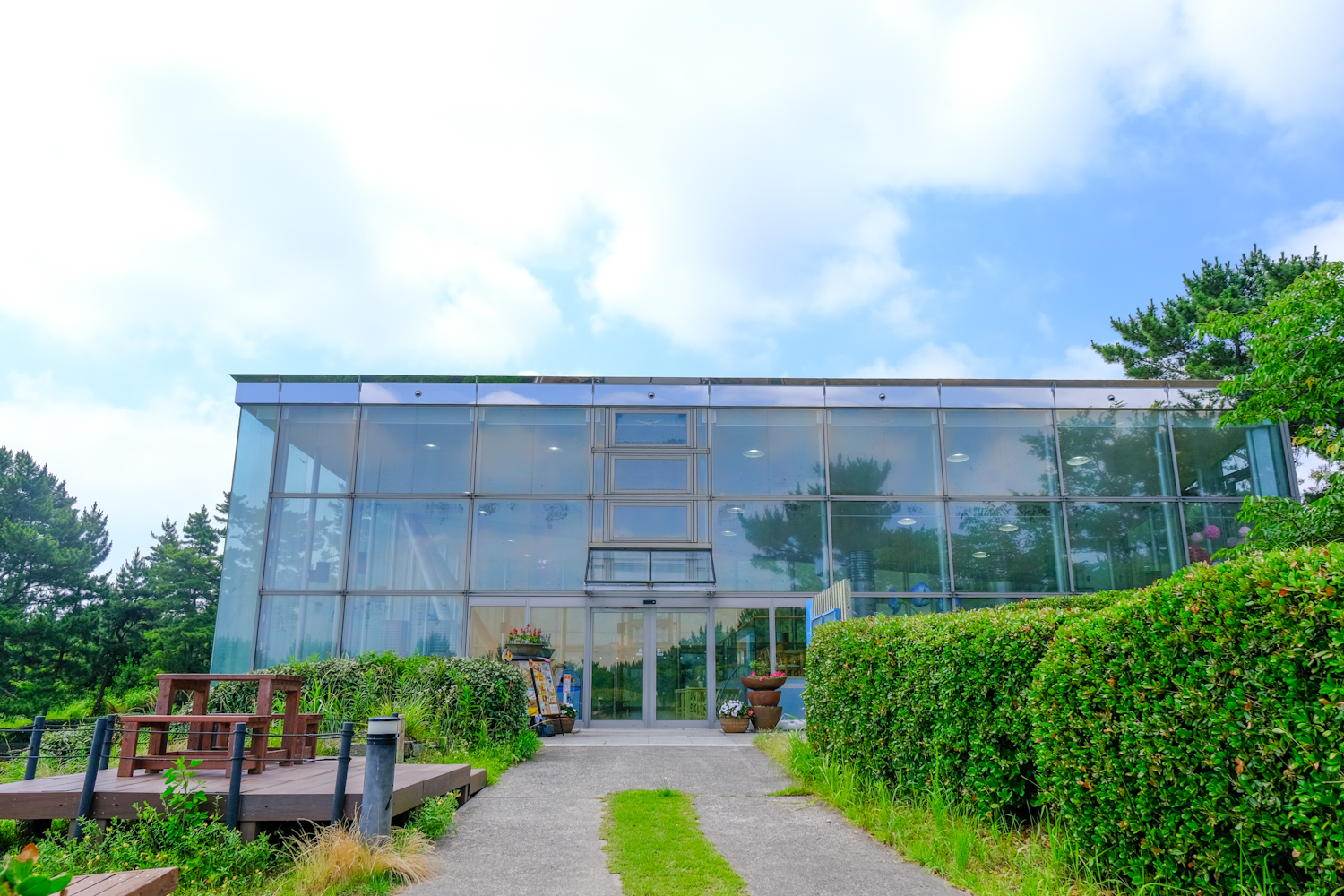 There are many cafes and restaurants inside Hitachi Seaside Park.
Glass House Sea Side Cafe near the Seabreeze Entrance is one of those cafes.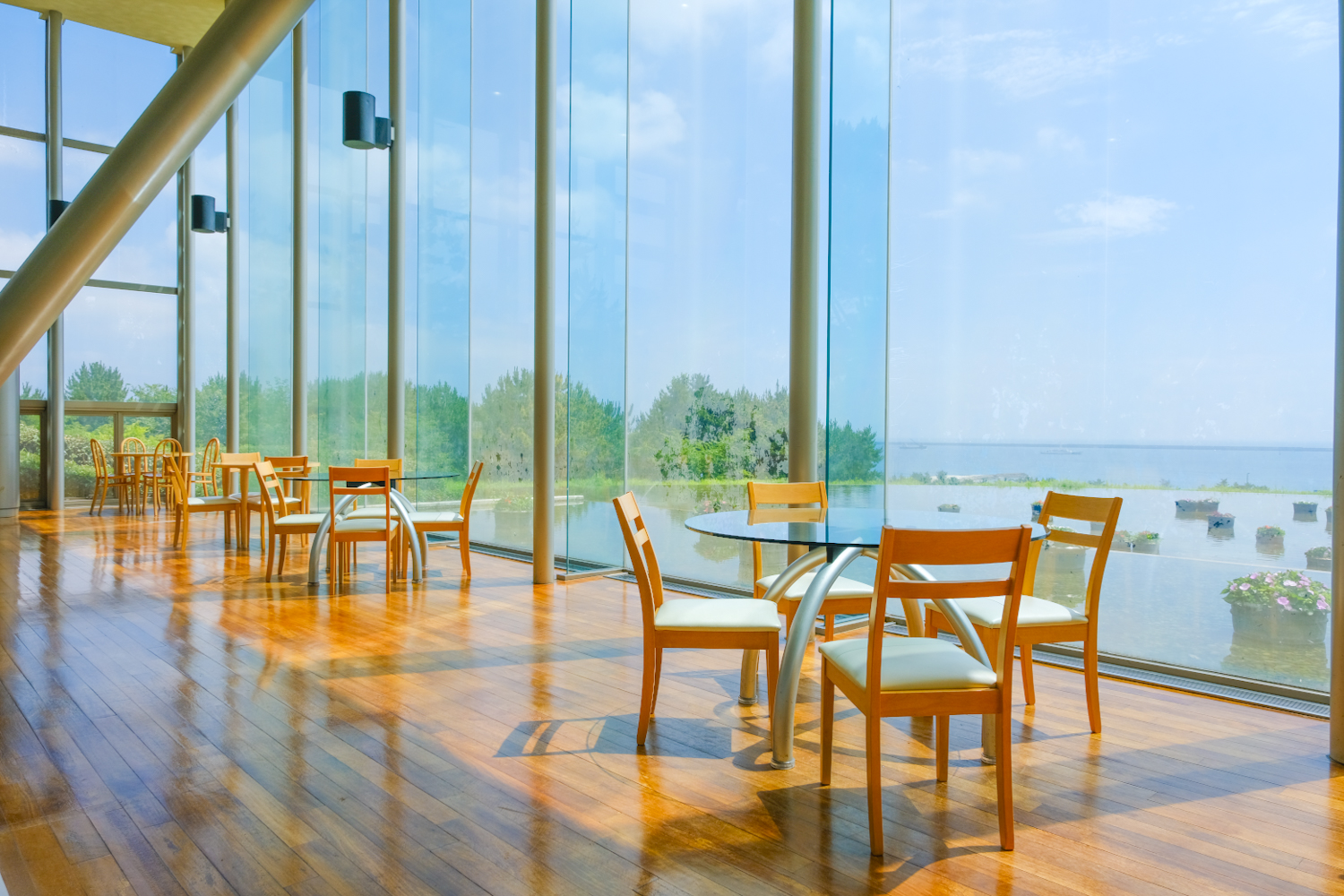 It is the cafe closest to the sea in the park, with a sweeping view of the ocean from the shop's glass walls.
In the spacious Glass House Sea Side Cafe, you can delight in desserts and drinks made with locally grown Ibaraki fruit. Pasta dishes and soup are also available for a light meal.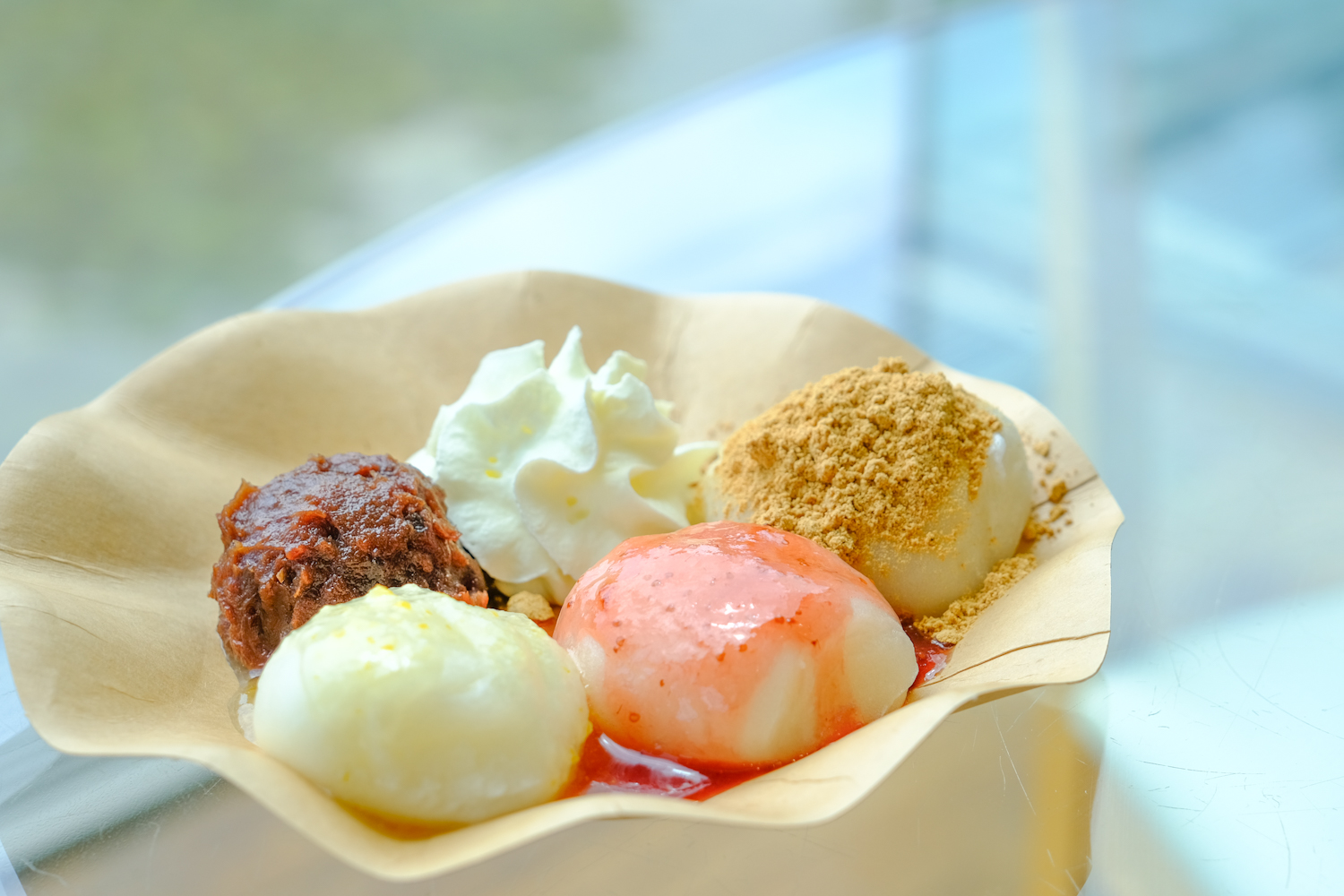 Our recommendation is the Strawberry & Yuzu Cream Dango, rice dumplings made with locally produced rice and fruit sauce. The item comes with two sets of dango with one topped with fruit sauce and the other sprinkled with kinako soybean powder.
These bite-sized desserts have a moreish chewy texture. It gets sweeter the more you chew and goes amazingly well with the refreshing taste of fruit sauce.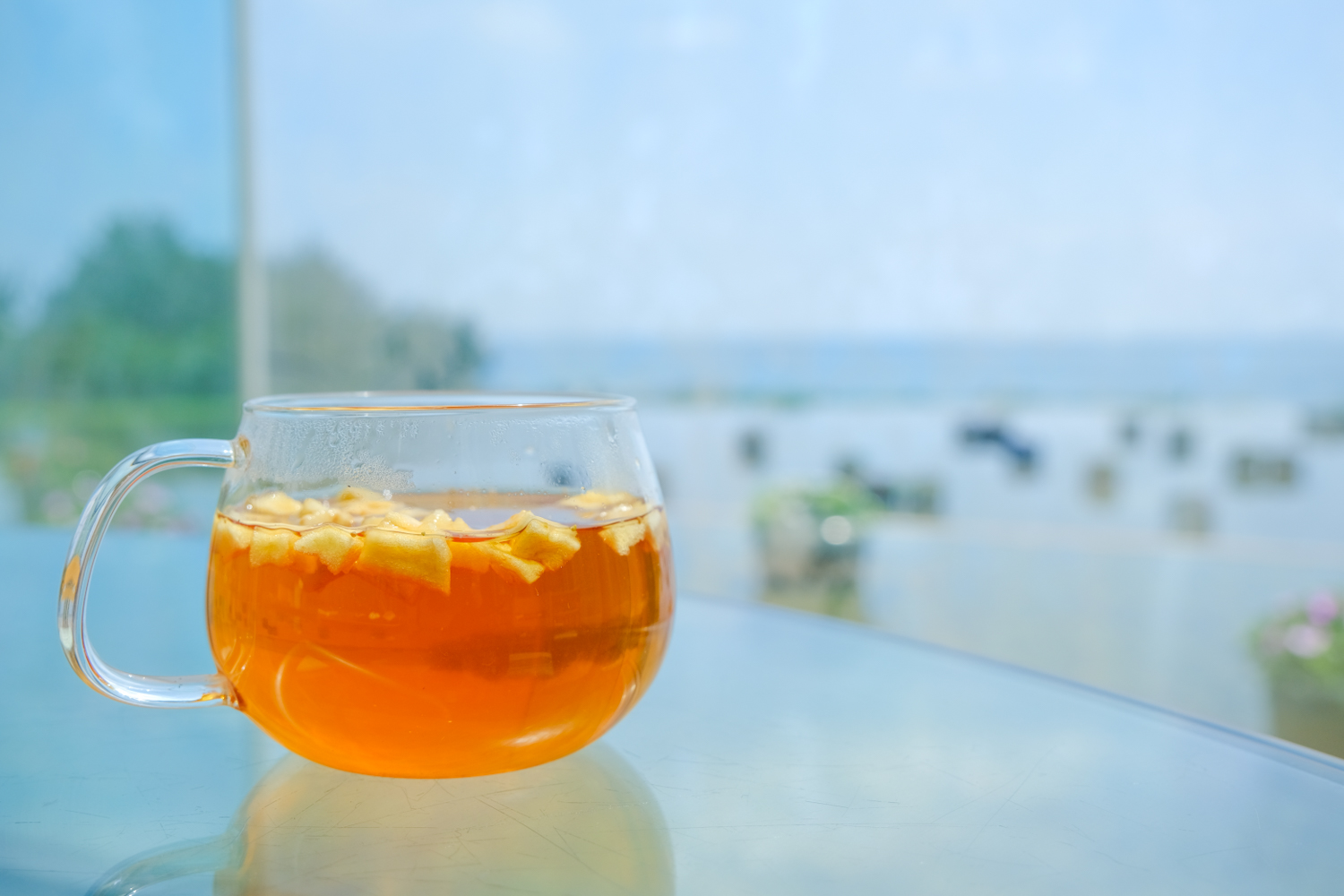 Another top recommendation is the Ibaraki Fruit Tea, brewed with a local tea brand called Sashima Tea. The black tea, made with Sashima tea leaves, has a refreshing taste with no bitter notes. The two fruit flavor options are Strawberry & Apple or Mandarin Orange & Apple, both in which you can enjoy the crispy texture of dried apples as you drink.
The cafe also sells Sashima tea, making it a nice place to buy souvenirs.
Other menu items at Glass House Sea Side Cafe include a chiffon cake made with locally-produced eggs, donuts made with an Ibaraki specialty, hoshi-imo (dried sweet potatoes), and more.
2. Kinen no Mori Resthouse: A Restaurant in the Forest (Inside Park)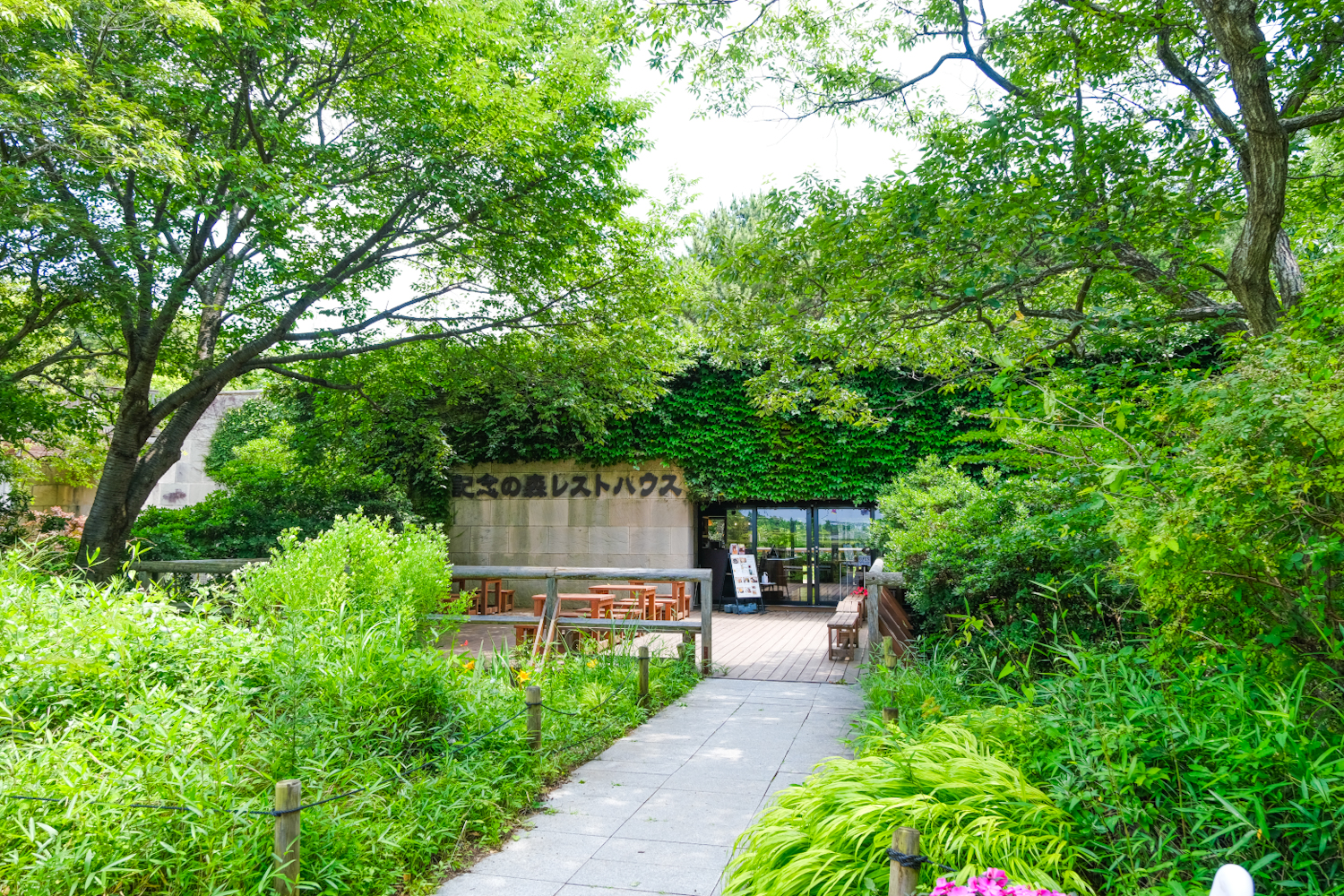 Kinen no Mori Resthouse is a restaurant near the West Entrance inside Hitachi Seaside Park. The restaurant was built to commemorate Emperor Reiwa's wedding in 1997.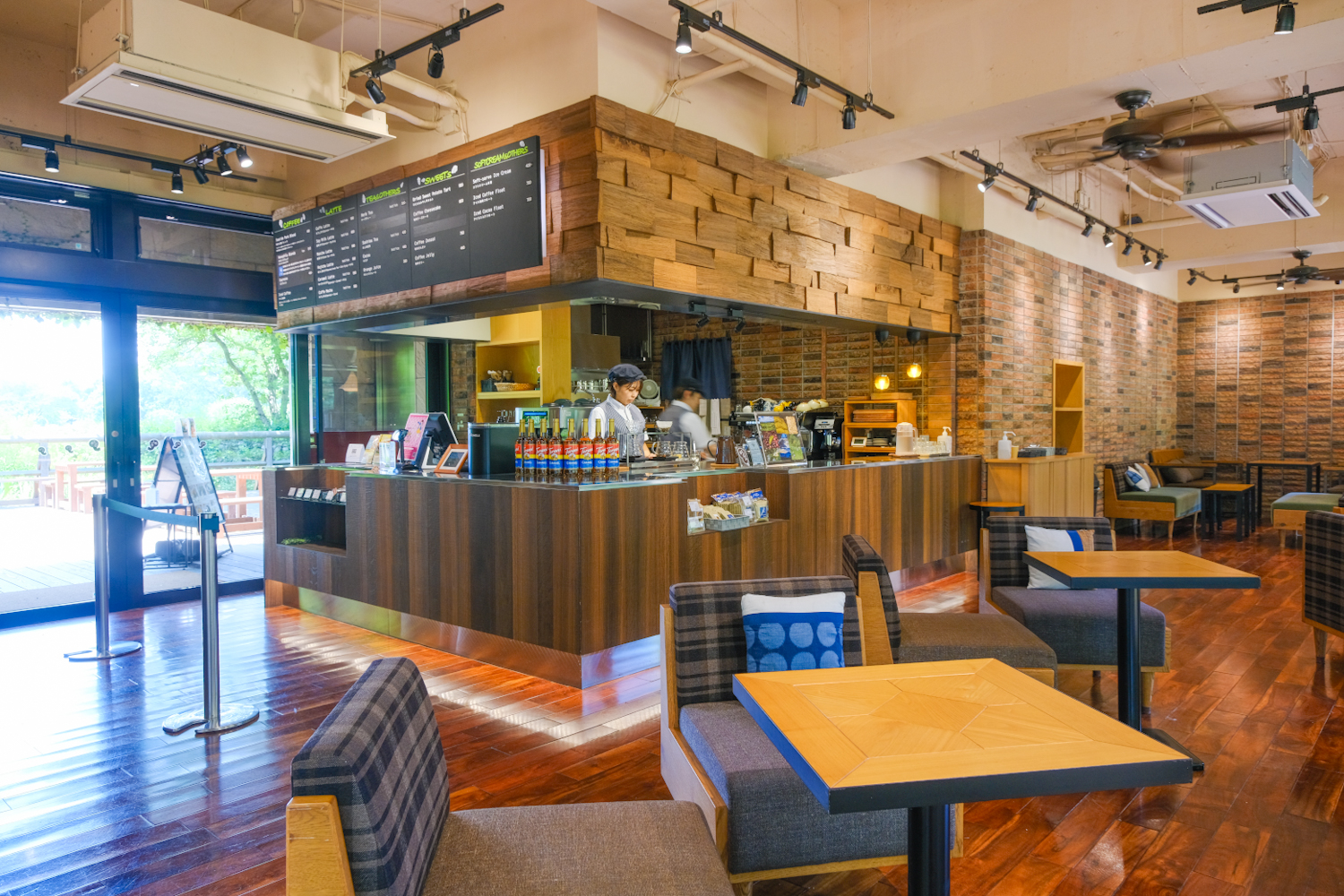 Pass through the garden arbor, and you'll find a chily terrace cafe surrounded by trees. You might even be able to spot wild birds bathing in the pond from the side of the wood deck.
The restaurant also has an exhibition room, essentially a historical record of Hitachi Seaside Park's territory.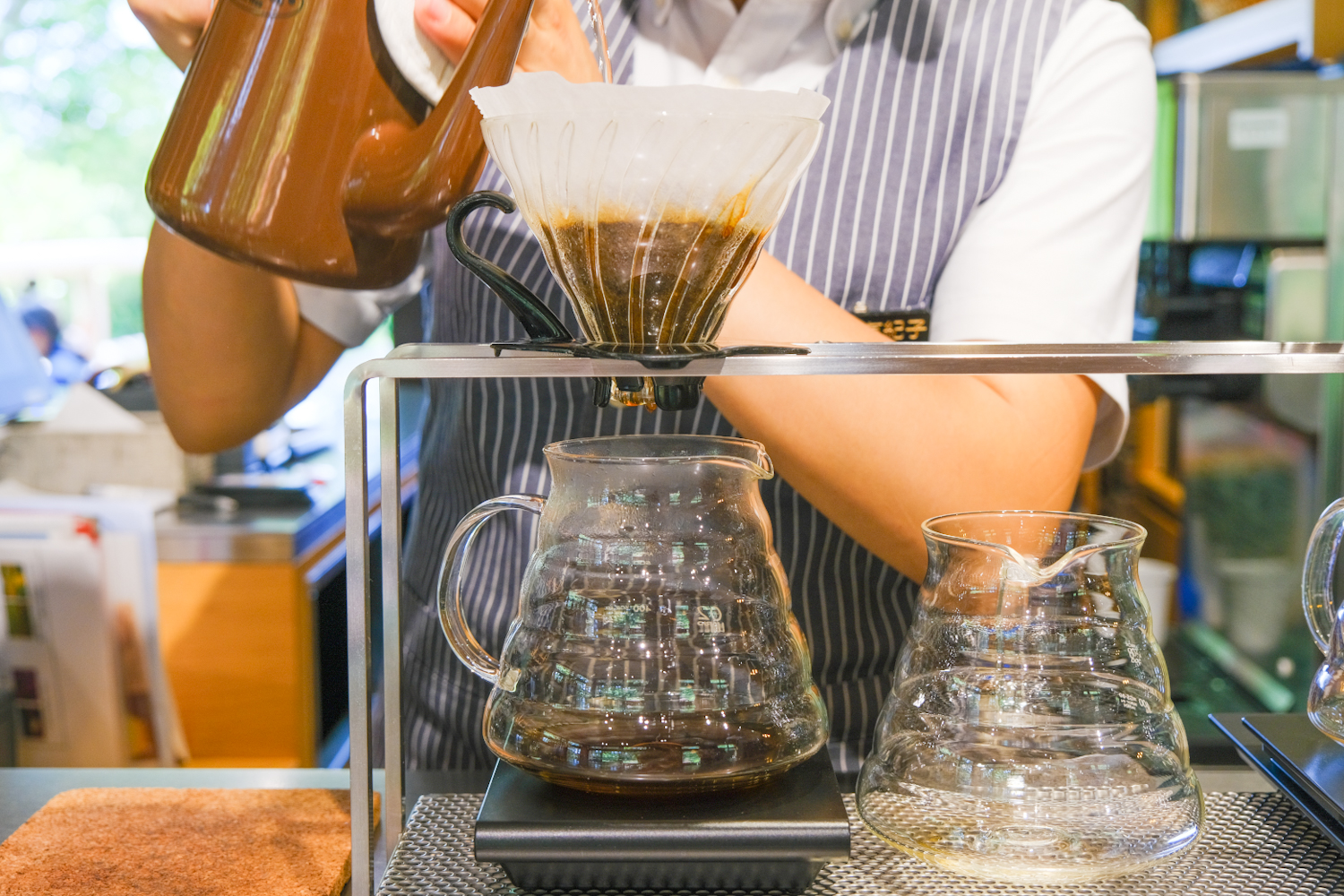 Kinen no Mori Resthouse is partnered with SAZA COFFEE, a popular coffee manufacturer and cafe chain originating from Hitachinaka where the park is located. Together, they continue to successfully make coffee with robust flavors.
One such product is an original coffee blend called the Seaside Park Blend, offered year-round. It is characterized by a mild and light flavor that is very satisfying. It's an exceptional beverage as every cup is carefully hand-dripped while keeping an eye on the temperature and quality of the coffee beans.
The Nemophila Blend, another popular item, is inspired by the sprawling fields of nemophila flowers that spread across the hillsides of the park. This limited-edition coffee is only available during the flower's peak season. It can also be enjoyed as an espresso.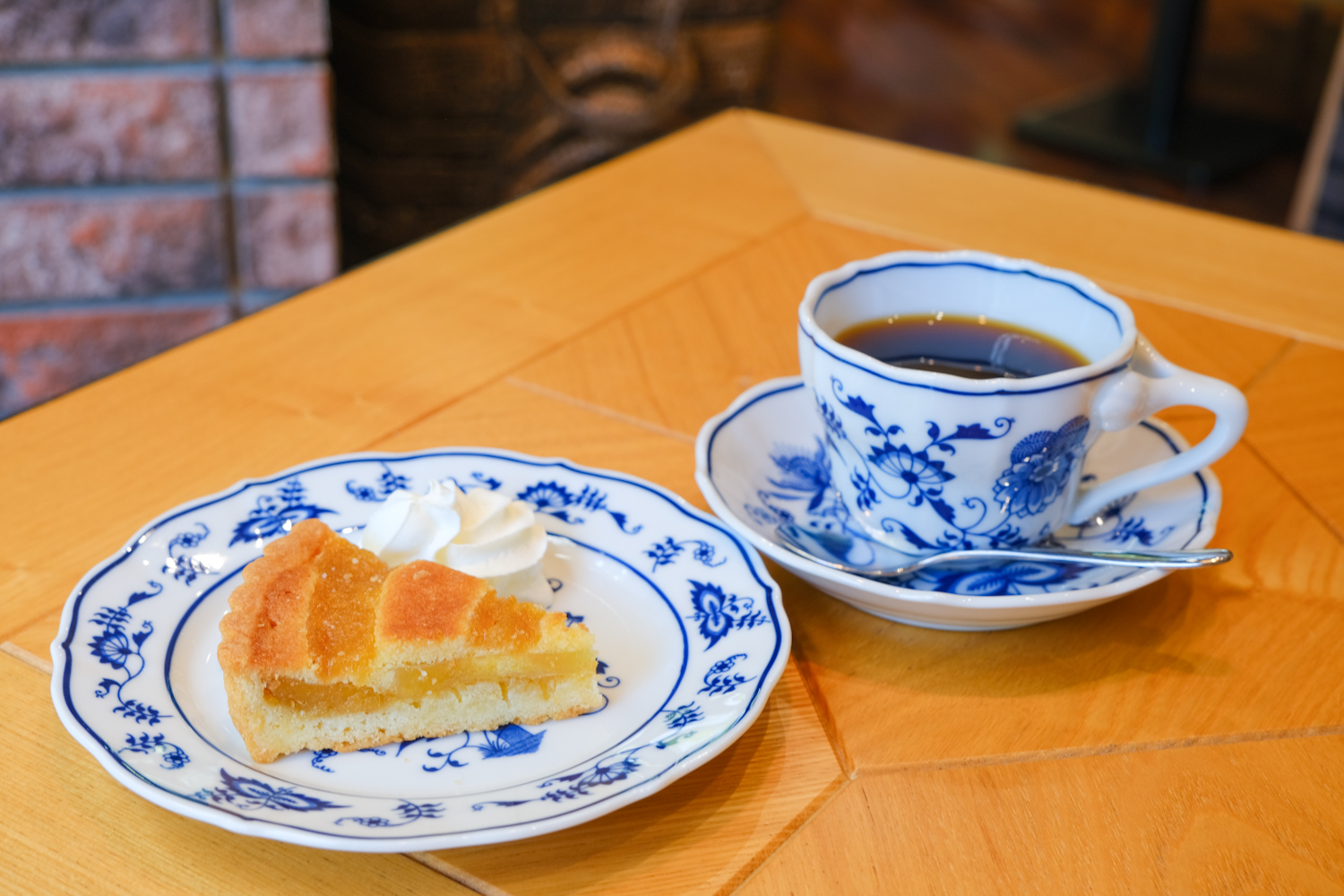 Our recommendation for dessert is the Hitachinaka Hoshi-imo Tart, for it is jam-packed with rich flavors of sweet potato. Hoshi-imo (dried sweet potatoes), a Hitachinaka specialty, and Beniharuka, a variety of sweet potatoes with a decadent sweetness, are two ingredients used to make this golden tart. The recipe was developed by a prestigious chef who runs a restaurant in Mito and has even displayed his skills at Imperial Palace celebrations.
The tart has a strong, springy, sticky texture from the sweet potatoes. It is perfectly balanced with the light-bodied Seaside Park Blend.
There are several other restaurants and cafes that focus on using local ingredients in Hitachi Seaside Park.
Please check the park's official website for details.
3. Kaiseki Cuisine with Ibaraki Ingredients! Kyoyuzen Hanamiyako (15-minute Drive from Park)

Picture courtesy of Kyoyuzen Hanamiyako
Kyoyuzen Hanamiyako is a well-known restaurant that represents Ibaraki. It has been featured in the Gault & Millau 2023, a famous French restaurant guide.
Mr. Masami Nishino, the owner of the restaurant, has worked as a sous chef or head chef at traditional Japanese restaurants in Kyoto and Tokyo. Following its opening in 1993, the restaurant has since been visited by country ambassadors, VIPs, and celebrities and is now a popular restaurant requiring dine-in reservations.

Picture courtesy of Kyoyuzen Hanamiyako
Kyoyuzen Hanamiyako's charm lies in the fact that they make high-quality, subtly flavored kaiseki cuisine. This is accomplished by their fastidious use of ingredients produced in Ibaraki while utilizing skills adopted from Kyoto cuisine and Edo cuisine (centered around dishes developed in Edo, which is the former name of Tokyo, in the 17th-19th centuries).

Picture courtesy of Kyoyuzen Hanamiyako
Kyoyuzen Hanamiyako offers two courses that are available for both lunch and dinner: Standard and Special. Kaiseki cuisine is enjoyed slowly over a course of two and a half hours to thoroughly savor and experience your meal with all five senses.

Picture courtesy of Kyoyuzen Hanamiyako
A tea ceremony experience is also available in Senshin'an, the restaurant's tea room, and can be booked online. Through the experience, you'll delve into Japan's traditional culture of hospitality by tasting authentic matcha tea as you calm and relax your mind.
Kyoyuzen Hanamiyako also has fascinating architecture. Many of the decorative pieces inside this traditional Japanese building are the works of skilled artisans, including craftspeople designated as living national treasures. Taking in these works will surely make your time at Kyoyuzen Hanamiyako more enjoyable.
4. Enjoy Delectable Hitachi Wagyu Beef at IBARAKI MEAT. (20-Minute Drive from Park)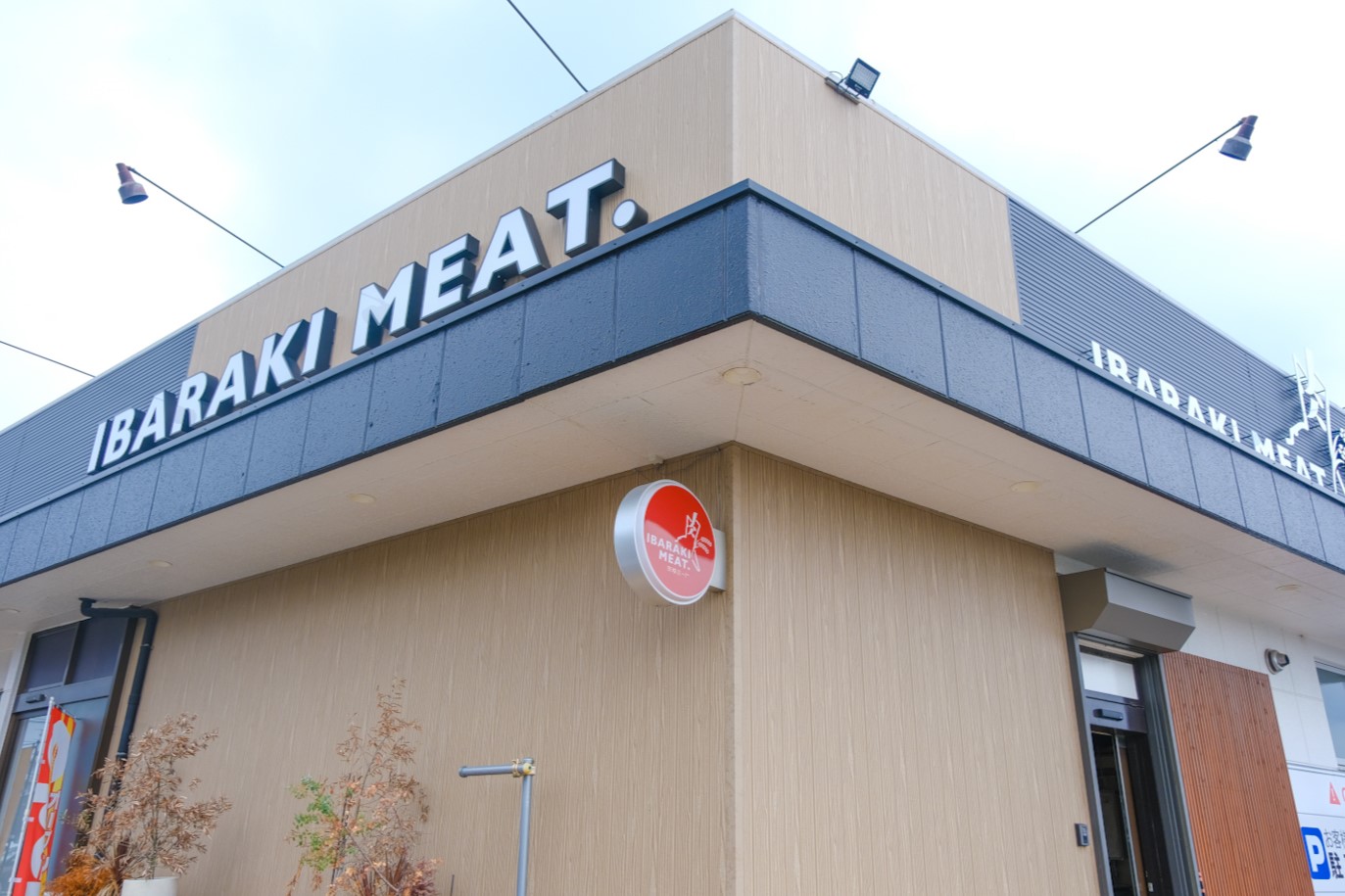 Wagyu beef is recognized worldwide for its tender, fine-grained meat. The most famous brands known by name include Matsusaka beef and Kobe beef, but in fact, there is also a wagyu brand in Ibaraki.
The Hitachi beef brand came to be in 1976. This magnificent wagyu beef grants its brand name only to carefully selected Tajima Japanese Black cattle raised by designated farmers in Ibaraki.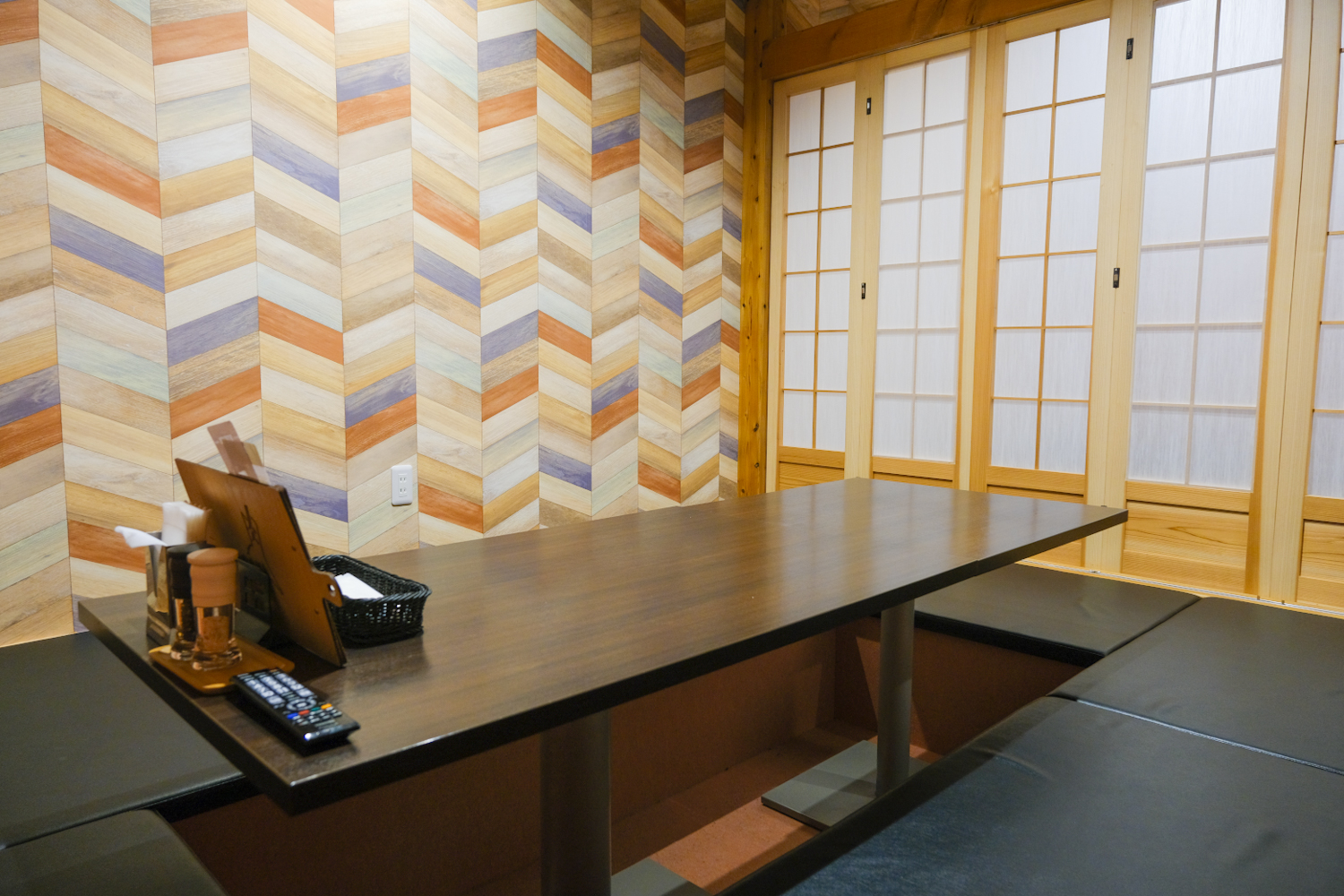 IBARAKI MEAT. offers a menu that features Hitachi beef. It is a trending restaurant that reopened in April 2023 after renovations.
The extensive menu features dishes made with local Ibaraki ingredients while preparing Hitachi beef in several ways, such as steak, roast beef, and stews.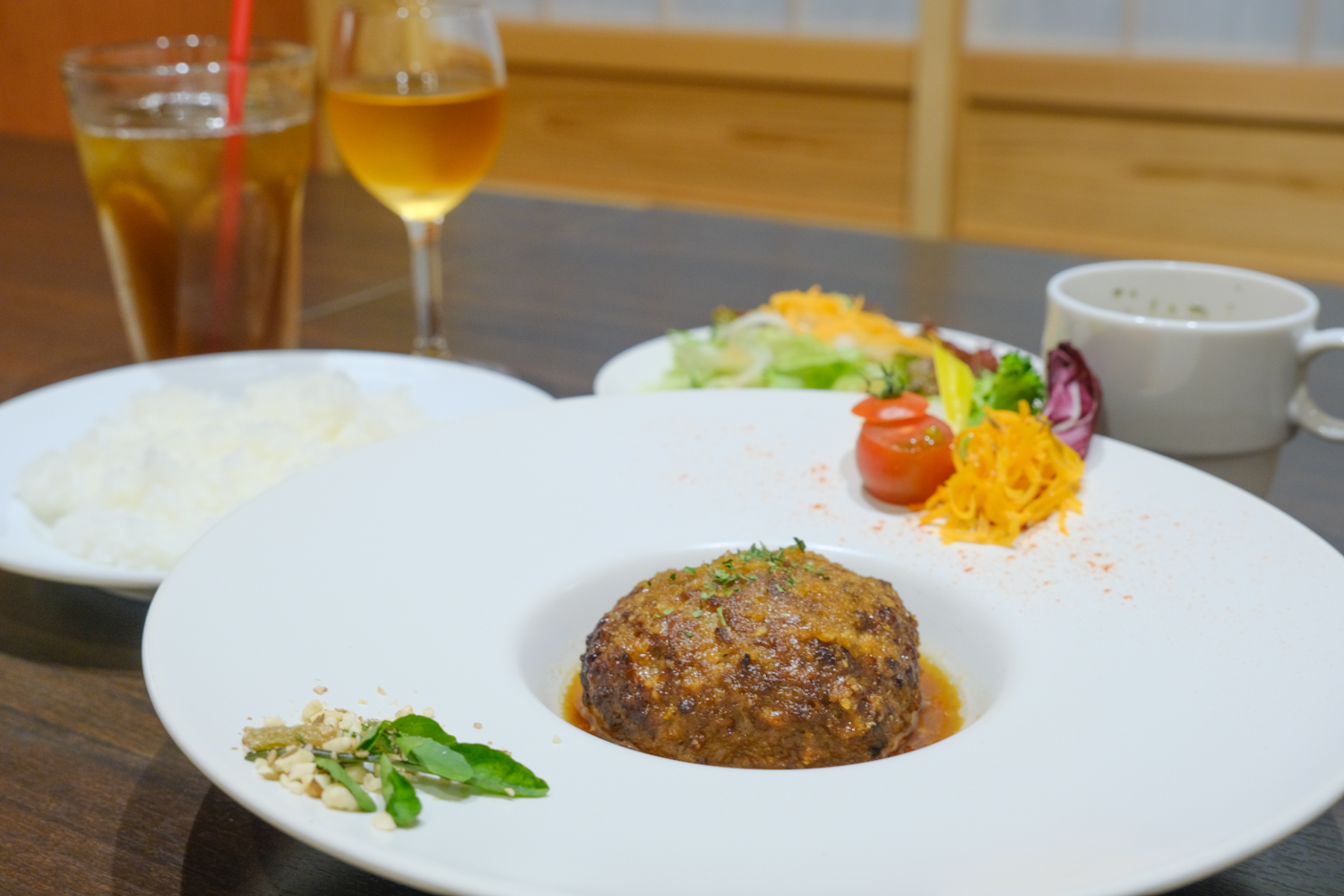 A particularly recommended dish is the Hitachi Beef Hamburg Steak, made only with Hitachi beef.
Take a bite, and the juiciness of the meat will burst in your mouth, becoming more savory as you chew. Options for sauces are demi-glace or garlic onion, so please feel free to choose what fits your preference.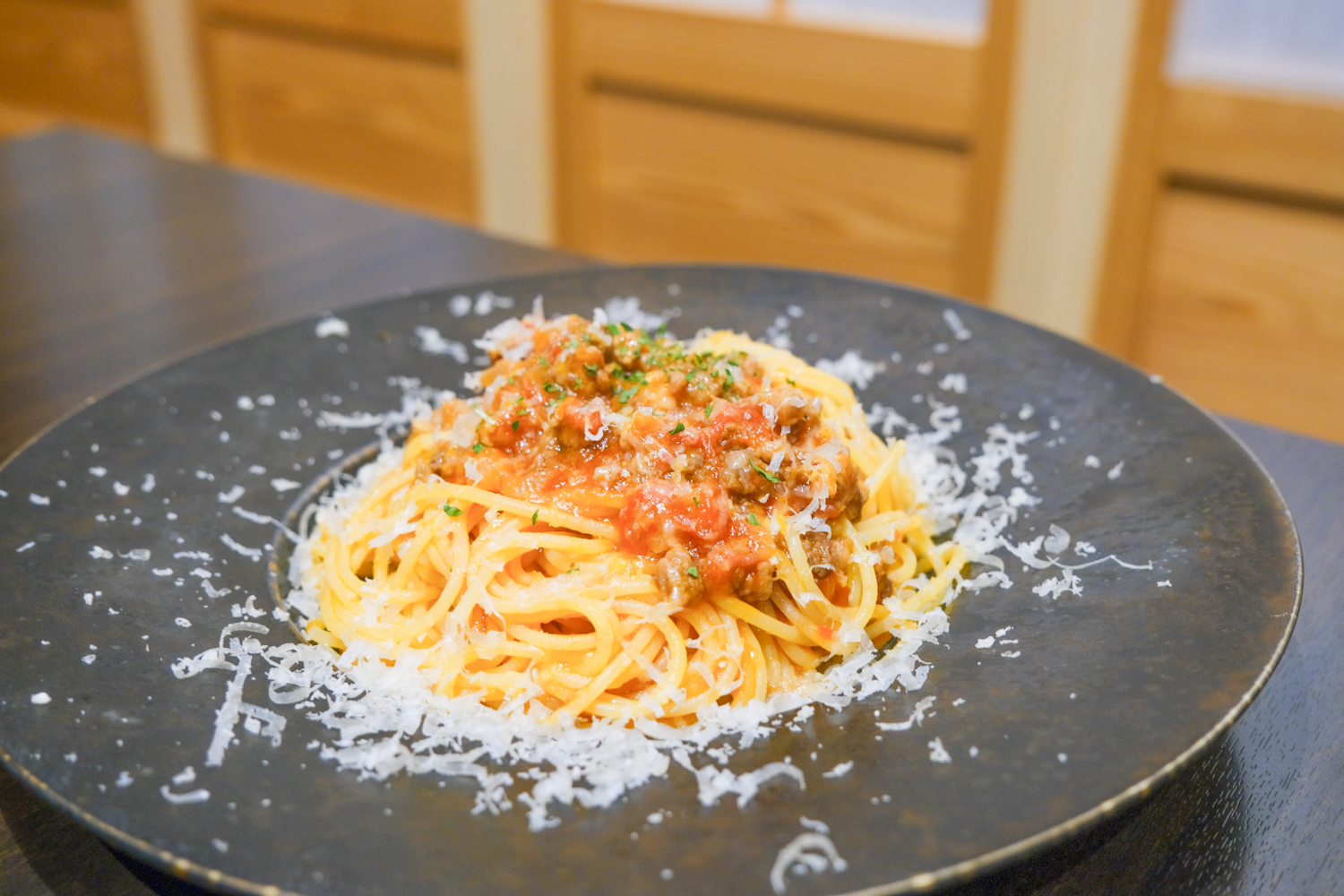 Want to enjoy Hitachi beef at a more reasonable price? Then we also recommend the Hitachi Beef Bolognese. It feels like an extravagant dish thanks to the generous amounts of Hitachi beef and vegetables mixed into the rich meat sauce.
Hitachi Roast Beef Over Rice is another special menu item at IBARAKI MEAT. limited to five servings per day.
5. Making Rose Pork into Tonkatsu! Kodawari Tonkatsu Ajima (20-Minute Drive from Park)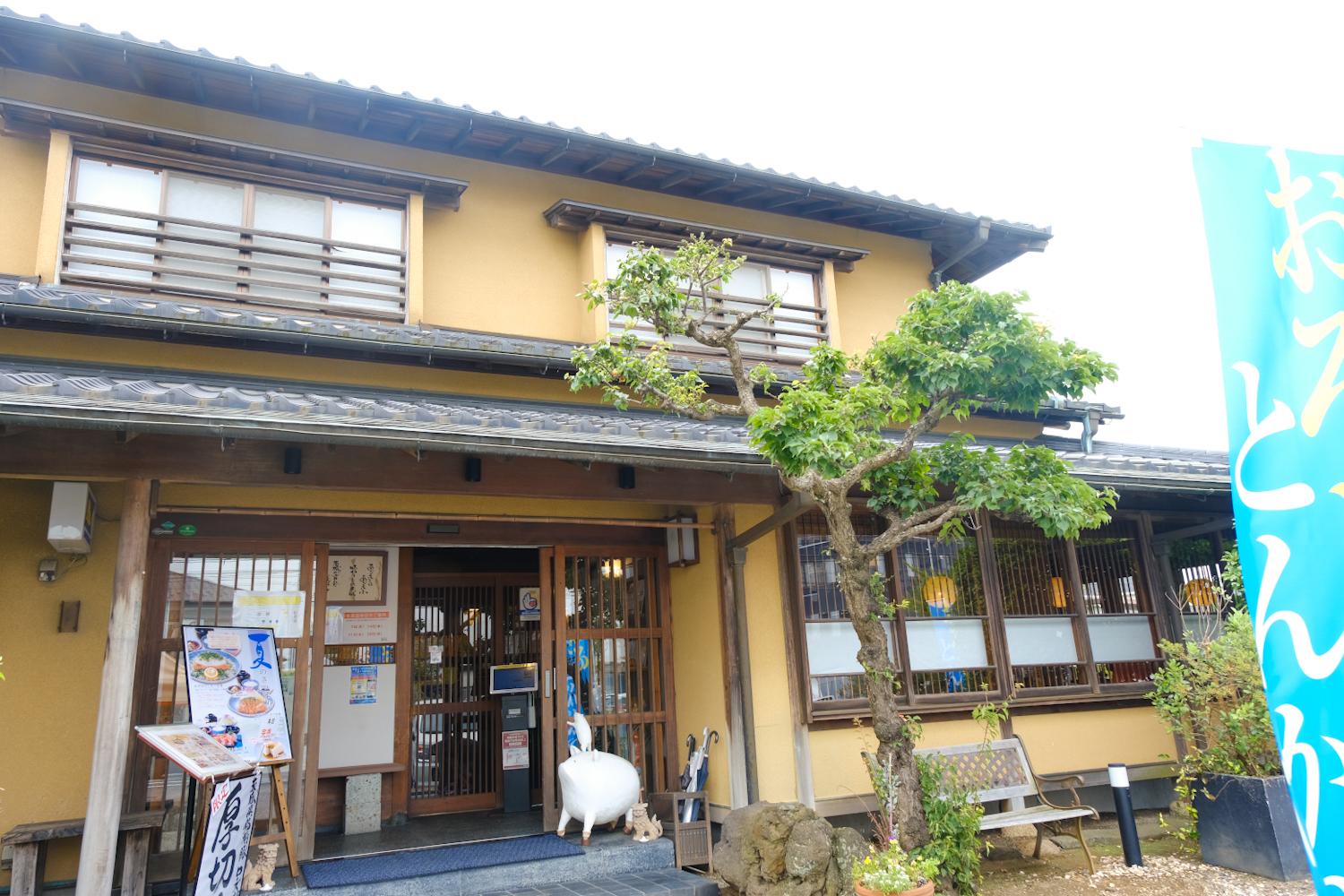 Kodawari Tonkatsu Ajima is a popular restaurant for their tonkatsu (breaded fried pork cutlet) made with Rose pork, a famous Ibaraki pork brand. The restaurant offers a lunch menu, set meals, and course meals for banquets.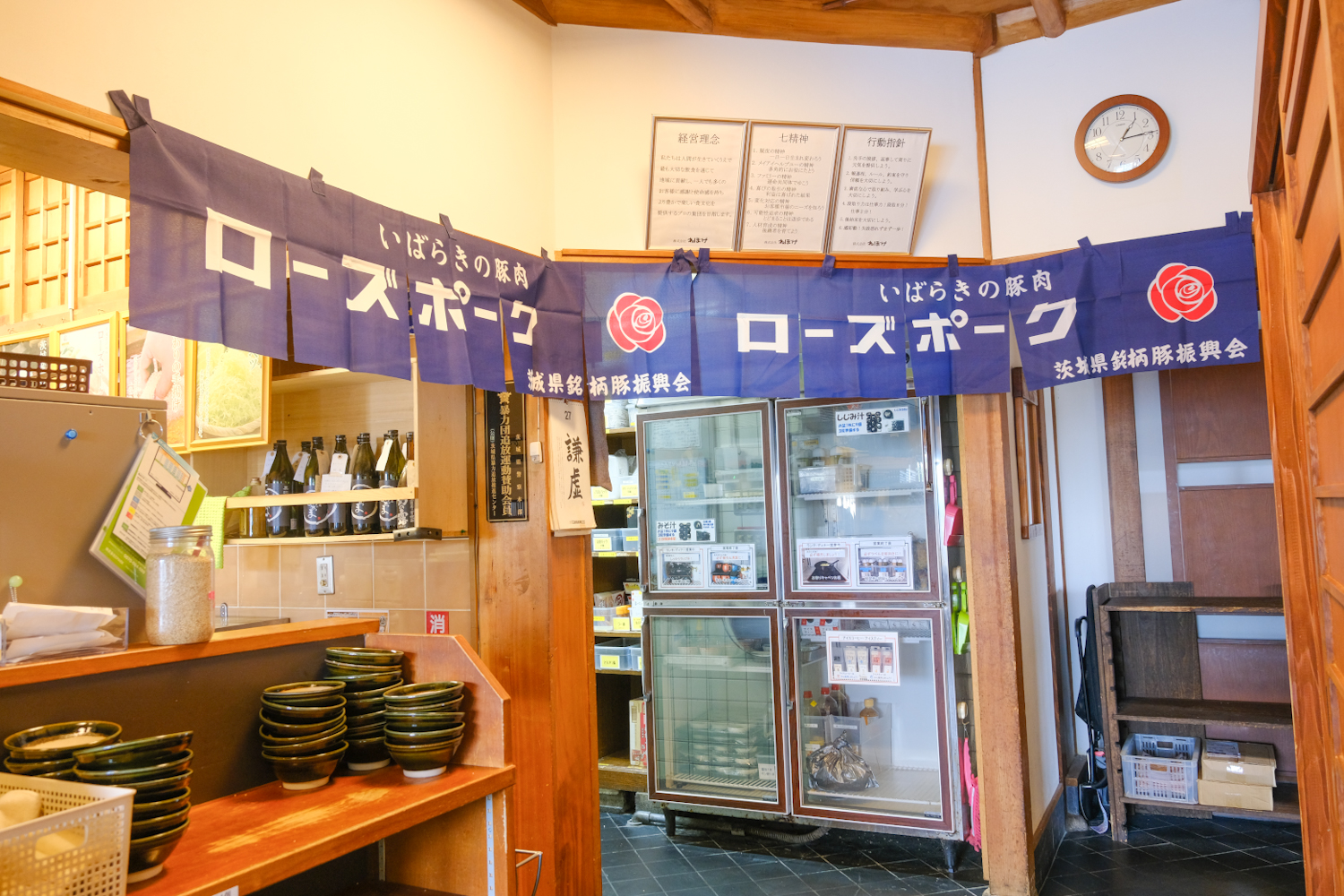 Rose pork is a pork brand that was created in Ibaraki over the course of many years. High-quality fat is added to the meat by mixing a large amount of barley into the pig feed. It is known to be stronger in flavor and sweetness than standard pork meat in Japan.
At Kodawari Tonkatsu Ajima you can enjoy this Rose pork as tonkatsu.
Tonkatsu is a popular Japanese dish made by breading pork loin or tenderloin with flour, egg wash, and panko bread crumbs, and then deep-frying in oil at high heat. This results in juicy pork enveloped in a crispy batter that directly brings out the pork's delicious flavor.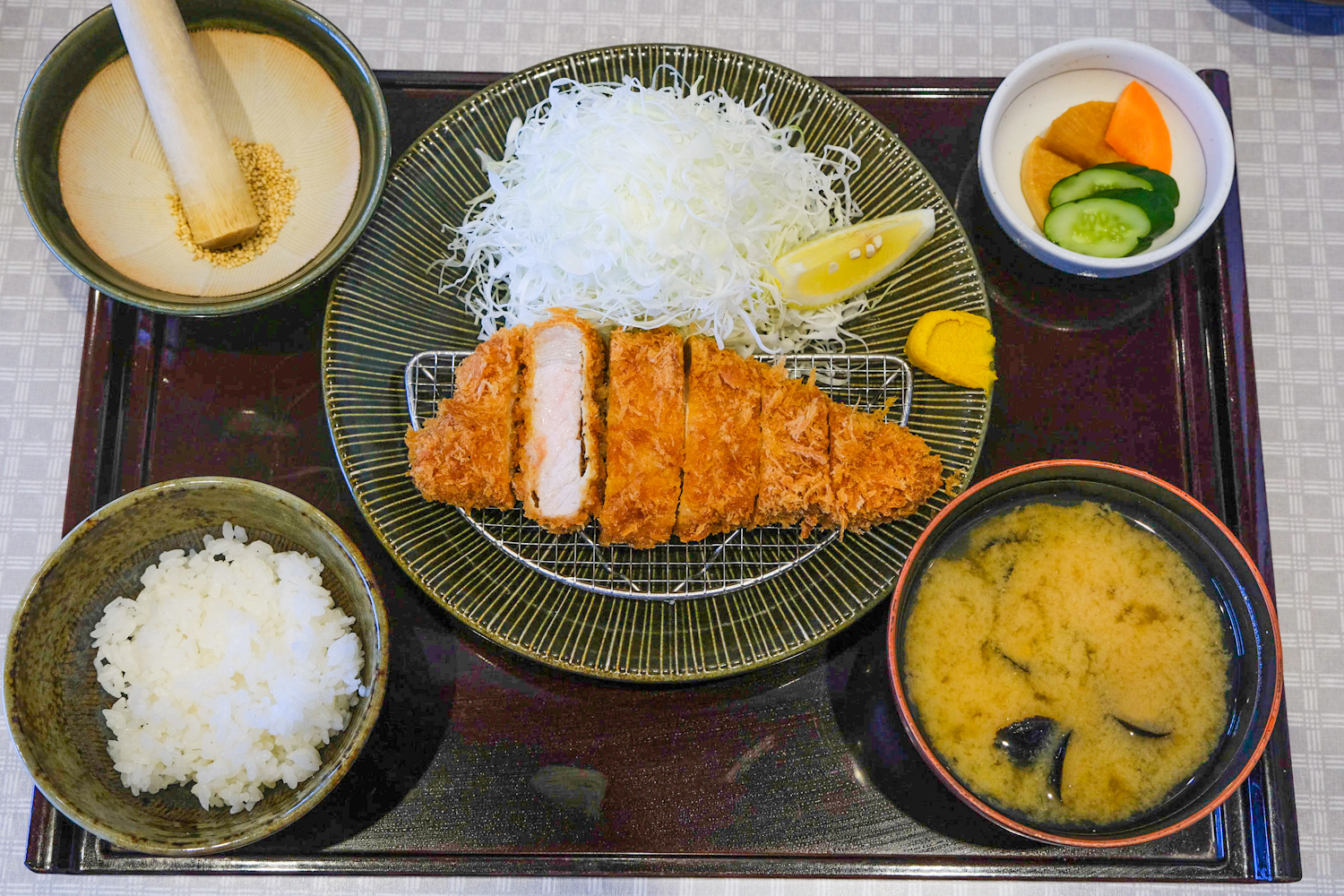 If you want to try a basic Rose pork dish, then we recommend the Deluxe Pork Loin Cutlet Meal. The set meal comes with rice, cabbage, and pickled vegetables. Miso soup has three options: tofu, wakame seaweed, pork and vegetables, or shijimi clams.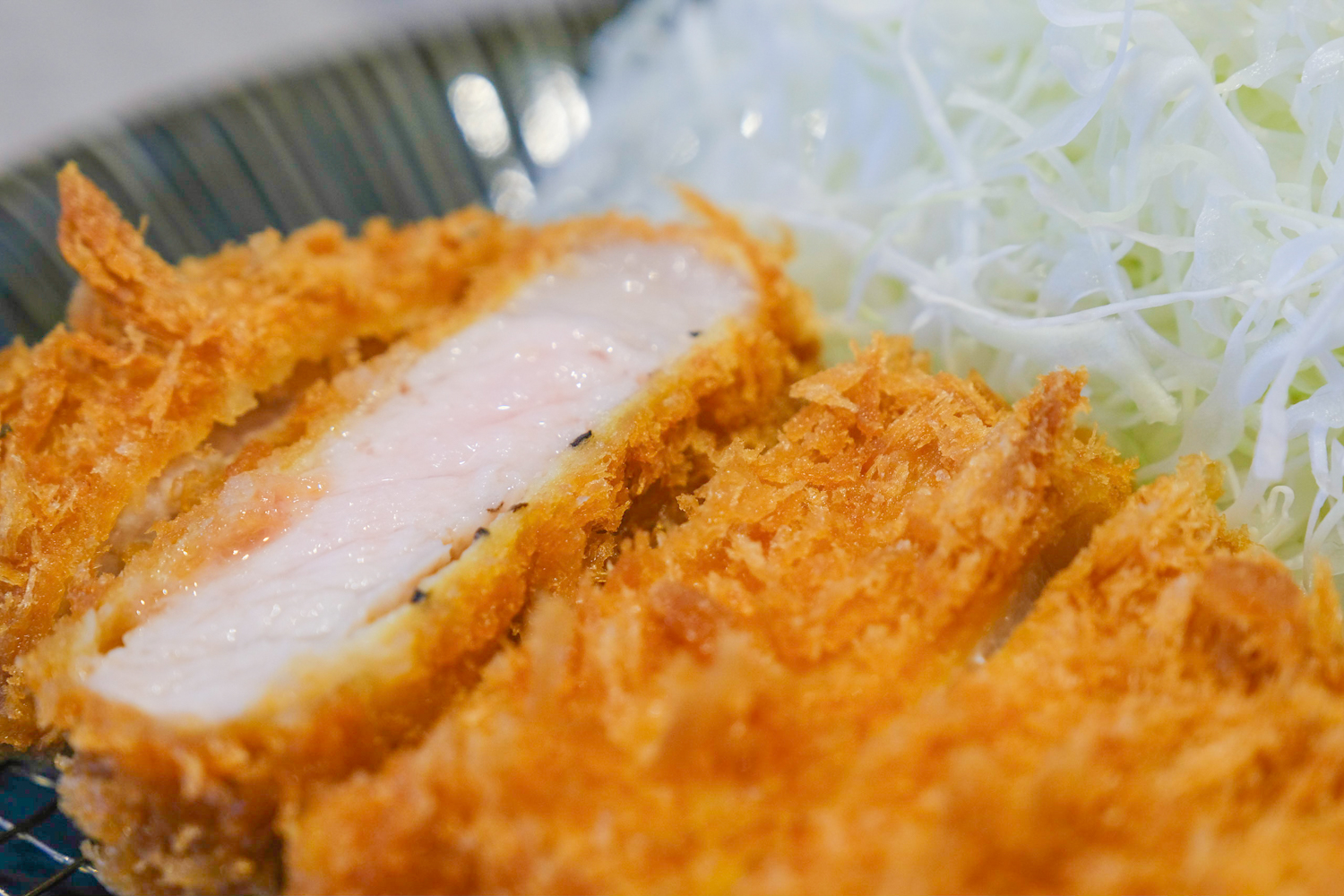 At Tonkatsu Ajima, we recommend you first taste tonkatsu with salt only. By doing so, the salt will enhance and bring out the sweetness of the meat. The crispy texture is also bound to whet your appetite!
Other than salt, you can also make your preferred sauce mixture by adding a sweet or spicy sauce to ground sesame seeds.
Another dish served at Kodawari Tonkatsu Ajima is the Otanoshimizen ("Fun Meal"), a set meal with pork loin cutlet as the main dish and a choice of two types of fried foods. There's also a kid's menu. In addition to Rose pork, the restaurant is also committed to using locally sourced ingredients from Ibaraki.
To Ibaraki for a Bounty of Fresh Ingredients!
There are other gourmet spots conveniently located within a 30-minute drive from the National Hitachi Seaside Park, such as Nakaminato Fish Market or Oarai Seafood Market. There you can find the freshest seafood dishes.
Besides, if you travel a little further to Mito, the prefectural capital of Ibaraki, you will also find many more dining facilities that focus on local ingredients.
How about going on an Ibaraki food tour while visiting Hitachi Seaside Park?