2-Day Trip to Hitachi Seaside Park: Visit Nearby Destinations
Hitachi Seaside Park, located in the city of Hitachinaka, is a breathtaking spot with nemophila flowers in the spring, and kochia bushes, refreshingly green in summer and scarlet in autumn. This itinerary introduces nearby sightseeing spots and an accommodation to enjoy alongside the park.

It's possible to travel around these unique Ibaraki destinations over two days. Our recommended locations include photogenic shrines, a hot spring with therapeutic properties, an established soy sauce brewery, and a local coffee maker and confectionery. Part of the itinerary also includes cycling.

----------------
2 days, 1 night
Day 1


(Train) 1 hour and 30 minutes


(Bus) 20 minutes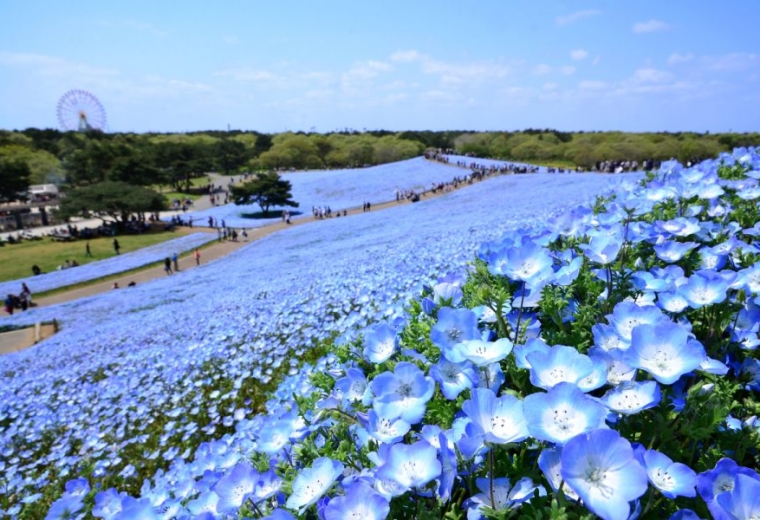 Hitachi Seaside Park
Hitachi Seaside Park is perhaps Ibaraki's most famous tourist destination for its Instagram-friendly fields of flowers. This vast park is best known for the stunning blue nemophila flowers in spring (mid-April onwards) and bright red kochia bushes in autumn (October). There's plenty to see year-round, including daffodils, tulips, sunflowers, and oil-seed rape blossoms. In addition to flowers, it is home to a small amusement park and traditional Japanese farmhouses.
Once inside, visitors can enjoy a stroll, rent a bicycle, or ride the Seaside Train to get around. The park is entirely wheelchair accessible.
Moreover, Hitachi Seaside Park is located close to other destinations such as Aquaworld Aquarium, Nakaminato Fish Market, and Kairakuen Park. In other words, it's easy to plan a one or two-day trip to all of these major sites!
Read More

(Bus) 20 minutes by bus or 25 minutes on foot


(On foot) 10 minutes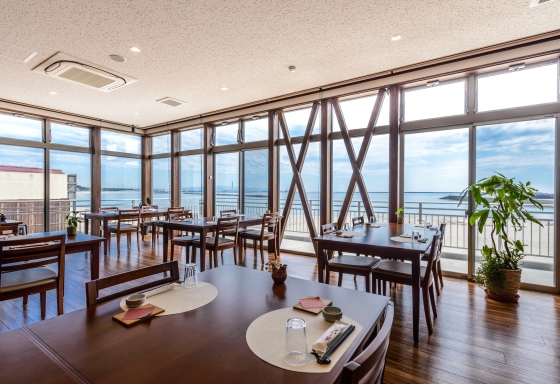 Ocean Front Hamada Kan
Check in at hotel

(On foot) 10 minutes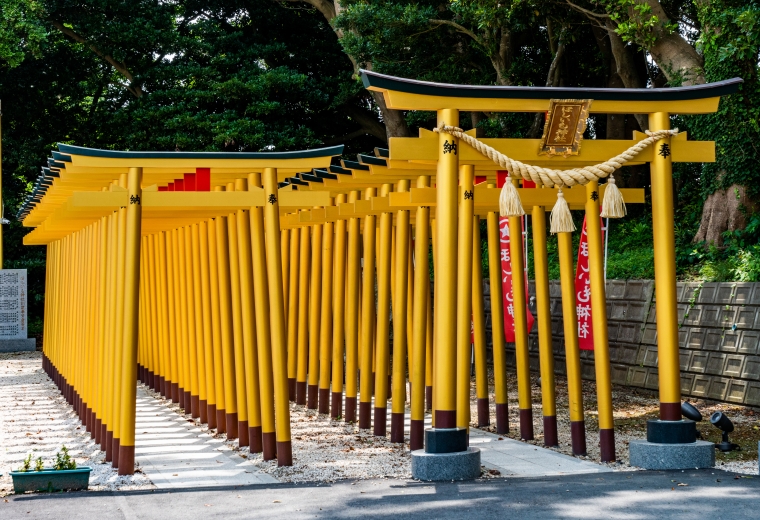 Hoshiimo Shrine / Horide Shrine
Horide Shrine and Hoshiimo Shrine are on a hill with a beautiful view of Ajigaura Beach. The name Horide comes from "horidasu," or the Japanese verb for "to dig out." In 1663, locals unearthed armor, spears, and katana swords in the surrounding area and built a small shrine to enshrine these items. Several years later, an ancient mirror was dedicated to the shrine by Tokugawa Mitsukuni, a historical figure who governed over the local Mito Domain (a domain encompassing modern-day central and northern Ibaraki). It soon became the shrine's object of worship. The shrine is called "Horide" because both the first items found here and the mirror were dug up. Hachiman, the deity of academics and warding against evil spirits, is worshipped here.

In 2019, Hoshiimo Shrine was newly built on the grounds of Horide Shrine. Ibaraki Prefecture ranks the highest in production volume for hoshi-imo (dried sweet potatoes) in Japan. Moreover, Hitachinaka, where the shrine is located, is the most prosperous production area. Hoshiimo Shrine also gets its name from the phrase "hoshii mono" or "something you desire" in Japanese due to its similar pronunciation. It's said that the shrine will bless you to "obtain everything you desire."

Hoshiimo Shrine features beautiful golden torii gates lined up in two rows, making it a popular photogenic spot. The person who designed these torii gates was none other than Taku Saito, a designer involved in product design for some of Japan's most famous brands. Several other highlights of the shrine include the golden motorcycle, two sacred yin-yang trees representing a male and female couple, and a hoshi-imo vending machine. You can also drink SAZA COFFEE, a local coffee brand, at a small cafe on the shrine grounds.
Read More

(On foot) 5 minutes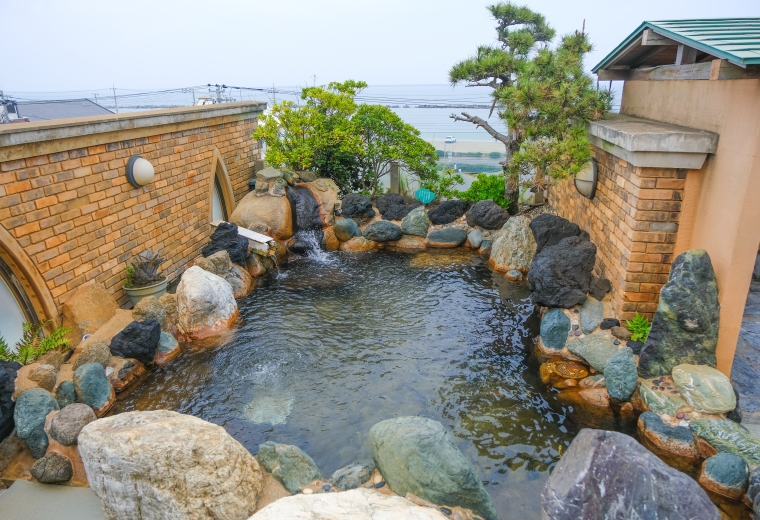 Ajigaura Onsen Nozomi
The hot springs at Ajigaura Onsen Nozomi use a private source unearthed from 1,504 meters underground. The spring contains ancient seawater that has aged and become highly concentrated over several thousands of years, a rare and precious commodity among other springs in Japan. Japan has an abundance of sodium chloride springs, but many are low in concentration. In this hot spring the concentration of minerals are over 26 times the approved standard for hot springs! Onsen Nozomi is great for external injuries, skin diseases, and eczema due to having a sterilizing effect on the body. The water also warms up the body, making it popular with customers for relieving neuralgia and joint pain. However, please remember to stay hydrated!

There are various types of baths, including indoor baths and stone baths, a Hinoki cypress bath, a scented bath, and a cave-enclosed bath in the open-air bath space. You can enjoy the ocean view thanks to the hot spring being right by Ajigaura Beach! Ajigaura Onsen Nozomi also offers private rooms with hot spring baths, relaxation rooms, and a restaurant where they pride themselves in their delicious fresh seafood and tempura. E-tickets are also available for use.
Read More

(On foot) 15 minutes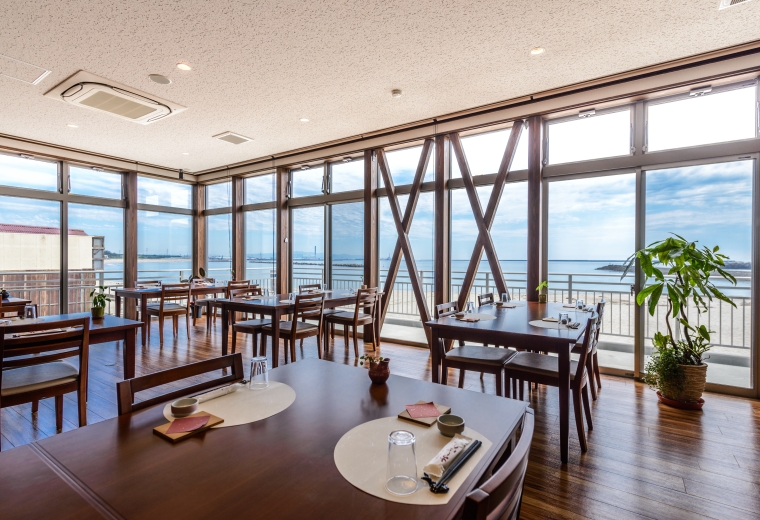 Ocean Front Hamada Kan
Ocean Front Hamada Kan is a small, traditional Japanese inn that was renovated and reopened in 2014. It faces the ocean with Ajigaura Beach right nearby. The seven available rooms are spacious with various concepts. There are rooms with large windows and balconies allowing you to enjoy the sea, or with terraces on the hillside to gaze at the sky. You'll find yourself soothed by the ocean view and the sound of the waves in a private space.

Another charming feature of the inn is the specialized cuisine made with Ibaraki ingredients. The seafood is bought at the auction every morning by the owners themselves and served as dishes corresponding to the seasons. The crab seafood soup is especially popular. After your meal, enjoy latte art made by the young proprietress with SAZA COFFEE, a local blend. The inn has great accessibility to Hitachi Seaside Park, a scenic spot famous for its nemophila flowers and kochia bushes.
Read More
Day 2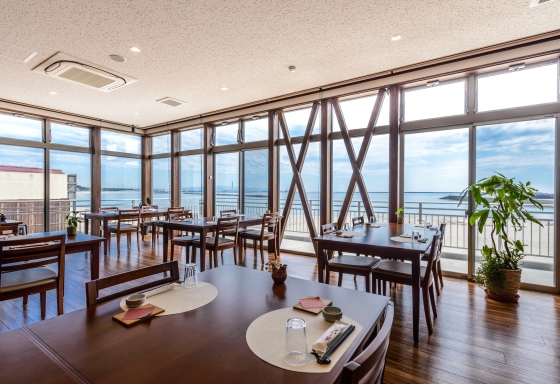 (On foot) 10 minutes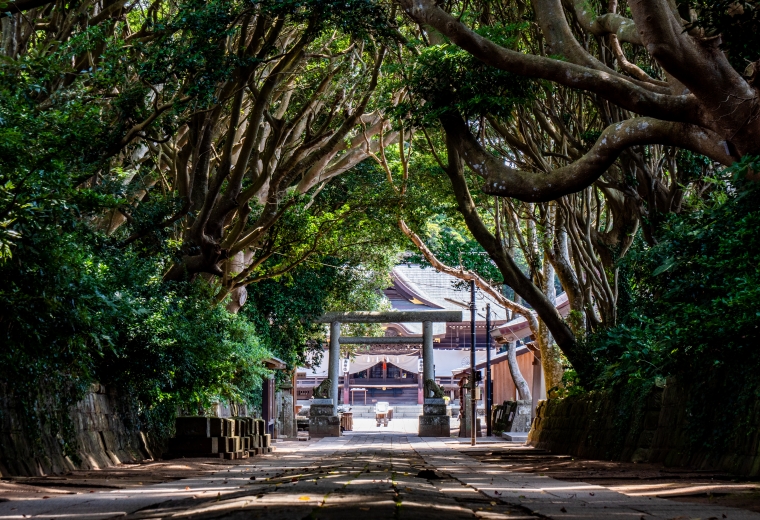 Sakatsura Isosaki Shrine
Sakatsura Isosaki Shrine, established in 856, is known for bringing fortune in recovery from illness, health, and longevity. Also, many lottery winners have visited the shrine, making it equally famous in recent years for increasing wealth. Oarai Isosaki Shrine, located in the neighboring town of Oarai and famous for its torii gate on the coastal rocks, is its sister shrine. Oarai Isosaki Shrine is dedicated to Okuninushi, the deity who created the nation of Japan. On the other hand, Sakatsura Isosaki Shrine is dedicated to a deity named Sukunabikona, who is said to have collaborated with Okuninushi.

The shrine's charms lie in its beautiful, dense thicket of Japanese bay trees that are over 300 years old and camellias growing on both sides of the shrine road. This tree tunnel, a designated natural monument of Ibaraki Prefecture, ia a phoogeic spot, feeling like a space luring you into a magic world. There is a torii gate beside the shrine road where you can view the sea. Here in June you can also enjoy the hydrangeas.
Read More

(On foot) 10 minutes


(Train) 30 minutes


(On foot) 5 minutes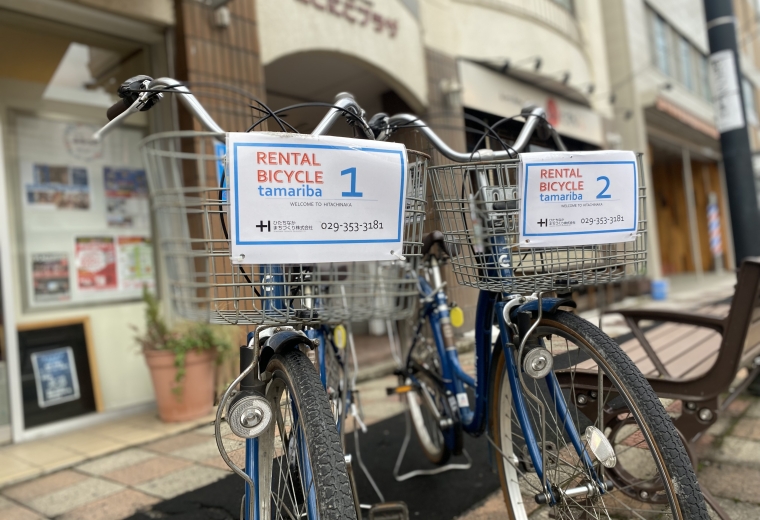 Rental Cycle Tamariba
A place created to have people of various ages gather and interact with one another while revitalizing the town. It is located near JR Katsuta Station and offers bicycle rentals to those interested in touring around Hitachi Seaside Park. Rental fees are 1,000 yen per bicycle for a day. You can also store your belongings here.
Read More

(Bicycle) 20 minutes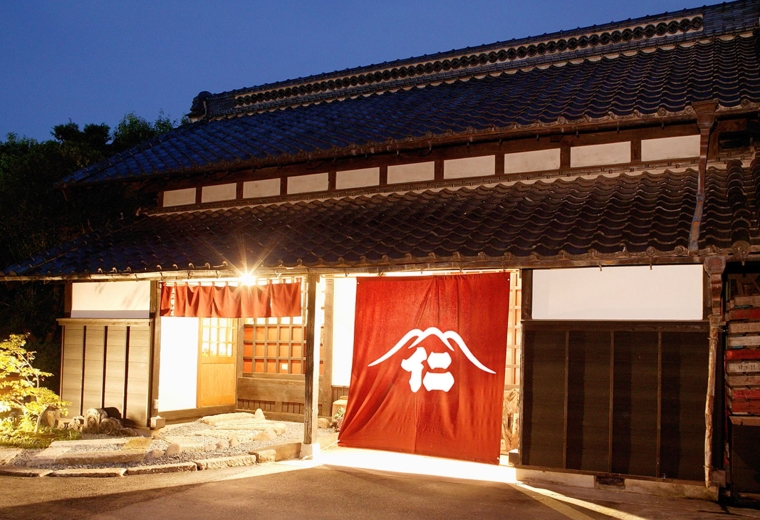 Kurosawa Soy Sauce
Kurosawa Soy Sauce has been making soy sauce while preserving traditional methods since its founding in 1905. The brewery creates various products utilizing wooden barrels passed down for over 100 years, the natural yeast and lactic acid bacteria that live in the brewery, and capitalizing on years of experience. The popular Hishiogura (double-brewed soy sauce) is ideal for sashimi (sliced raw fish) or dipping sauce. Awazuke, an ingredient in pickled vegetables, can easily turn any vegetable into pickles. Their flavorful ponzu (Japanese seasoning made with citrus juice), mentsuyu (traditional soup ingredient used in noodle dishes), and yakiniku tare (Japanese barbeque sauce) are also popular products! Brewery tours are also possible through advanced reservations.

The shop and KURA CAFE utilize the warehouse space on the brewery grounds with desserts served at the cafe, enhancing the flavors in malted rice and soy sauce. The amazake shoyu soft serve, a soy sauce soft serve ice cream topped with amazake (non-alcoholic sweet sake) made from malted rice, is super popular. This soft-serve ice cream has a rich, caramel-like flavor that customers highly rate. Lunch featuring soy sauce and fermented products is available by advance reservation.
Read More

(Bicycle) 25 minutes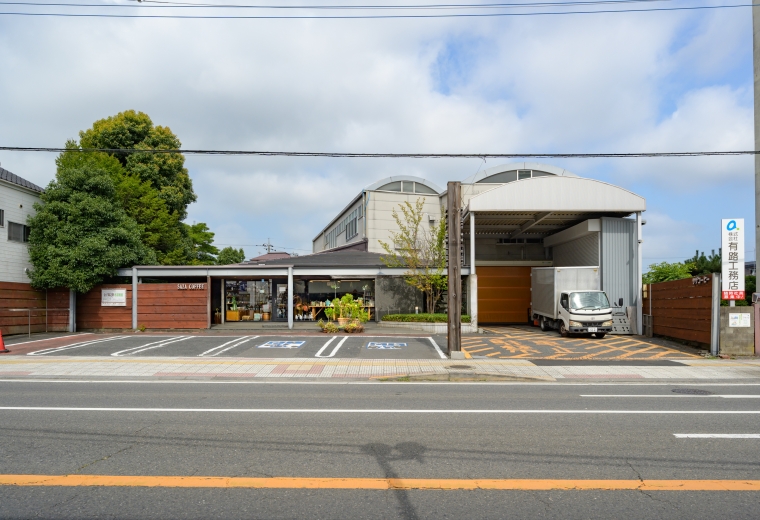 SAZA COFFEE Main Store
SAZA COFFEE, launched in 1969, is an Ibaraki coffee brand comprised of 17 shop locations, two factories, and two farms. The staff travels to production areas in Brazil, Panama, and Kenya to personally select coffee beans. They also grow their own coffee plants in Columbia and sell and serve high-quality coffee roasted in-house.

The SAZA COFFEE Main Store displays a collection of masks and embroideries. There is a quaint, spacious space inside the store surrounded by the aroma of coffee with terrace seats decorated in soothing greenery that is popular among customers. There's even a gallery where various special exhibitions are held.
Read More

(Bicycle) 5 minutes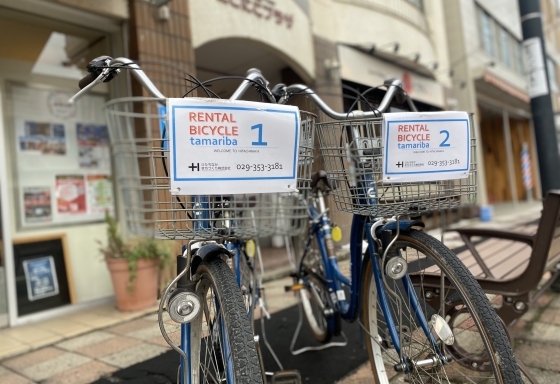 Rental Cycle Tamariba
Return bicycle

(On foot) 5 minutes


(Train) 1 hour and 30 minutes