Tsukuba-Kasumigaura Ring Ring Road: Scenic Views and Historical Sites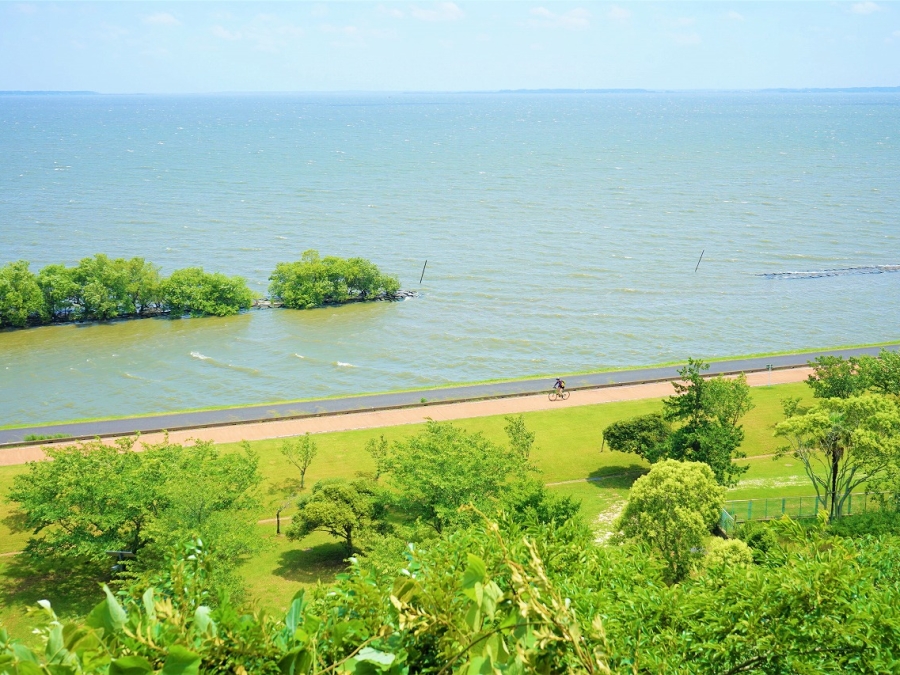 Tsukuba-Kasumigaura Ring Ring Road is a 180 km cycling route running through several cities in Ibaraki. Starting from a cycling base in Tsuchiura that offers rental services and support, you can head toward Lake Kasumigaura or Mt. Tsukuba. We introduce great places to visit along the way!
A Cyclist's Heaven! Tsukuba-Kasumigaura Ring Ring Road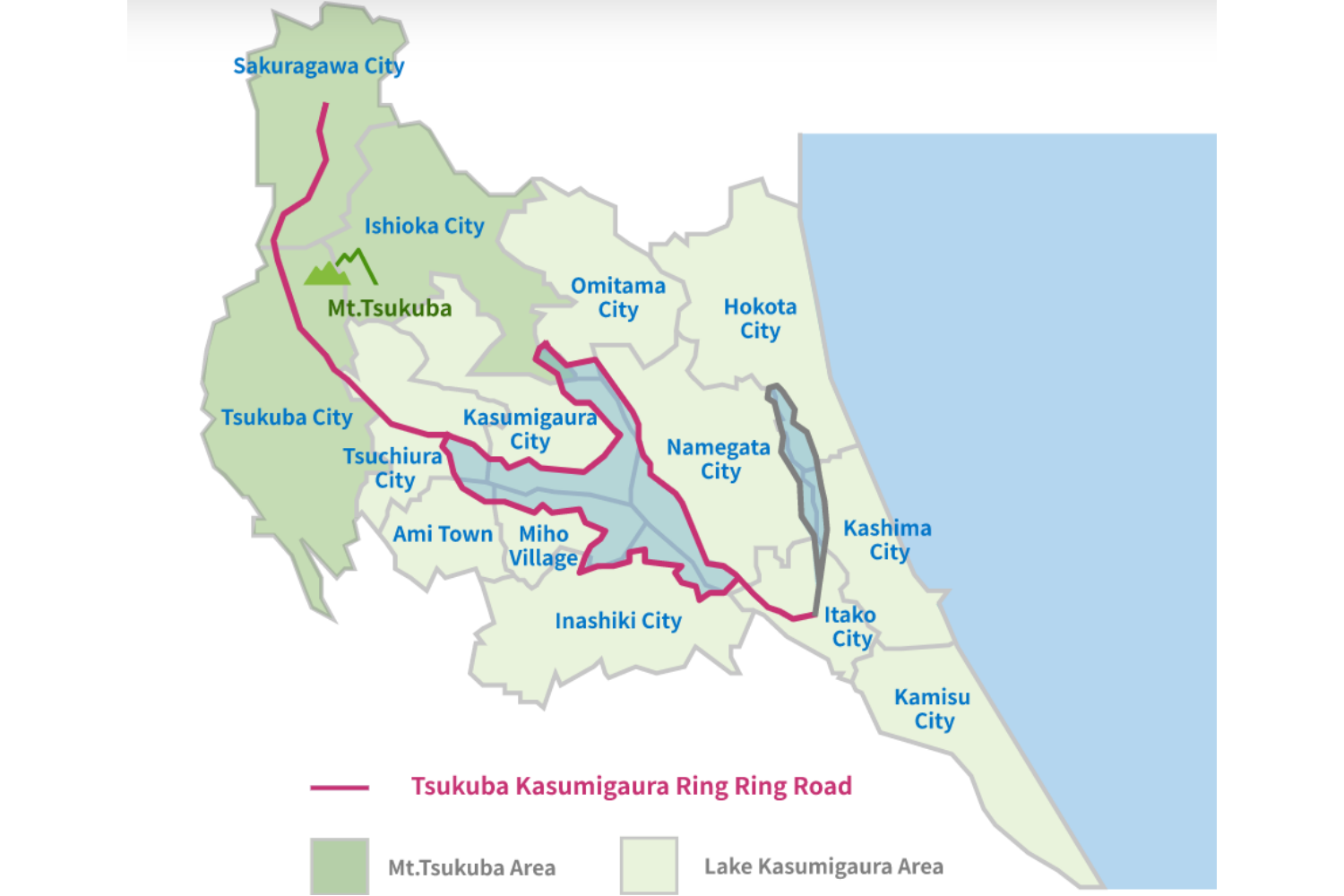 Tsukuba-Kasumigaura Ring Ring Road is a scenic 180-kilometer cycling route running through several cities in Ibaraki, including Tsuchiura, Kasumigaura, Sakuragawa, Itako, and others.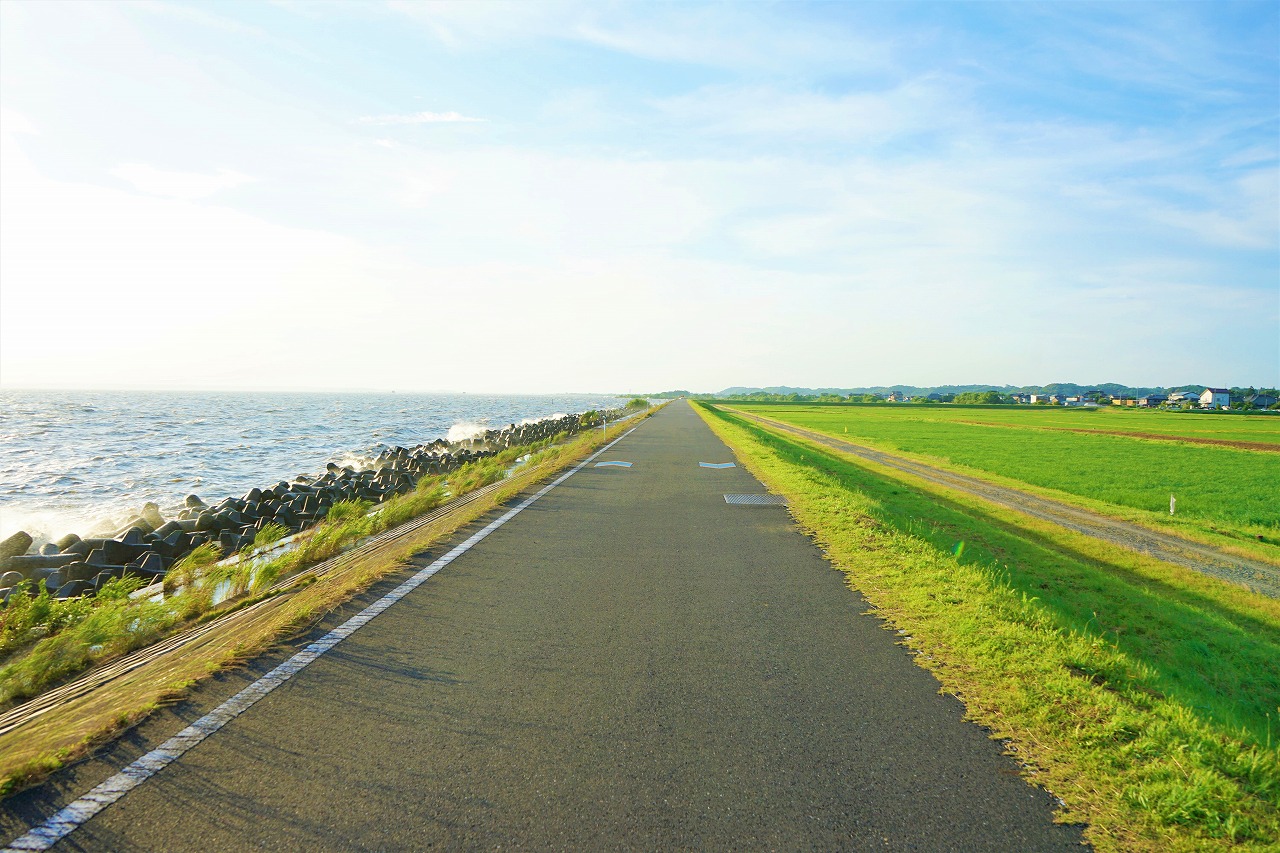 Offering picturesque views of Mt. Tsukuba and Lake Kasumigaura, Ring Ring Road has been designated a national cycle route in Japan.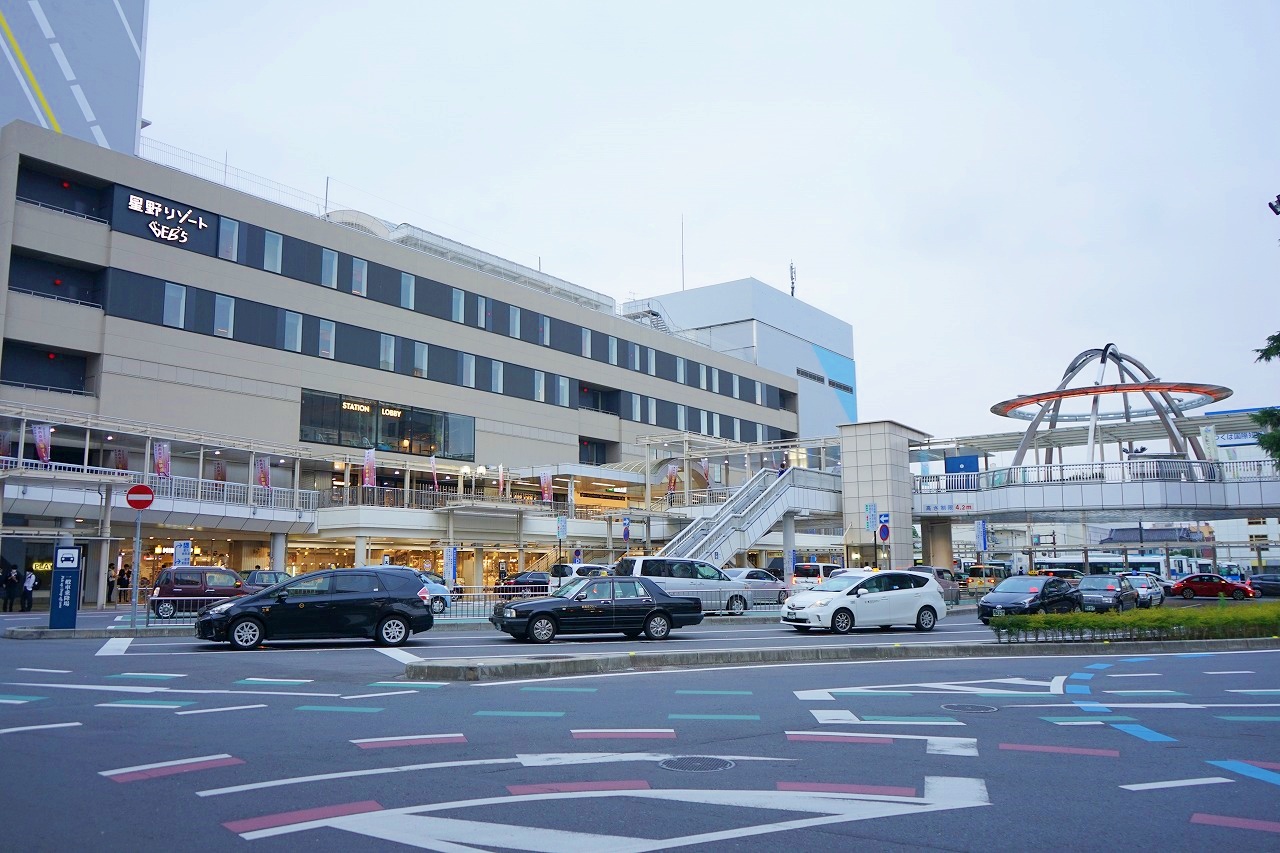 Tsuchiura, our recommended starting point, can be easily reached from Tokyo within about one hour by train or car.
There are drop-off bicycle stations, rest areas, coin lockers, cyclist-friendly dining, and accommodation facilities along the entire cycling route, not to mention the many fantastic sightseeing spots! Best of all, Ring Ring Road can be enjoyed by both casual and experienced cyclists!
Start From Tsuchiura, One of Japan's Most Cycling-Friendly Cities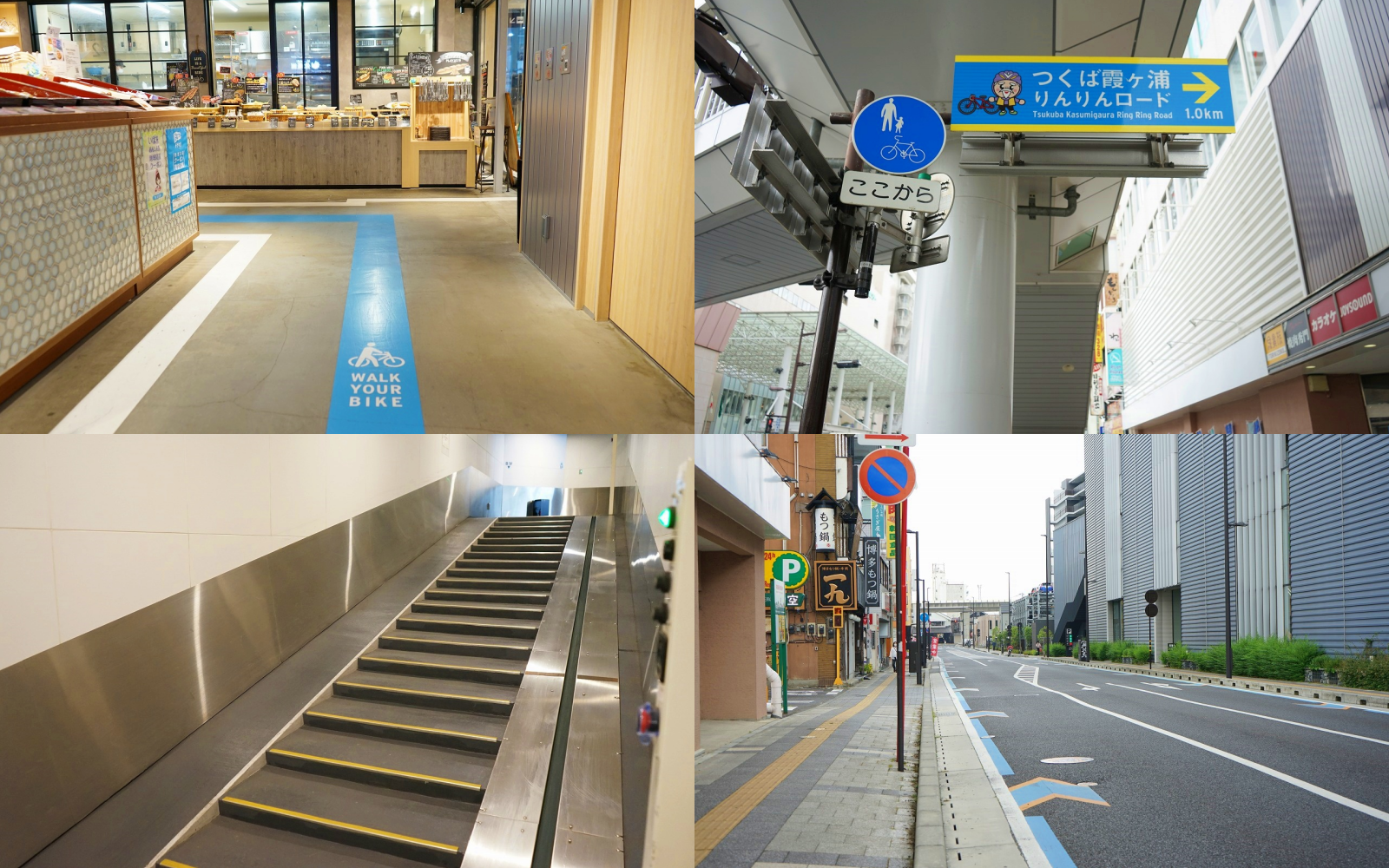 Tsuchiura offers excellent access to any area of Ring Ring Road, whether you wish to head to the mountains of Tsukuba or the lakeside of Kasumigaura and beyond.
Tsuchiura Station and the entire area around it are bicycle-friendly. You'll find bicycle parking lots on the first floor underground, and you can even enter the shops and dining facilities within the building with your bike. The cycling lane is clearly marked in blue, and the bilingual signage on the streets will help you find your way along Ring Ring Road.
Stop by Ring Ring Square Tsuchiura for Bicycle Rental and Information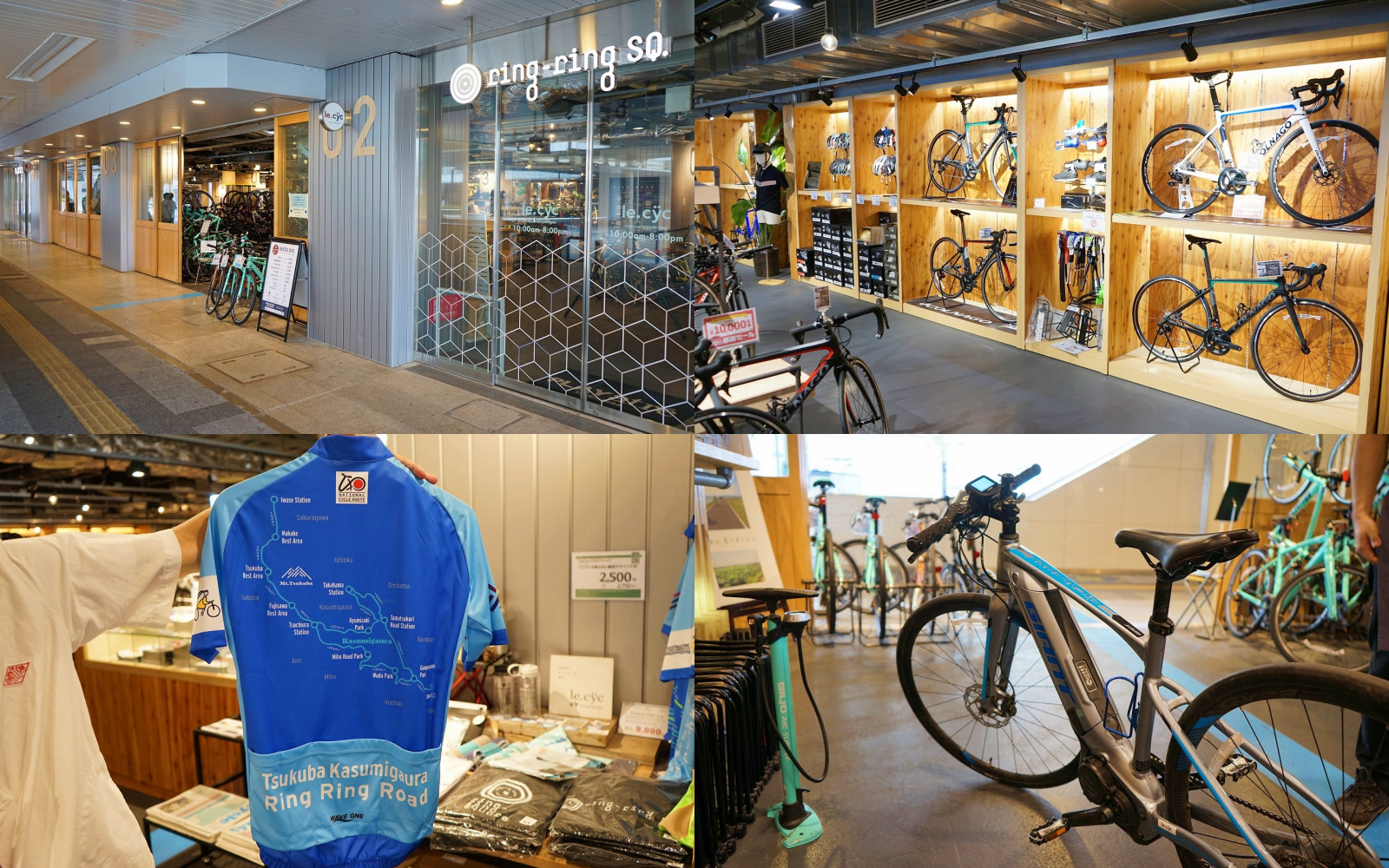 Ring Ring Square Tsuchiura  is a cycling base located on the first floor of the Tsuchiura Station building. Drop by to get maps and information on Ring Ring Road or to rent or buy gear and accessories you might need for your cycling adventure. This is the best place to rent a bicycle if you haven't brought your own. We highly recommend making a reservation online at Lecyc (Japanese) in advance to be sure that you'll be able to rent the type of bike you want for the day.
There are various types of bicycles you can choose from: e-bikes (4,500 yen/day), mountain/road bikes (3,500 yen/day), cross bikes (3,000 yen/day), city cycles (2,000 yen), and others. Helmets, gloves, and other equipment are also available for rental. A 1,000 yen deposit will be required when you receive the equipment you've rented. The bicycles should be returned to Ring Ring Square Tsuchiura by 19:30 on the same day. You can also get your bicycle repaired here!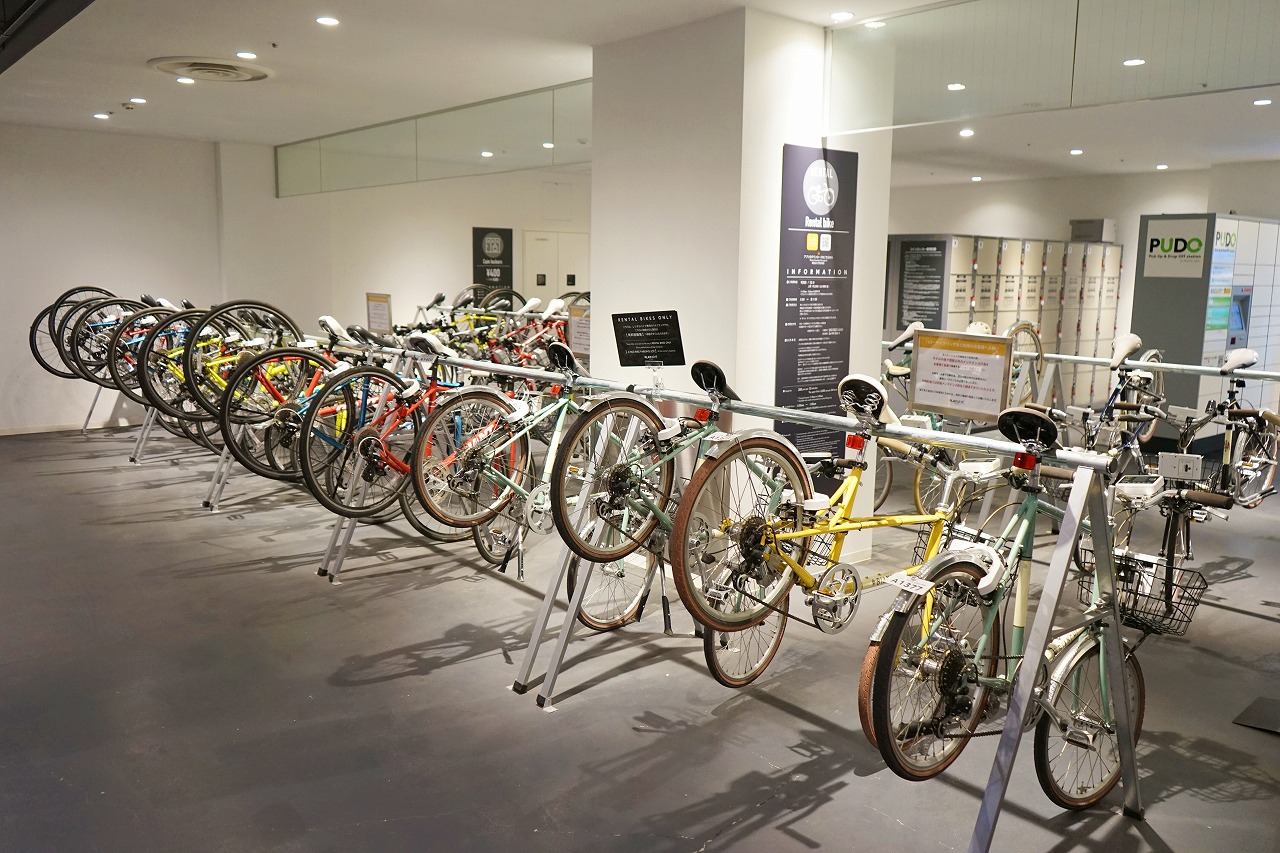 The bicycle parking lot on the first basement floor is equipped with coin lockers and a changing room. You can also rent electrically assisted bicycles here using the Hello Cycling app (Japanese only); the rental fee is 200 yen/per 15 minutes and a maximum of 3,000 yen for 24 hours.
There are two advantages of using this bicycle rental system: prior reservation is not needed, and you can use the bicycle for several consecutive days.
For more information on bicycle rentals, including the convenient ride-and-drop system that allows you to drop off your rental bike at any of the 11 locations on the way or to rent a bicycle for several consecutive days, please refer to the official website of Tsukuba-Kasumigaura Ring Ring Road.
A Cyclist-Friendly Hotel! Hoshino Resorts BEB 5 Tsuchiura
Picture courtesy of Hoshino Resorts
The entrance to Hoshino Resorts BEB 5 Tsuchiura is located on the same floor as the ticket gates to Tsuchiura Station. The facility is 100% bicycle-friendly! For some of the rooms, it is even possible for guests to take their bikes inside. These rooms have special racks on the wall where you can place your bicycle.
In addition to cycling tips and special services for cyclists, the staff at BEB5 Tsuchiura also offer activities that allow guests to enjoy the charm of Ibaraki fully.
Read on to learn about the best places to visit within the two major areas along Ring Ring Road: Lake Kasumigaura and Mt. Tsukuba.
Lake Kasumigaura Area: Breathtaking Views and Leisurely Cycling!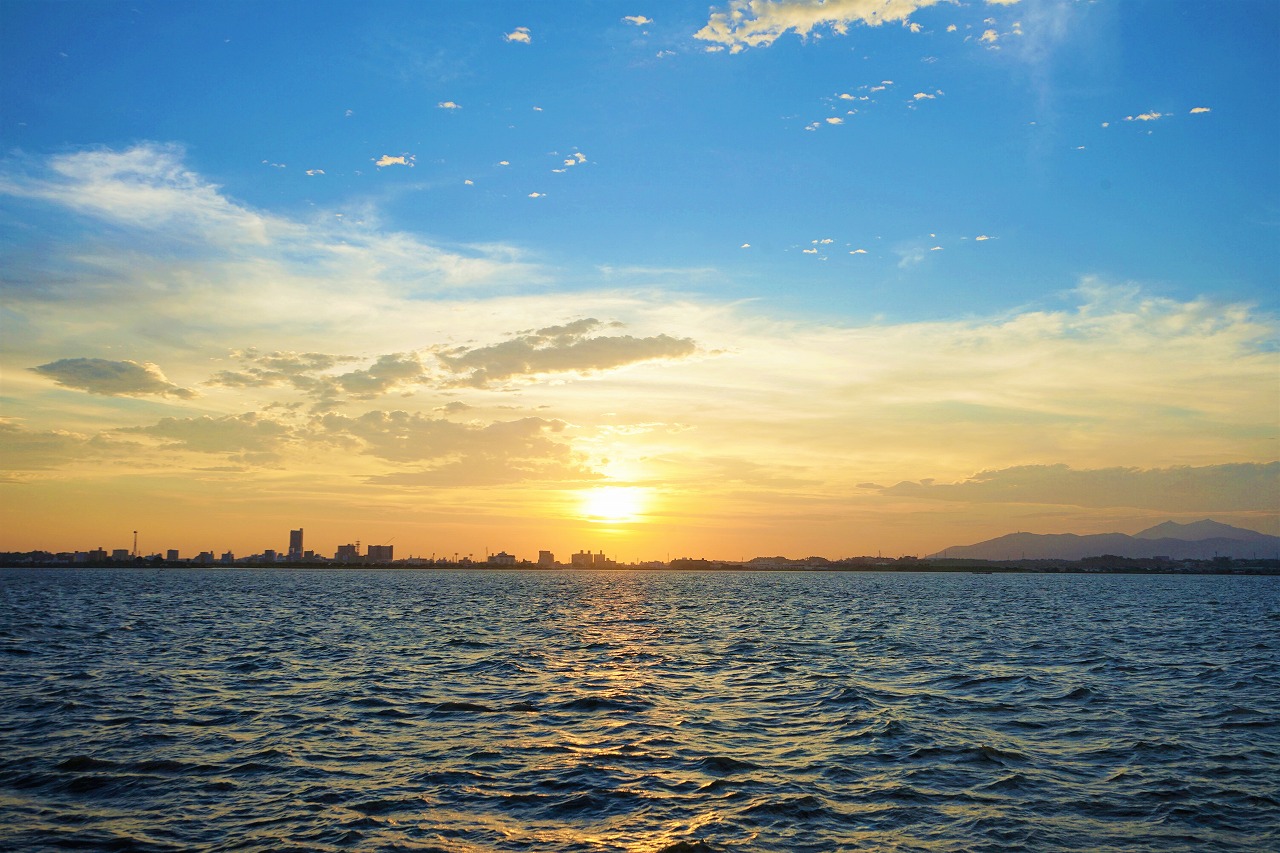 Lake Kasumigaura is the second-largest lake in Japan. In ancient times, the entire area east of Mt. Tsukuba (including the present-day Tsuchiura city) was beneath the ocean; the lake formed when the sea level lowered. Ring Ring Road extends along the shore, offering cyclists the chance to enjoy scenic lake views.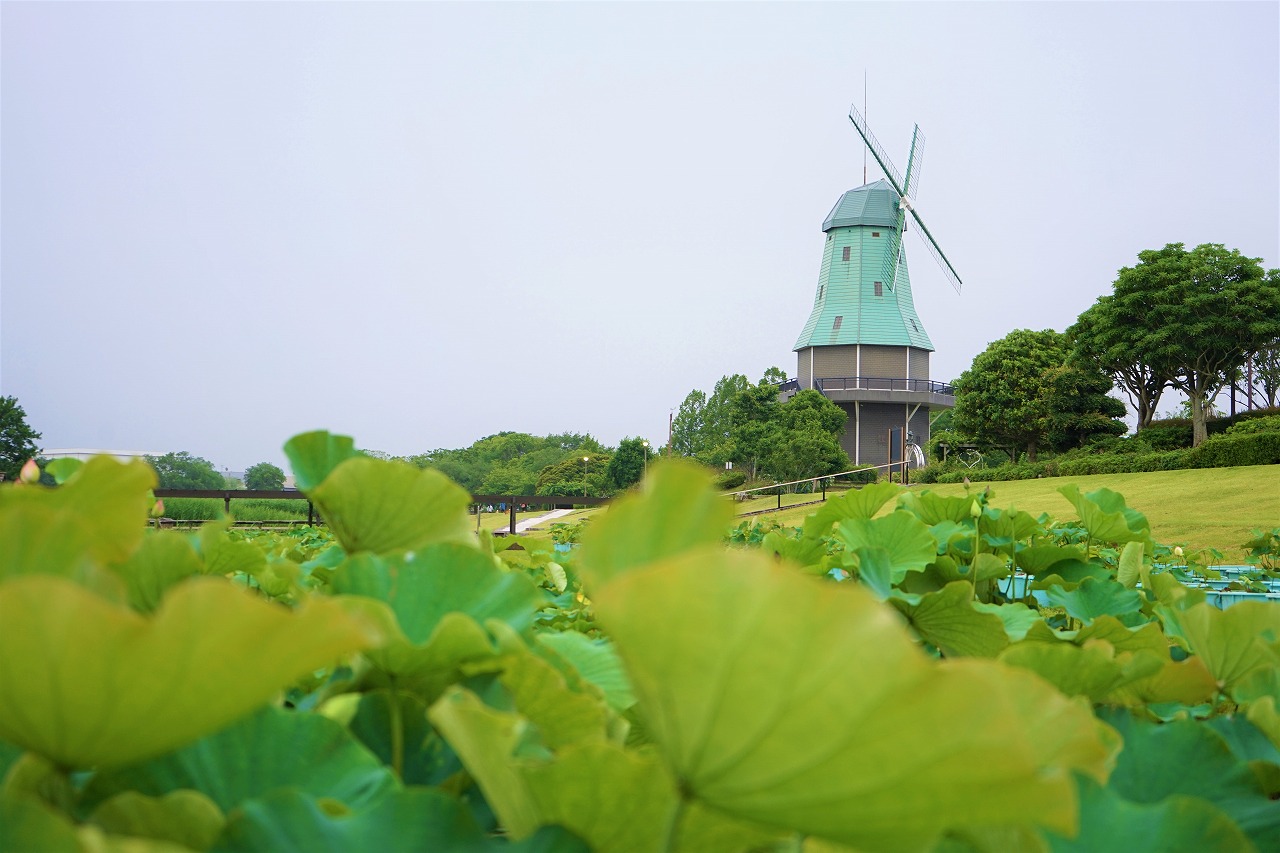 Kasumigaura Park, with its iconic windmill, is an excellent destination for those who'd like to admire gorgeous views of Lake Kasumigaura and beautiful seasonal flowers. You can climb onto a windmill platform to enjoy a panoramic view of the entire area!
Those who wish to enjoy delicious local food should stop by Mihoyagi, a nearby Japanese restaurant specializing in eel and river fish cuisine. Their appetizing dishes and meals are ideal for lunch or dinner!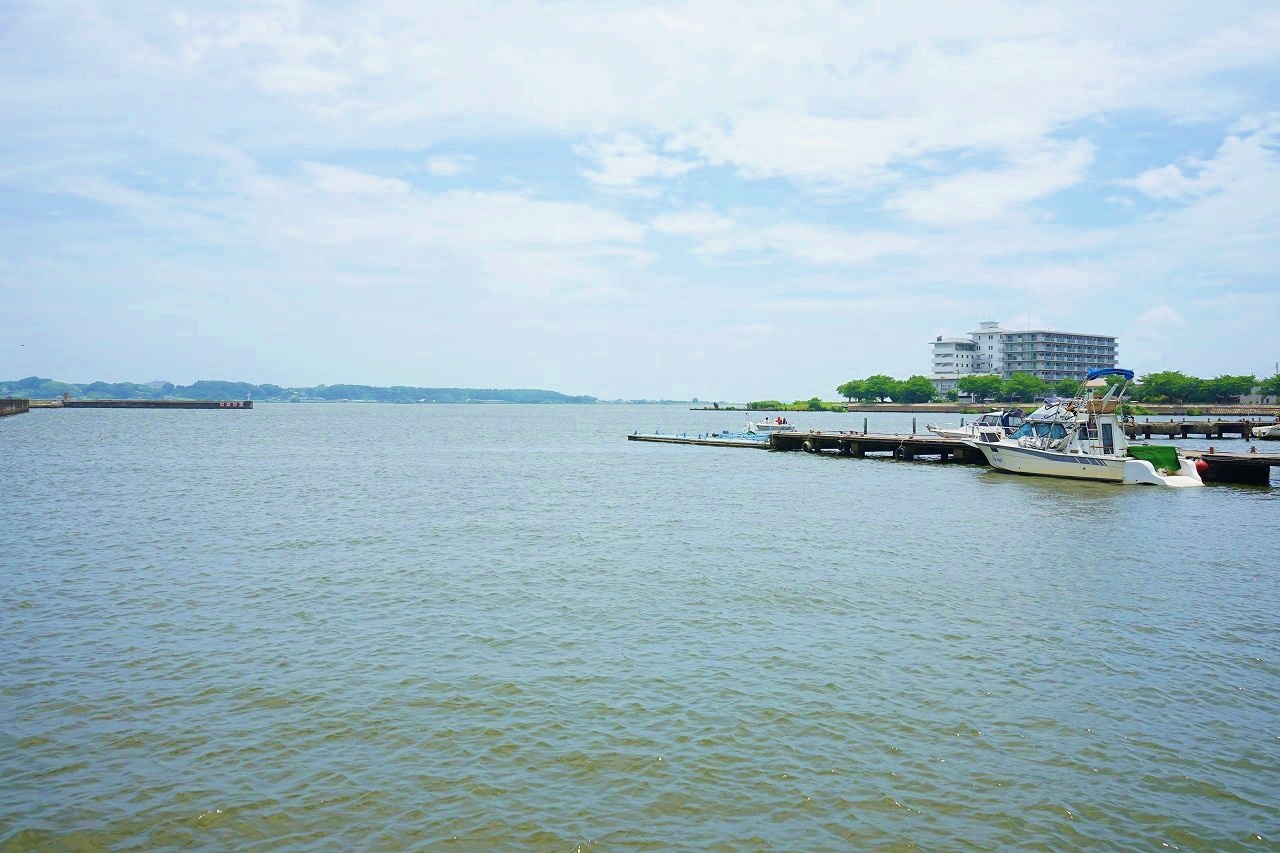 Lacus Marina (Japanese) is not far from Tsuchiura Station, a facility that offers water activities such as lake cruises and canoeing (*), as well as boat and SUP paddleboard rentals. They even have a foot bath ("ashiyu")! How about taking a break and doing some marine sports after cycling for a while?
You can leave your bike at Ring Ring Port Tsuchiura, a rest area for cyclists located right by Lacus Marina.
*For canoeing, please make a reservation beforehand at Lacus Marina (tel: 029-822-2437).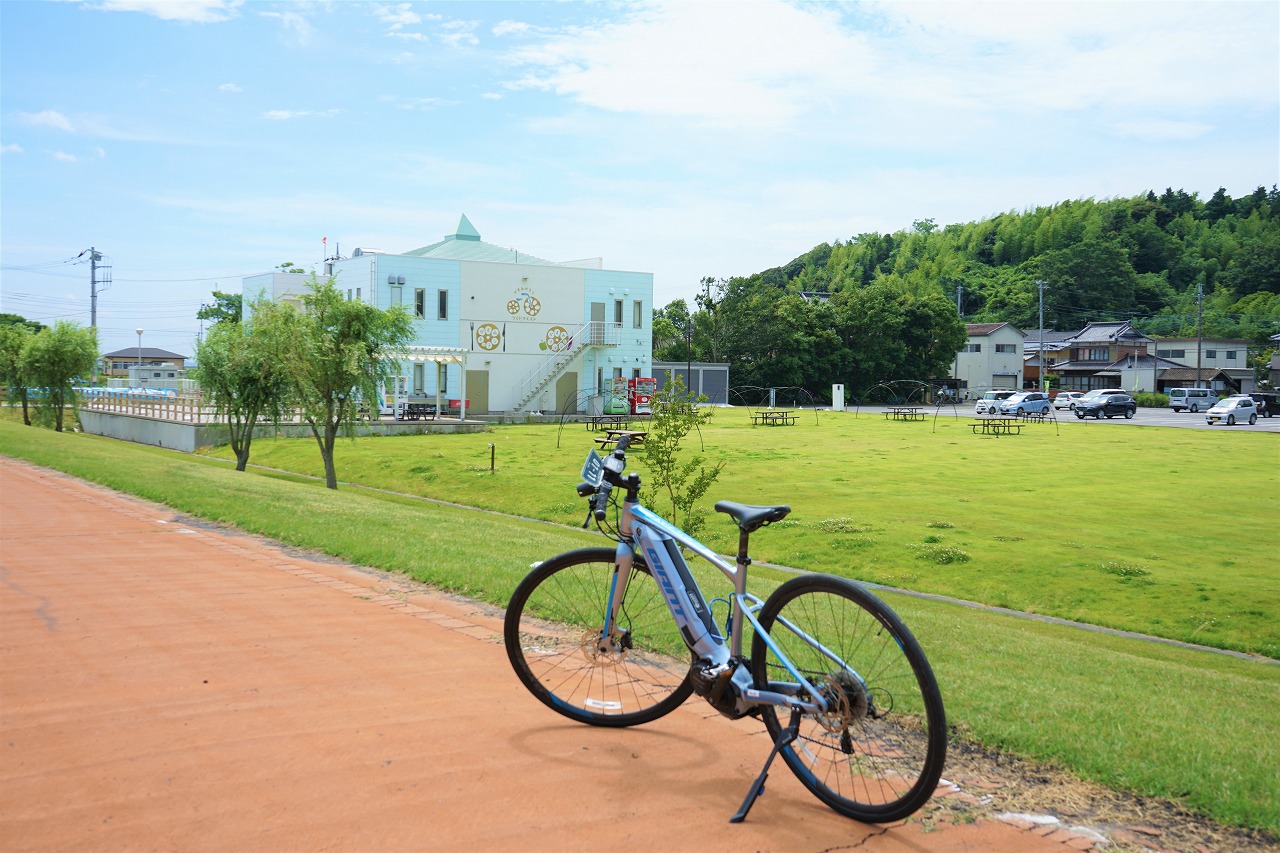 Follow the Ring Ring Road along the northern side of the lakeshore, and you'll reach Ayumizaki Park, a facility with excellent services for cyclists. The park has an aquarium, a castle-tower-shaped history museum, and an observatory offering splendid views of the lake and its surroundings.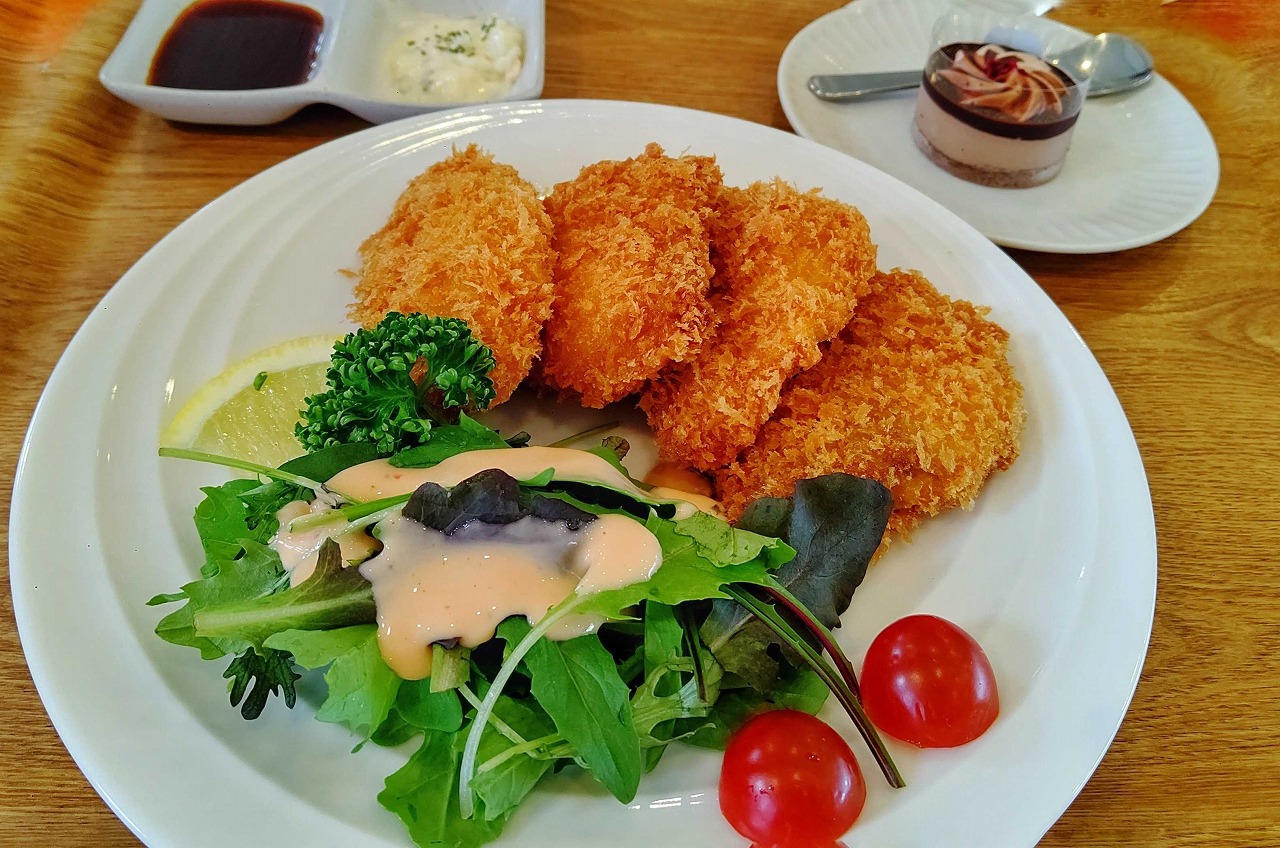 Inside the park, you'll also find Kasumigaura Exchange Center (Japanese), a facility with a shop and a dining area. The dining area, called Kasumi Kitchen, is located on the second floor. Their menu consists of delicious dishes made with famous Ibaraki farm produce and ingredients grown in the Lake Kasumigaura area, such as Hitachi beef, lotus root, farmed catfish, and others.
Kasumi Marche, the souvenir shop on the first floor of this facility, sells select local food products, alcoholic beverages, and crafts from Kasumigaura City and other areas of Ibaraki Prefecture.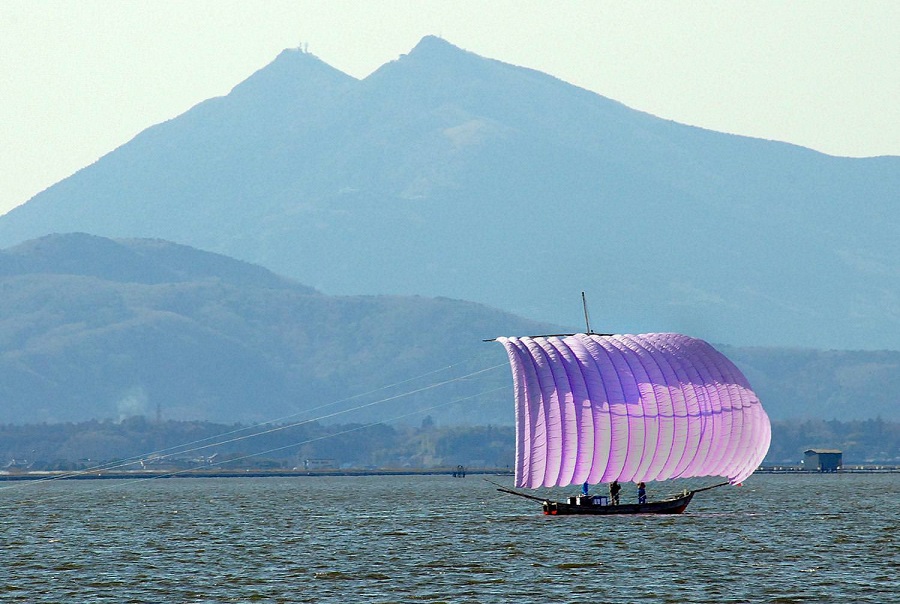 Kasumigaura Exchange Center also provides boat cruises that allow participants to take a close-up look at hobikisen, traditional fishing boats with giant billowing white sails. This particular type of sailboat originates in the Lake Kasumigaura area.
This facility is also cyclist-friendly, and you can rent a bicycle here. They even have showers and changing rooms for cyclists, so stop by to refresh!
The view from Ayumizaki Observatory
Ayumizaki Kannon is a temple located on the hill overlooking the park. Ayumizaki Observatory can be found right next to the temple. This tranquil place surrounded by lush greenery is an excellent stop if you wish to relax amidst nature.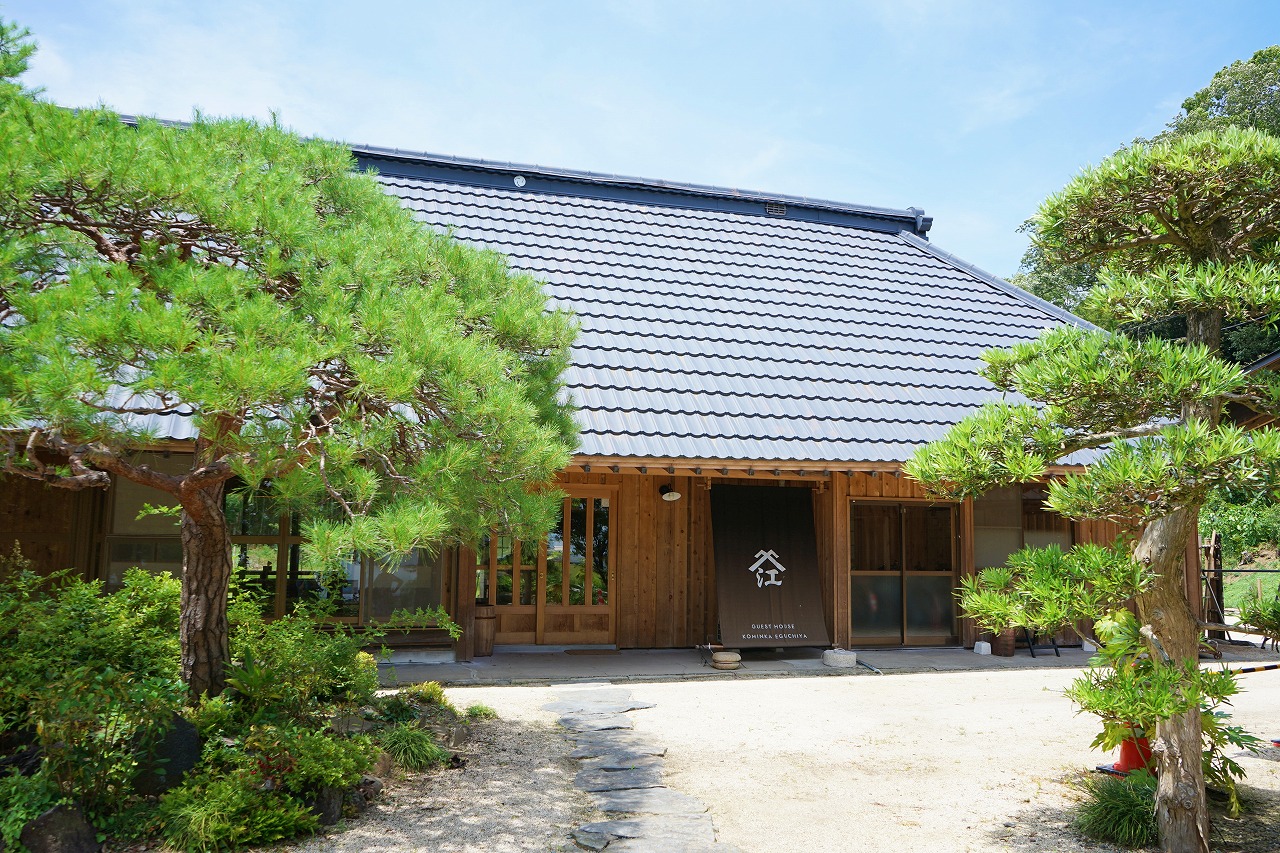 At the foot of the hill, you'll find Eguchiya, a stylish guesthouse in a renovated traditional house. Staying here for the night is a great option if you wish to enjoy the surroundings at your leisure. The Japanese-style rooms are tastefully decorated and comfortable, and the food offered here is homemade Japanese cuisine. Please note, however, that you might need to book your room well in advance, as Eguchiya is extremely popular among domestic visitors.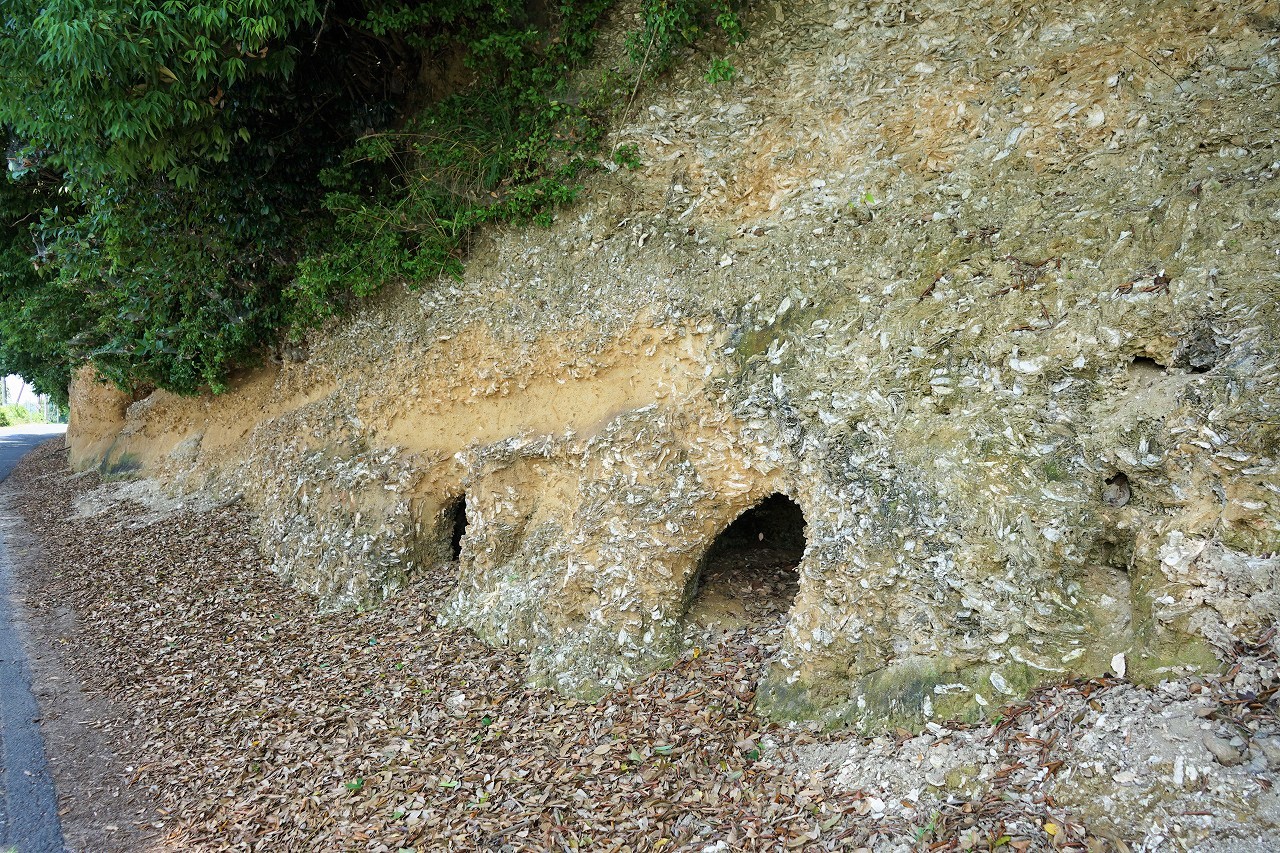 On the way to Ayumizaki Park, you'll pass by some fascinating locations.
One is the Historical Heritage of the Oyster Fossil Enclosure, an oyster fossil mound formed around 130,000 to 120,000 years ago when this area was under the ocean. Around the sixth to the seventh centuries AD, this mound was used as a burial site with lateral hole graves, which can be seen here.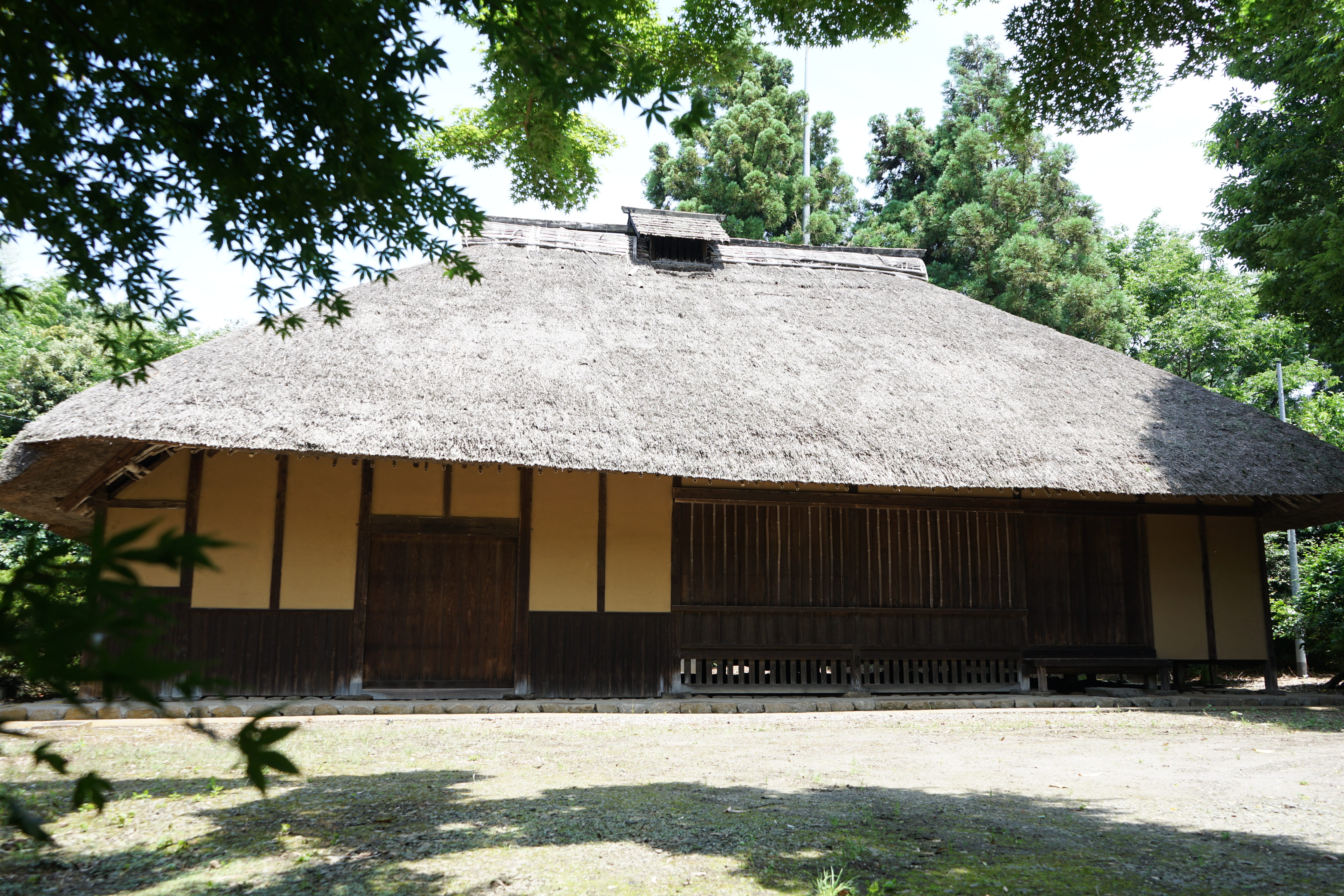 Right nearby is the Shiina Clan Residence, a house dating back to the Edo period (1603-1868). The residence and its beautiful warehouse can only be seen from the outside. Surrounded by greenery, this place has a very tranquil atmosphere.
Lotus fields in Kasumigaura. Photo by Pixta
Cycling on the Ring Ring Road in Kasumigaura City, you'll have the lake on one side and endless lotus fields on the other! The wetland along the shore of Lake Kasumigaura is ideal for the cultivation of lotus plants, making this area in Ibaraki the largest producer of lotus roots in Japan. If you come here in July, you'll be able to enjoy the sight of beautiful lotus blooms gracing the surroundings.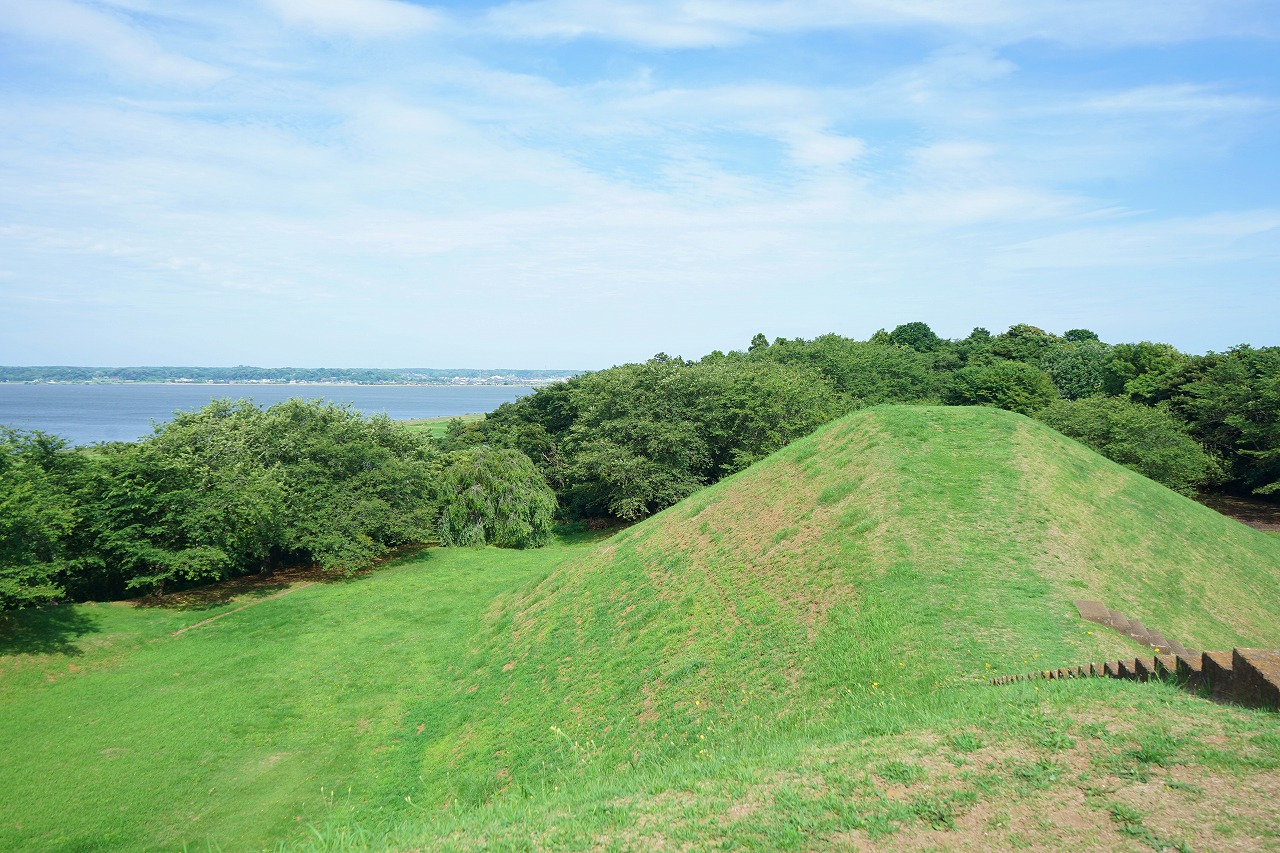 After leaving Ayumizaki Park behind, we highly recommend heading for Fujimizuka Kofun Park (Japanese). This impressive historical site is home to large burial mounds ("kofun") dating back to the Kofun Period (from around 250 until around 600 AD). During those times, community leaders were buried in these large mounds with statues of objects they used during their lifetime
Within Fujimizuka Kofun Park, there is a museum with free admission displaying objects unearthed during archeological excavations in the area. These exhibits offer glimpses of funeral traditions that existed in Japan before the country embraced Buddhism. This park turns into a gorgeous cherry blossom viewing spot in spring!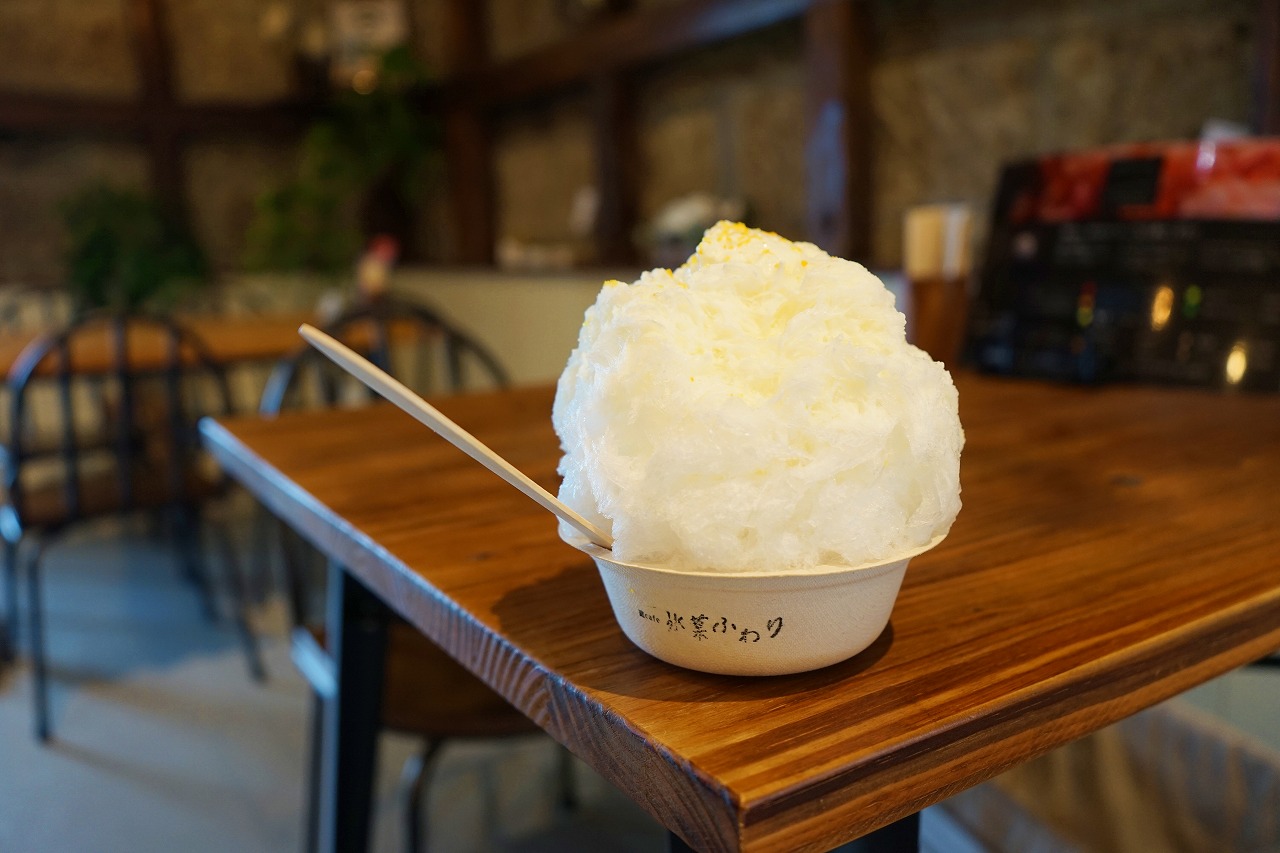 Those who feel energetic can challenge themselves to reach Itako, the city on the opposite shore of Tsuchiura. Itako is a charming city famous for its waterways.
Stop for refreshments at Kura Cafe Hyoka Fuwari (Instagram), a local cafe specializing in shaved ice located in a renovated Edo-period storehouse ("kura"). Made with tasty seasonal fruit and generous servings of natural ice, their desserts are simply delicious! The shaved ice flavors include intriguing combinations that change every season, such as Black Sesame and Nuts, Green Plum and Sake Lees Milk, Iris (lemon milk syrup combined with natural butterfly pea), and many others.
Photo by Pixta
Must-visit destinations in Itako include Iris Park, a public garden full of beautiful iris varieties. These flowers reach their blooming peak in June; the city holds its famous Iris Festival this month. At the festival, visitors can witness a traditional bridal ceremony specific to Itako. The brides are taken by boat to the place where their future spouses are. This ceremony shows the deep connection between Itako's culture and its waterways.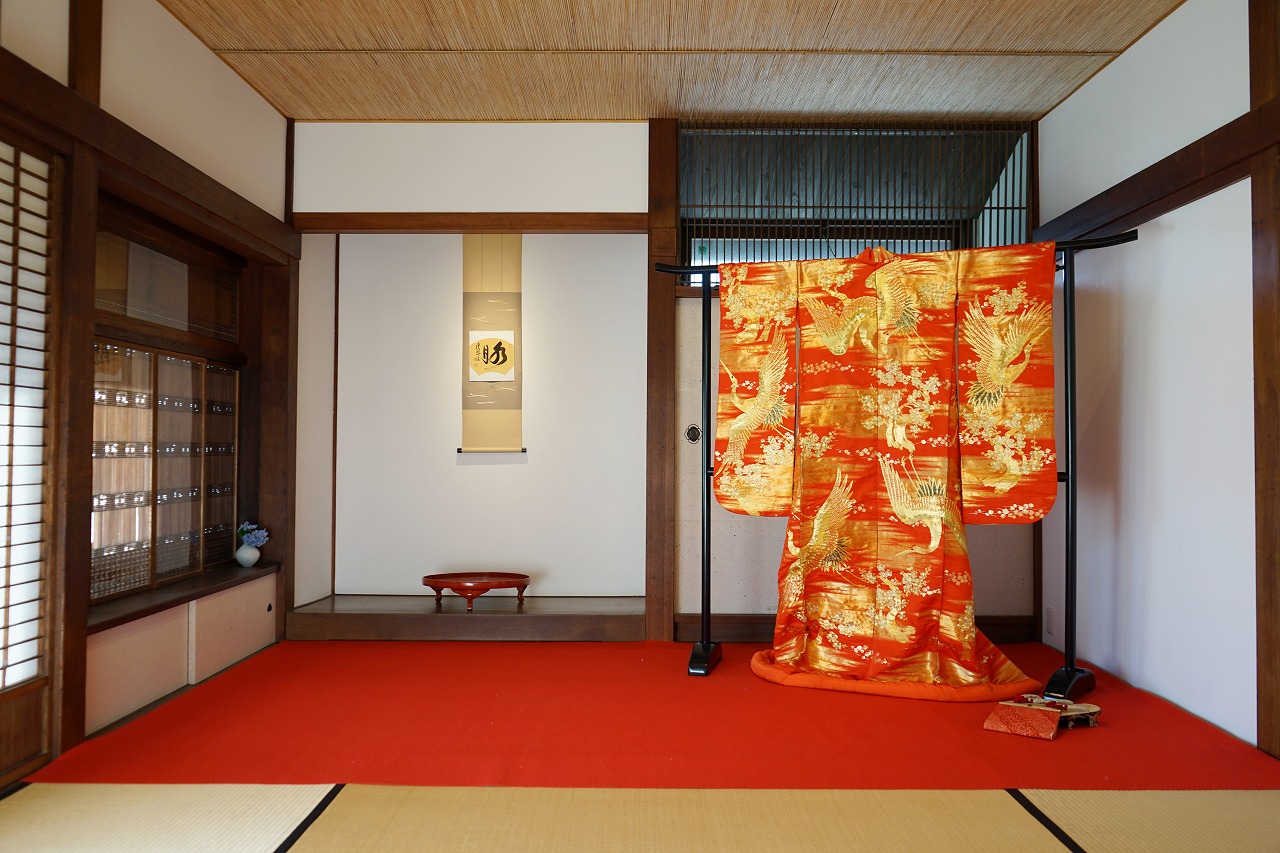 Also located close by is the Isoyama Residence (Japanese), a house built about 120 years ago that belonged to a wealthy local family. This house can be visited for free, offering visitors a chance to see traditional architectural elements and wooden decorations specific to this area. These include the ceiling beam above the entrance, which also served as a boat rack back in the days when waterway transportation was thriving, or the intricate latticework decorating the windows.
A family or group can also rent the Isoyama Residence for overnight stays! The living rooms are elegant Japanese-style spaces, but the kitchen, bathroom, and bathing area are renovated and equipped with all the amenities for a comfortable stay. You can even enjoy a barbecue in the inner garden of the residence.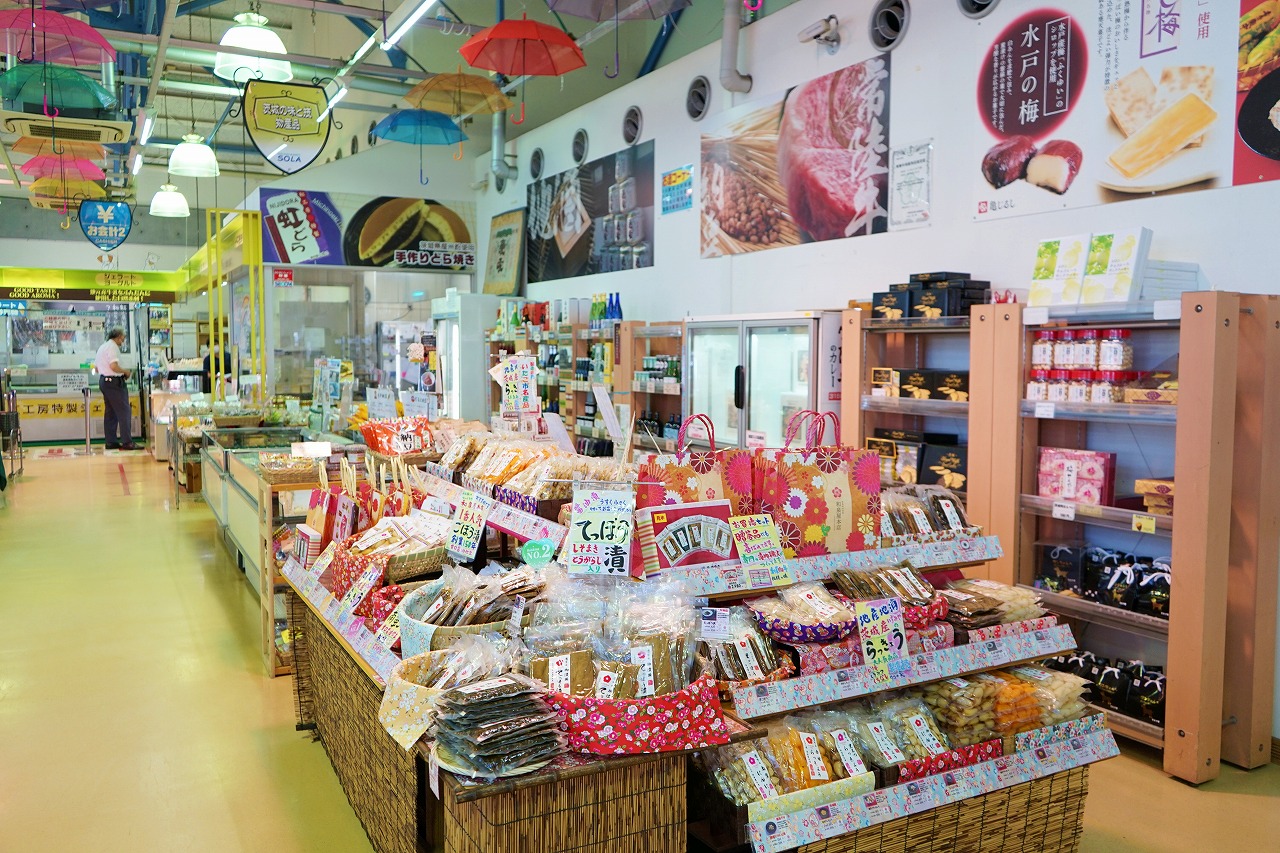 Another great place to take a rest or to buy souvenirs is Michinoeki Itako, a rest area with a local product store and dining facilities. At the store, you'll find not only popular Ibaraki confectionery and beverages but also pickles, seasonings, snacks, and various products from local farms. Plums, sweet potatoes, and lotus roots are some of Ibaraki's specialties, so how about picking up snacks made with these delicious ingredients?
Mt. Tsukuba Area: Historical Places and Majestic Mountain Peaks!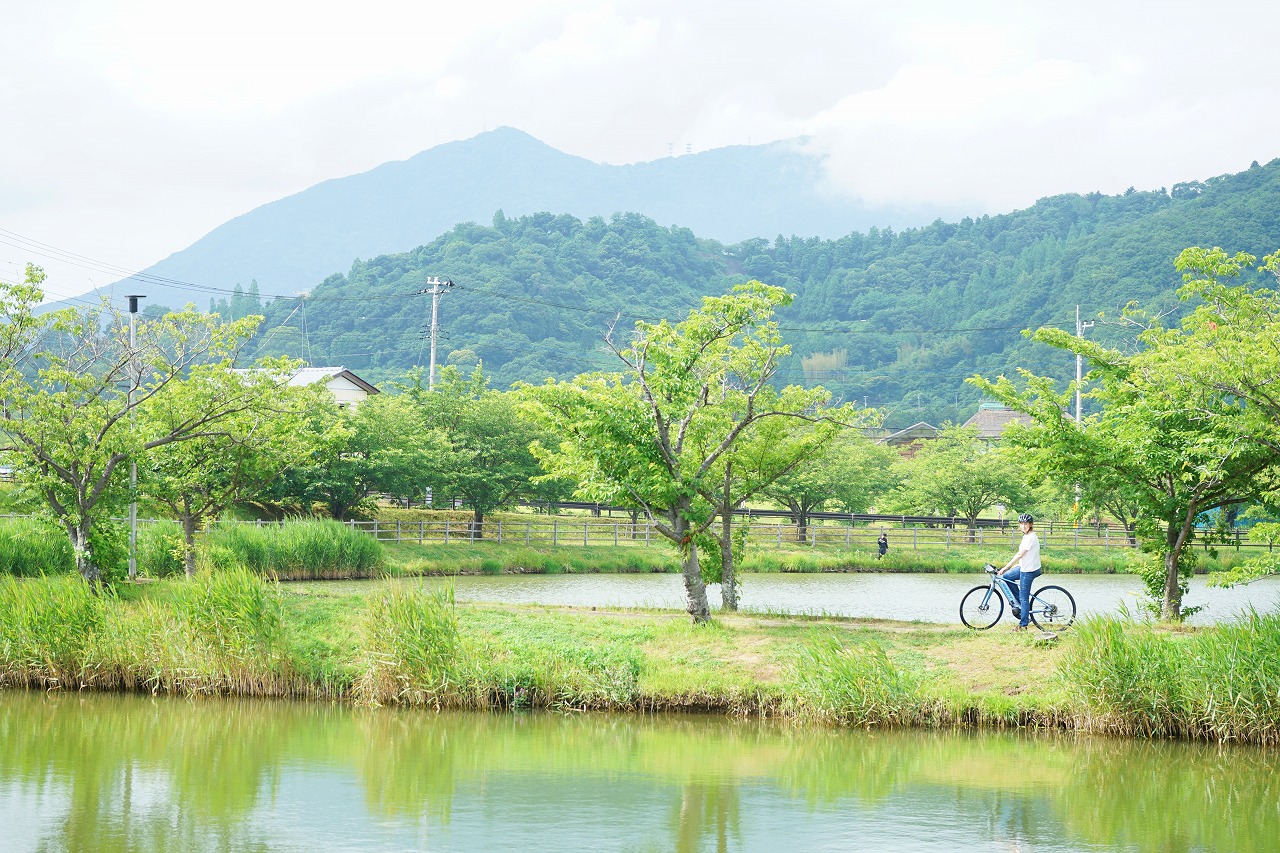 The cycling course west of Tsuchiura is known as the Mt. Tsukuba Area of Ring Ring Road. Despite its name, the cycling route is flat and can be enjoyed leisurely by cyclists of all levels.
A characteristic feature of this area is a portion of Ring Ring Road built over the former Tsukuba Railway Line tracks. Some of the former station platforms have been turned into rest areas for cyclists; many have vending machines, toilets, and tire inflators.
Some sections of Ring Ring Road in this area are lined with cherry blossom trees; if you come in spring, you can enjoy cycling through a tunnel of cherry blossoms!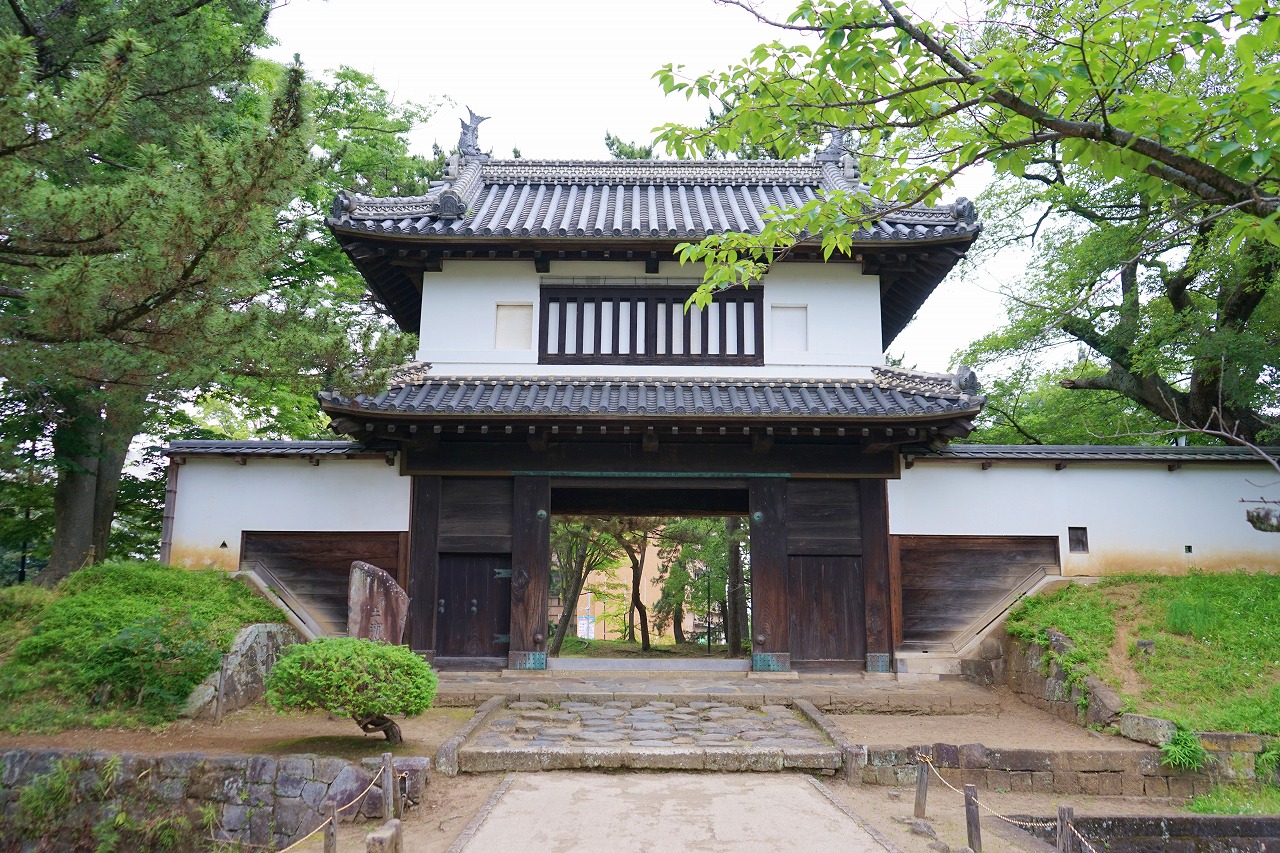 Before leaving Tsuchiura behind, stop by the former site of Tsuchiura Castle. The castle moat and three gates can still be seen today. The area has been turned into a park where citizens can relax, surrounded by greenery. (In October 2022, the time this article was published, the site was temporarily under restoration.)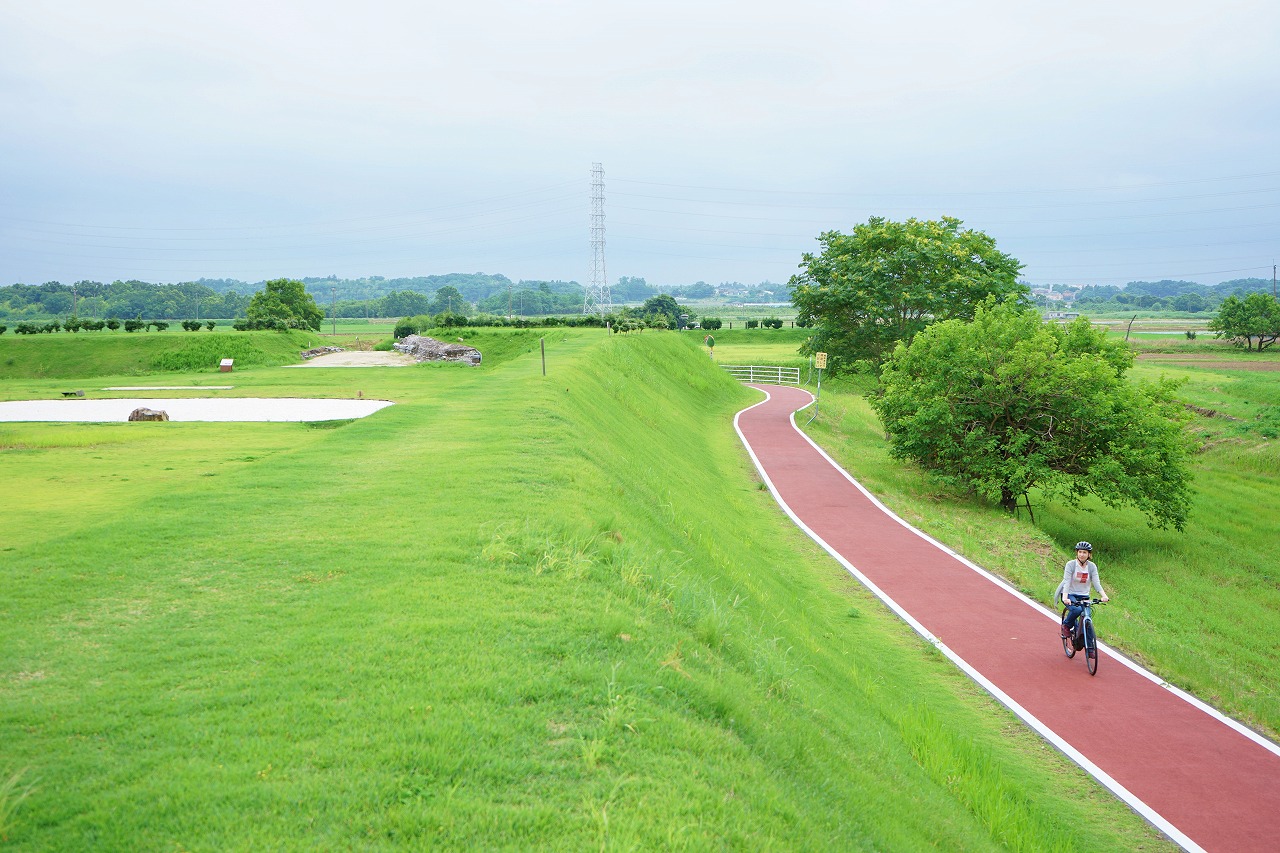 Continue toward Mt. Tsukuba, and you'll reach the Oda Castle Historic Square. This castle belonged to the Oda clan, a local feudal family who had to fight to defend their seat of power during Japan's Warring States period in the 15th-16th centuries. Oda Castle was destroyed in 1602, but its foundations remained and can still be seen today.
When the Tsukuba Railway was first built, the railroad passed right through the middle of the castle grounds. After Tsukuba Railway stopped operating, the castle foundations were restored as a historical site.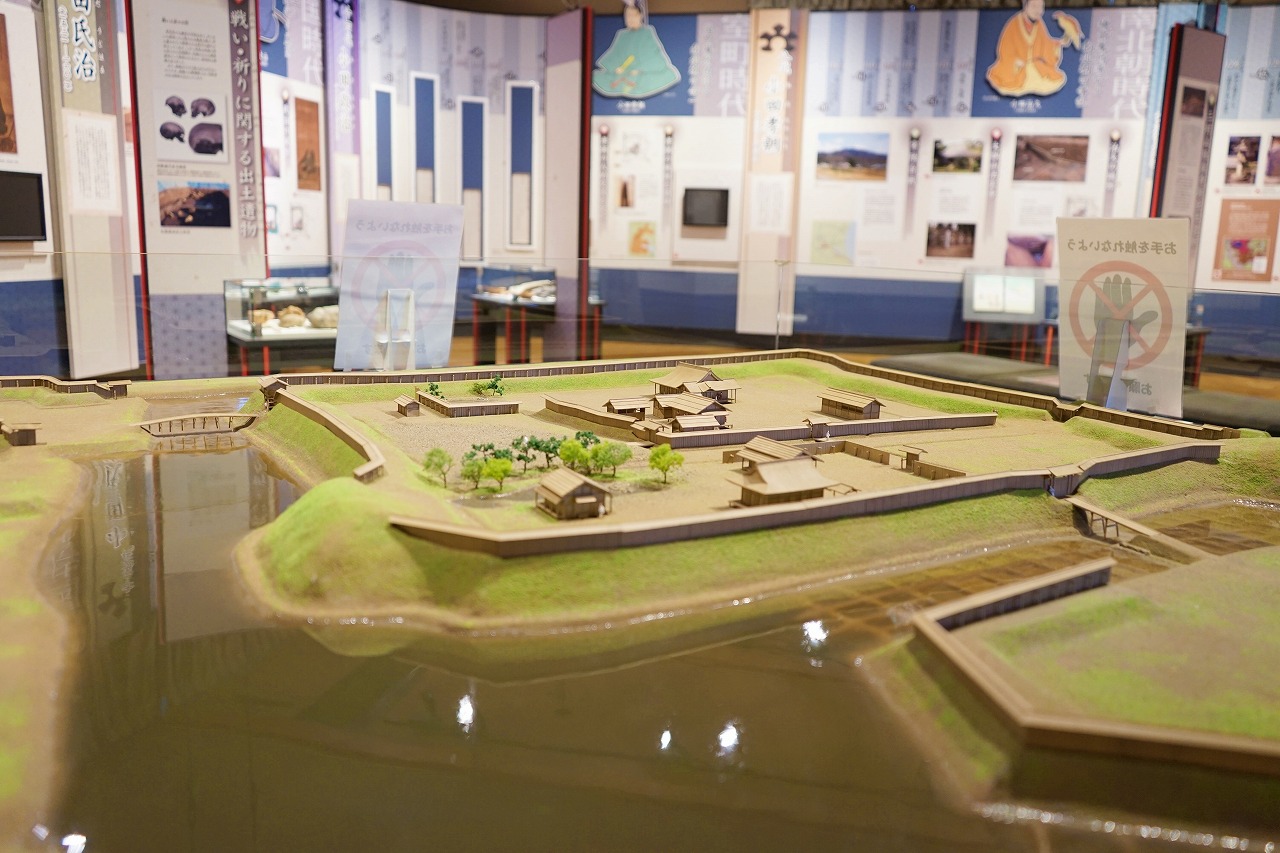 A museum near the Oda Castle ruins displays a diorama of the former castle, objects excavated from the area, and panels detailing the castle's history. Some of the displays are interactive!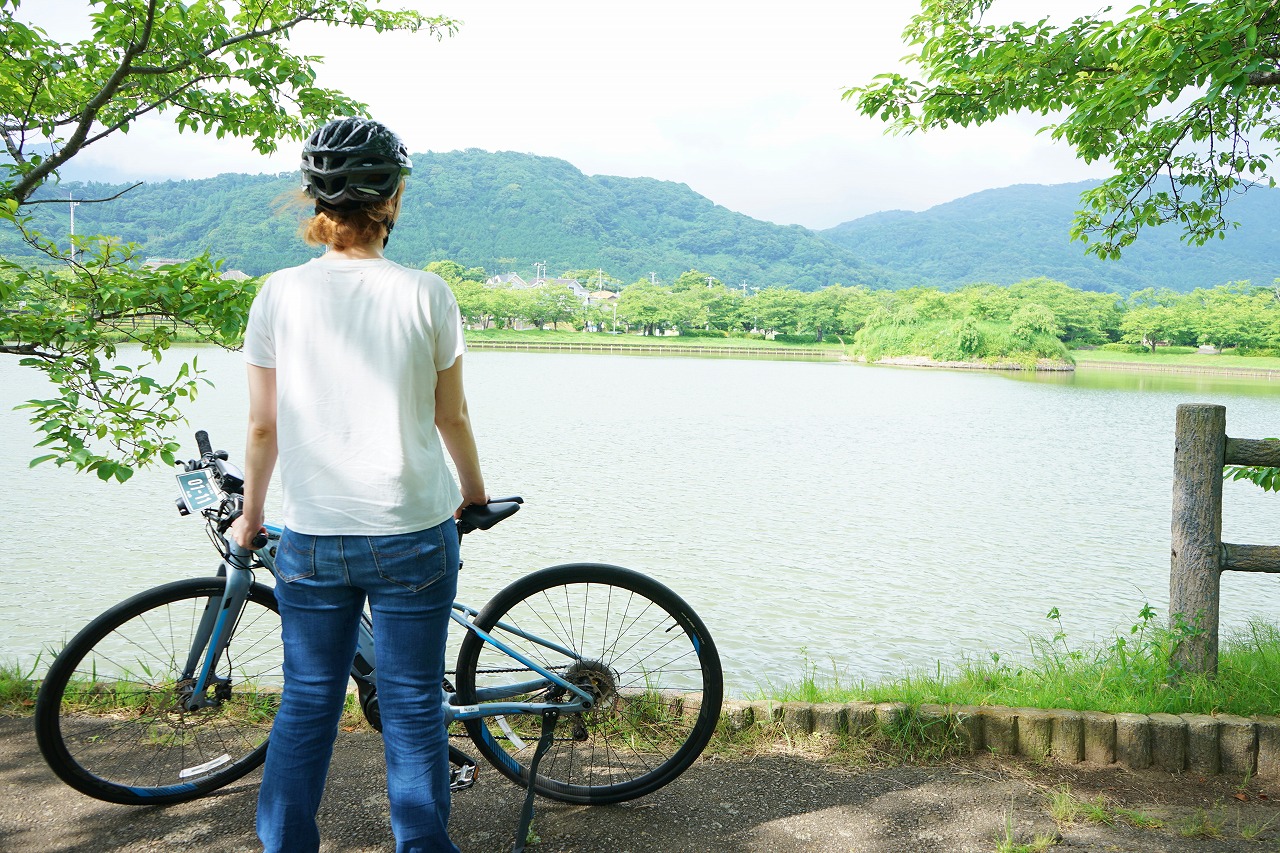 Another excellent spot to drop by while heading toward Mt. Tsukuba is the Hojo Pond. A splendid cherry blossom spot in spring and surrounded by lush greenery in summer, this pond offers the best point to take in the rich nature of the area. The two peaks of Mt. Tsukuba are visible from the pond!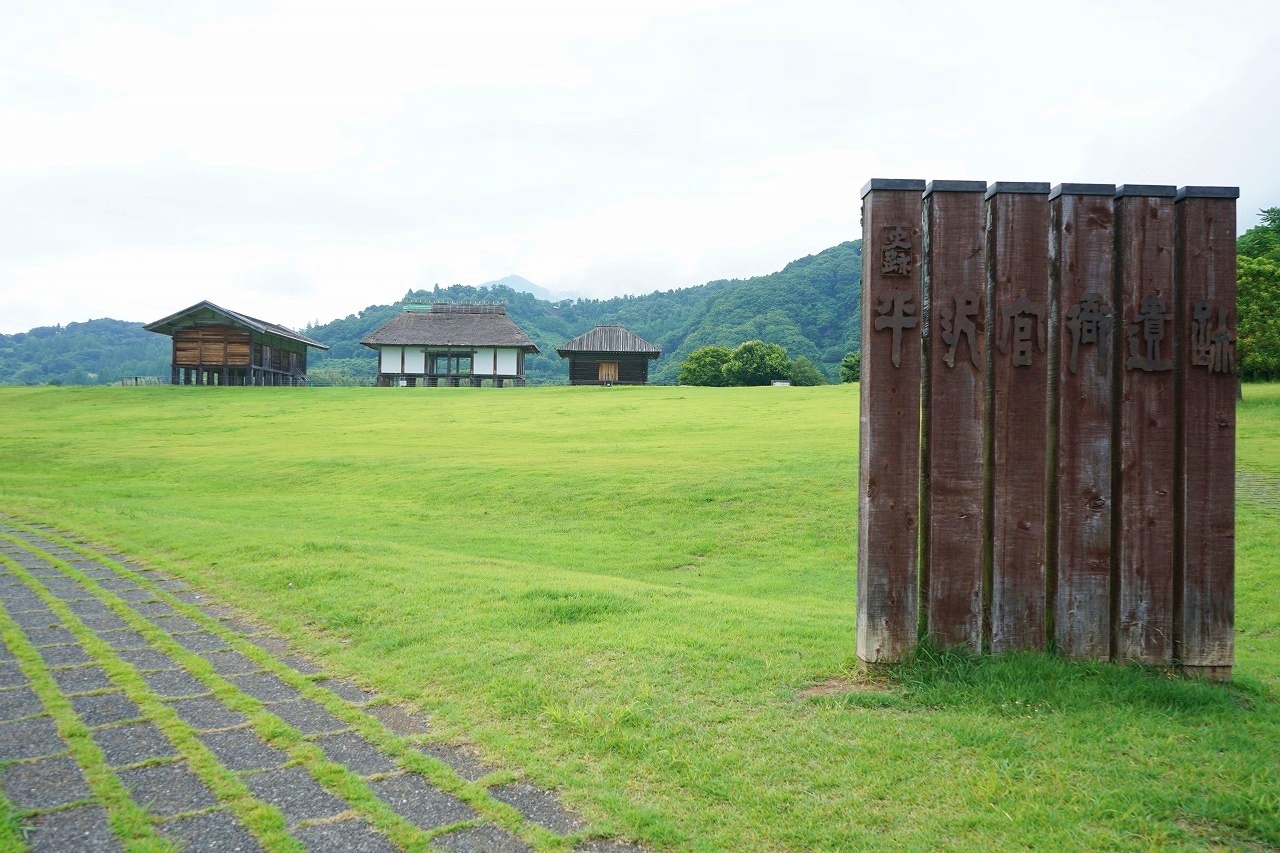 A fascinating place to visit nearby is the Hirasawa Kanga ruins complex, a historical site dating back to the Nara (710-784) and Heian (794-1185) periods in Japanese history. This site used to function as an administrative facility of the Hitachi province, "Hitachi" being the historical name of the region that is now Ibaraki. A very serene place surrounded by nature, this place is ideal for a short break.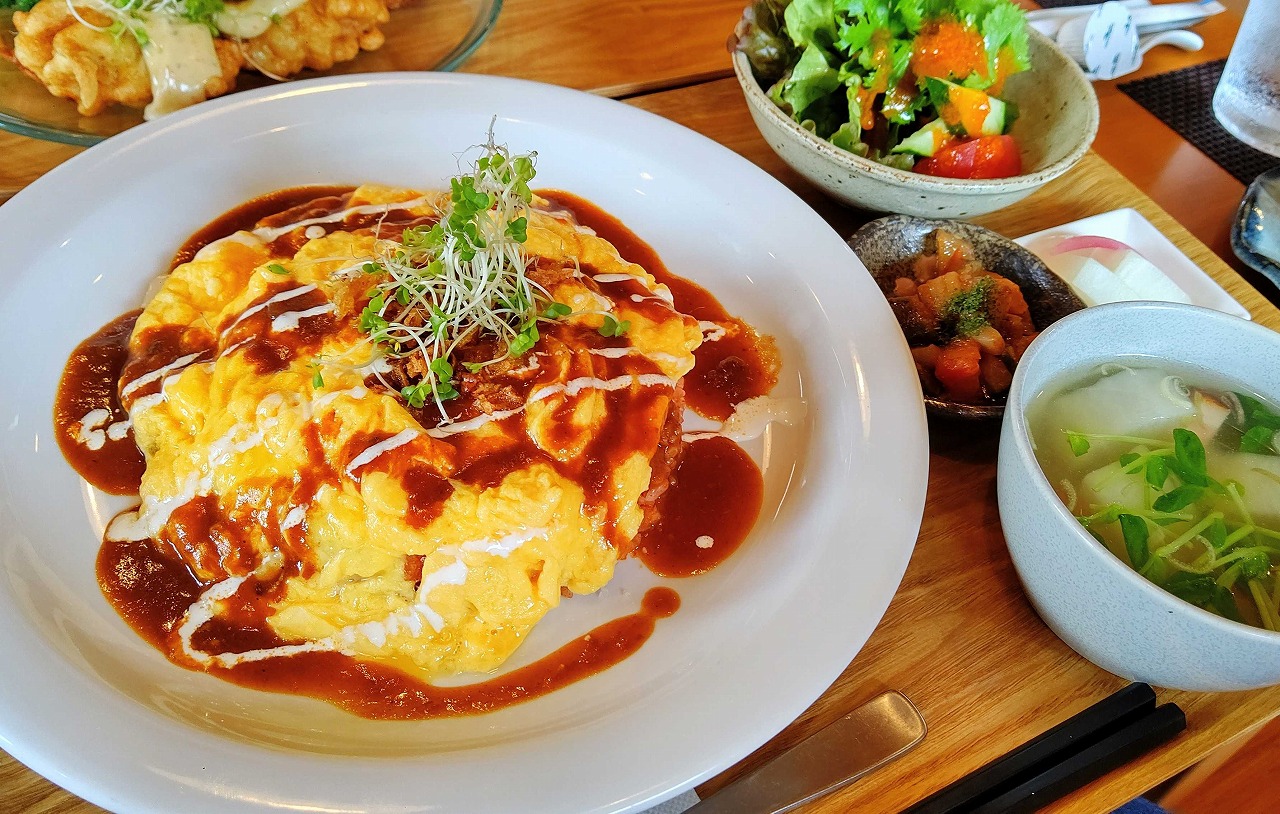 Close to this archeological site and Hojo Pond is Hill Climb, a cyclist-friendly dining facility. They offer homemade dishes made with flavorful Ibaraki ingredients. Their menu is healthy, well-balanced, and very delicious; we recommend it as a stop for lunch!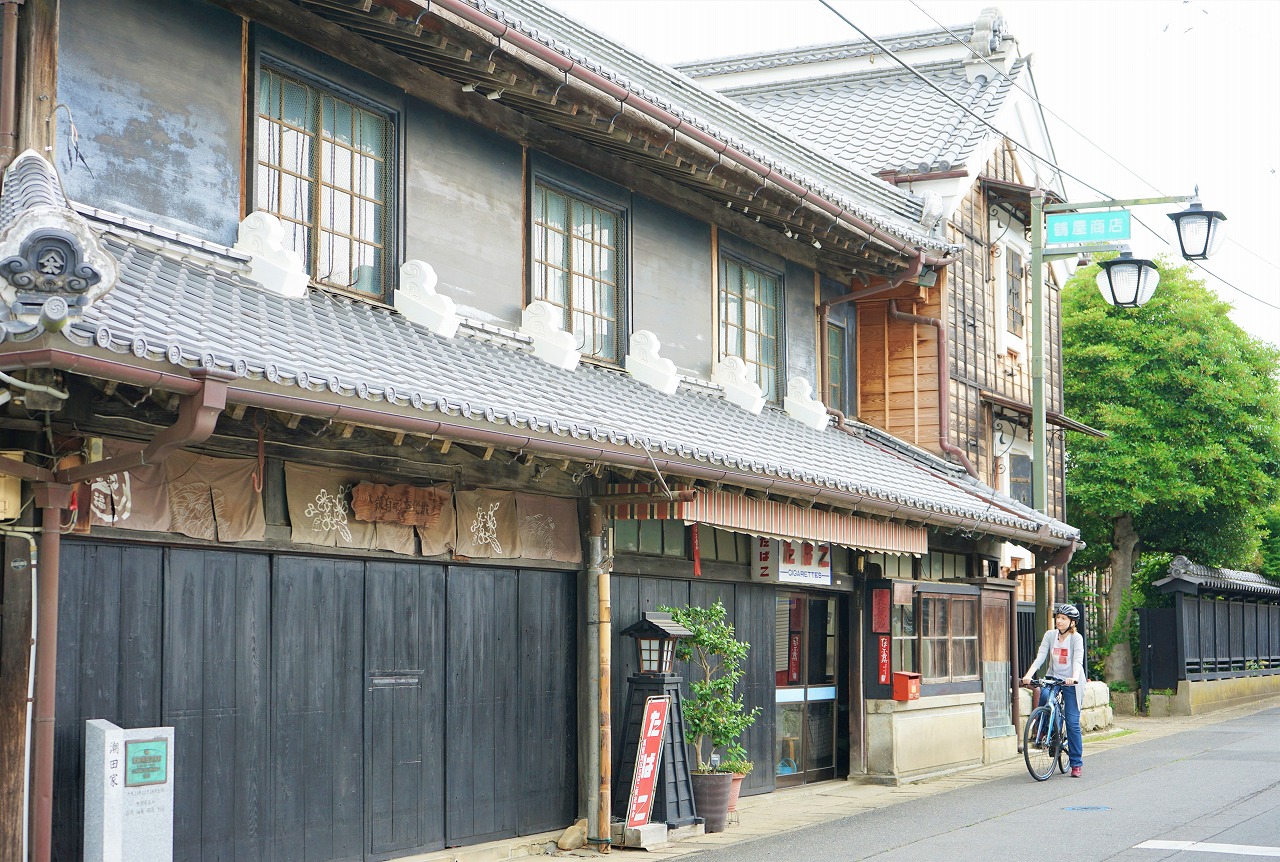 To those who love traditional Japanese culture and architecture, we highly recommend heading for the Makabe District in Sakuragawa City. Home to many residences and buildings dating back to the Edo period, this area has been designated a preservation district for traditional buildings.
The interior of Craft Style
Some of the old buildings and warehouses have been renovated and currently operate as artisan studios and shops. One example is Craft Style, which handles yukata (light summer kimono) textiles, aloha shirts with kimono patterns, elegant footwear, and accessories.
The entire district becomes especially animated during the Makabe Hina Doll Festival in March. The historical charm of this district will make you think you've slipped through time back to the Edo period!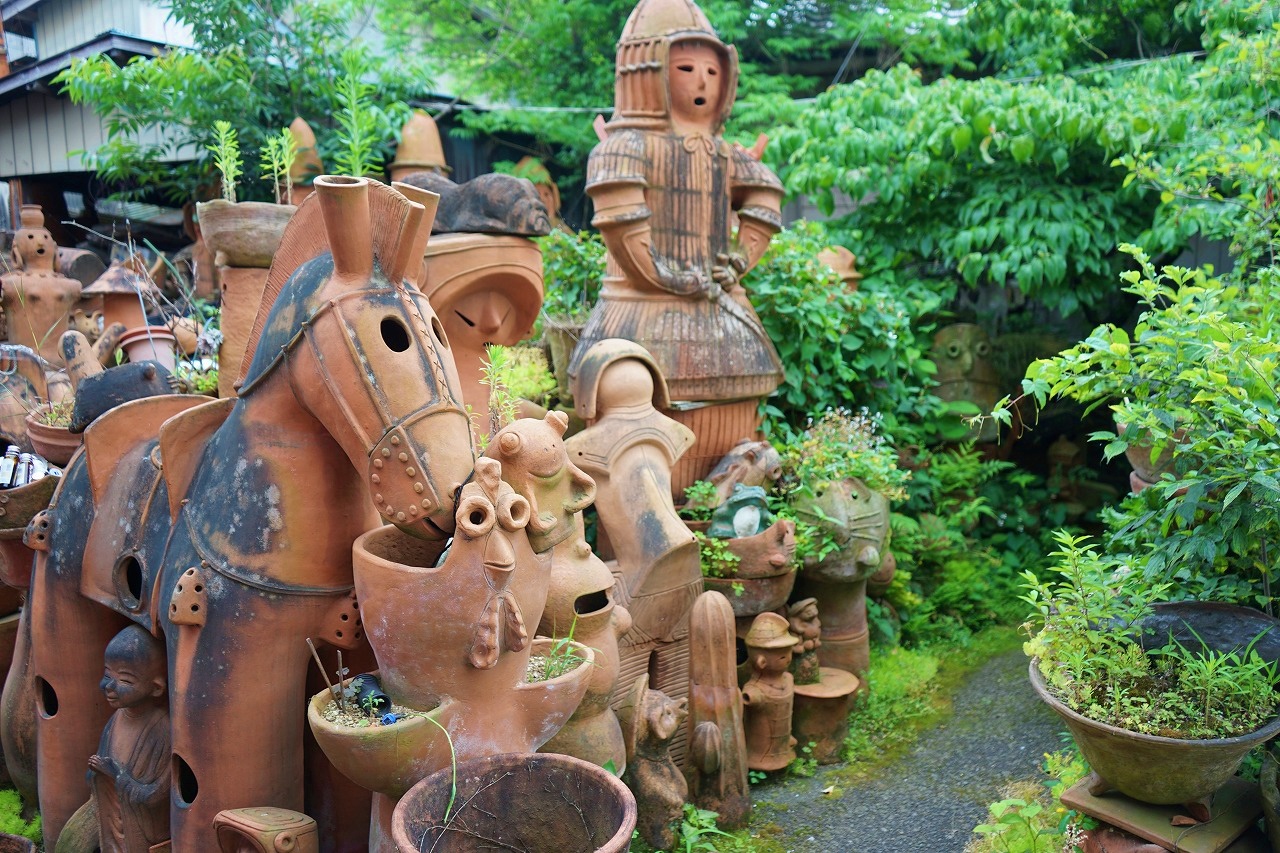 A fascinating place near the Makabe District is Haniwa no Nishiura, a shop specializing in reproductions of haniwa. Haniwa is a term for the terracotta objects used as funeral items during the Kofun Period (from around 250 to around 600 AD).
The haniwa statues come in various sizes, from the very small ones that are ideal for decorating a desk to the very large ones that make great ornaments for a garden. There is something mysterious and ancient yet at the same time cute about these haniwa statues.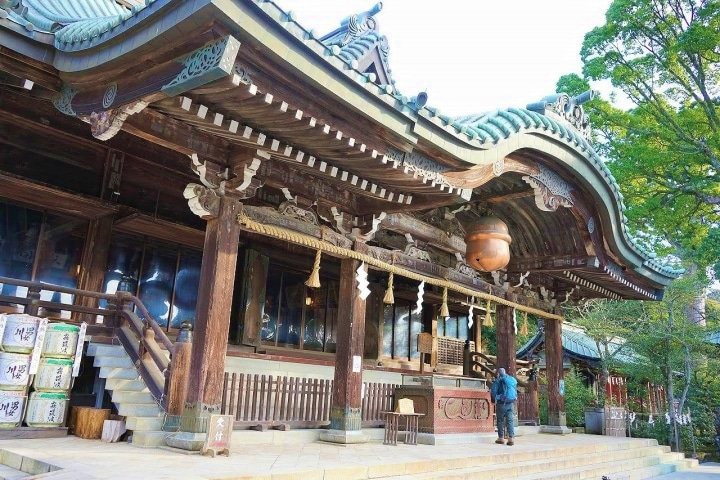 If you like cycling and hiking, you might enjoy the Hill Climb Course. This is a 25-kilometer course with more than 10% inclines in some areas; if you're using an e-bike, the ride won't be very challenging. You can explore picturesque locations at higher elevations, such as Fudo Pass (280 m altitude) or Kazekaeshi Pass (500 m altitude).
Tsukubasan Shrine enshrines Izanagi and Izanami gods, which are said to be the parents of the Japanese archipelago. The shrine is an important landmark of this area and a must-see spot.
The entire mountain is part of the Mt. Tsukuba Area Geopark, home to unique flora, fauna, and fantastic rock formations you can enjoy during a hiking adventure. The hike is of an intermediate difficulty level, so please ensure you wear proper climbing shoes. It takes about two hours to reach the summit from Tsukubasan Shrine.
If you decide to go hiking on Mt. Tsukuba, we suggest leaving your bike at a local inn, where we recommend staying overnight. Tsukubasan Edoya or Hotel Aokiya are excellent ryokans where you can enjoy relaxing hot spring baths and exquisite local cuisine.
Enjoy Cycling on Ring Ring Road in Ibaraki!
Easy to reach from Tokyo, Tsukuba-Kasumigaura Ring Ring Road is full of irresistible charm, featuring scenic views, historical sites, and unique dining facilities that are cyclist-friendly.
There are many other amazing places to visit along this cycling route that we couldn't mention here; please enjoy exploring the area and making discoveries on your own. Don't miss out on a memorable cycling adventure in Ibaraki!