Hidden Gems Near Tokyo! 5 Ibaraki Beaches Recommended by Locals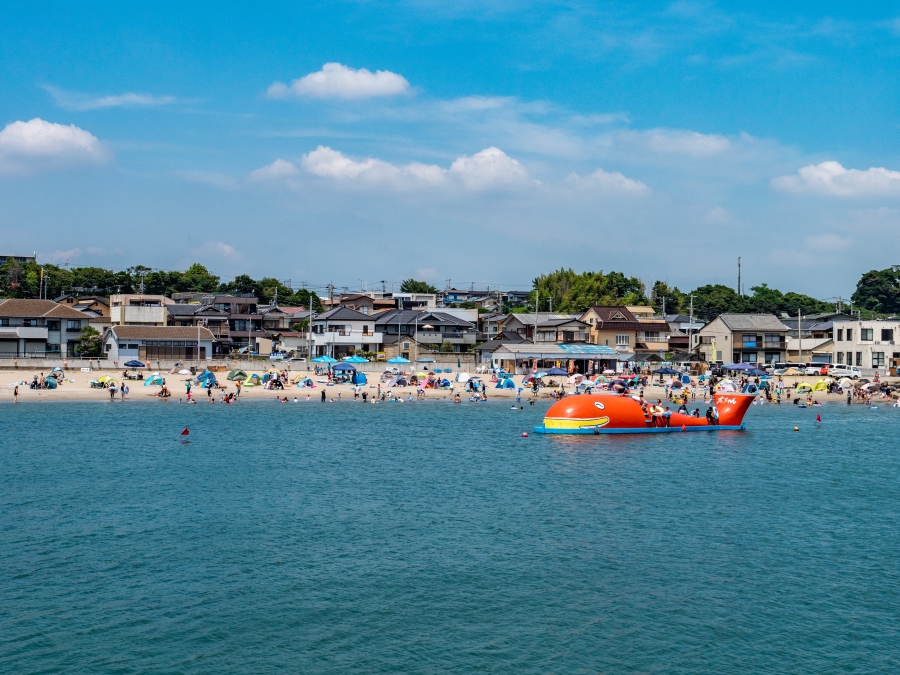 Ibaraki Prefecture, located northeast of Tokyo, is home to several beaches where you can relax without worrying about the crowds. It's also a lovely day trip or overnight stay easily accessible from the capital of Japan. This article will introduce five recommended beach spots in Ibaraki!
Easy Access from Tokyo! Main Attractions of Ibaraki Beaches
The Start of Summer in Japan! The Beach‐Going Season
Taking a dip in the ocean is one of the many summer leisure in Japan. Every coming summer, swimming areas on beaches nationwide are opened to visitors. This is called "umi-biraki" or "the start of the beach-going season" in Japanese. It's a seasonal activity that residents of Japan look forward to with great excitement.
During the beach-going season, temporary beach huts are opened to the public and provide shower facilities, locker rooms, and refreshments. Lifeguards are also stationed at the beach so everyone can have fun swimming safely and comfortably.
Ibaraki Has the Best Hidden Beaches Near Tokyo!
Many people often think of Enoshima, Zushi, or Izu when mentioning beaches near Tokyo. But these areas are usually crowded during the summer, possibly making your trip more exhausting due to their immense popularity.
That's why we want to recommend beaches in Ibaraki! This prefecture facing the Pacific Ocean has a coastline extending 190 kilometers and a total of 18 beaches. You'll find smaller crowds compared to Enoshima and other popular seaside spots. The beaches are also spacious and open! The ocean waters and shores are shallow and easy to swim in, while the beaches are easily accessible due to no traffic congestion. Moreover, there are countless scenic places to visit during your trip.
This article introduces five beaches in Ibaraki recommended by locals. All beaches mentioned are accessible within one and a half hours to three hours by car or public transportation from Tokyo. You can easily visit these locations on a day or overnight trip.
*The beaches mentioned below are generally open around mid-July to mid-August. However, some beaches may remain closed to prevent the spread of COVID-19. Please check the respective association's official website before visiting.
1. Oarai Sun Beach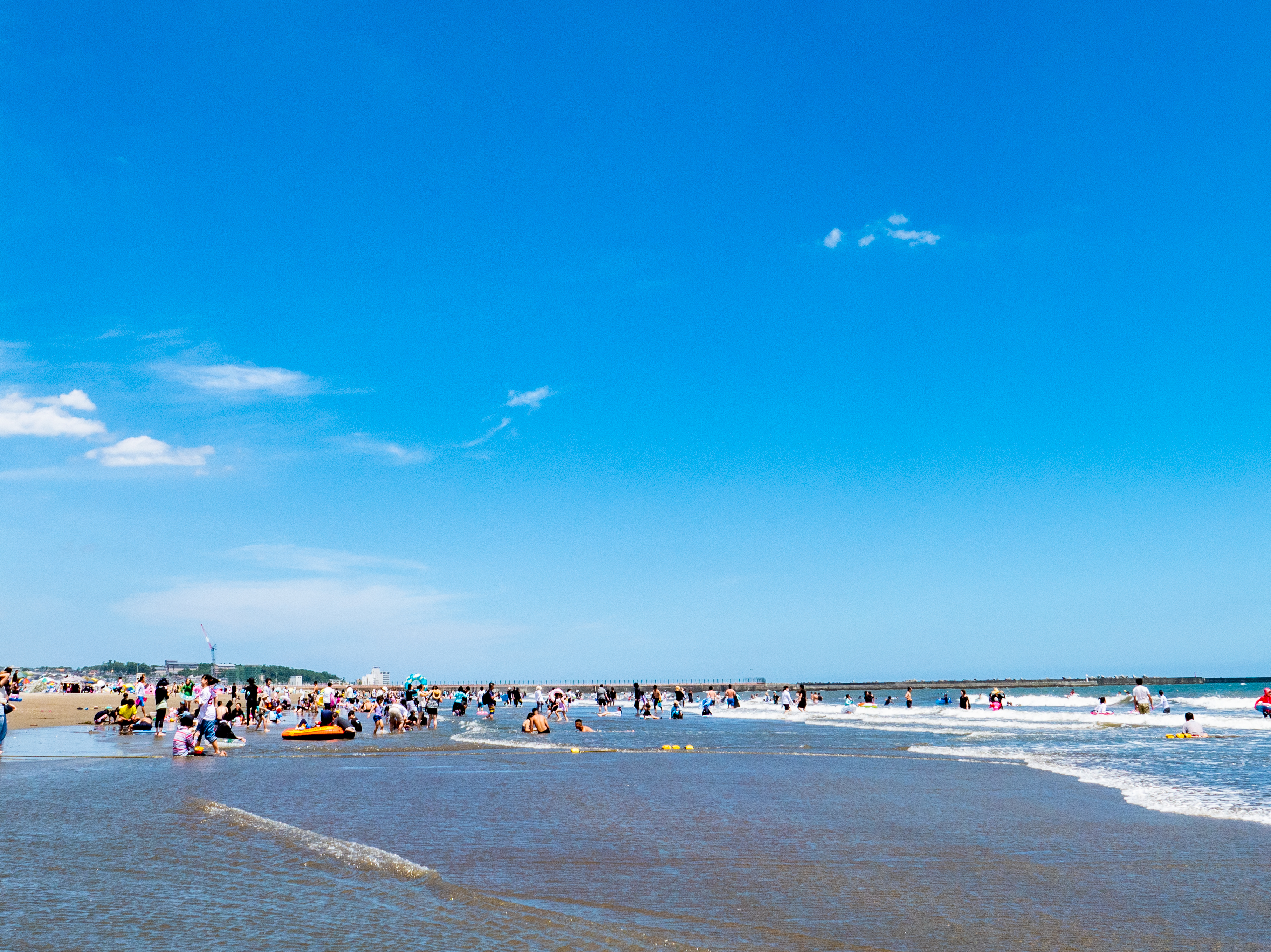 The most popular swimming beach in Ibaraki Prefecture is Oarai Sun Beach. The beach lies along a 1,300-meter-long stretch of sand with shallow waters and can be safely enjoyed by people of all ages and abilities. This is thanks to the amphibious wheelchairs and life jackets available for rent.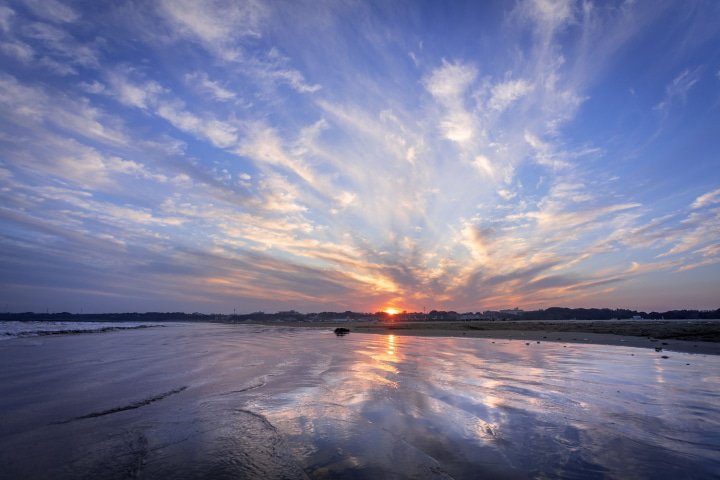 Oarai Sun Beach has been gaining attention over the past few years as a photogenic spot.
It transforms into a reflective beach with the water reflecting the sky like a mirror. This dazzling phenomenon occurs when the tide changes from high to low. Many photo enthusiasts visit the beach to capture this beautiful sight with their cameras in tow.
You can check the Oarai Tourist Association's website (Japanese) for details on the best time to capture this reflective beach. Bring along props like an umbrella or lantern to take captivating shots!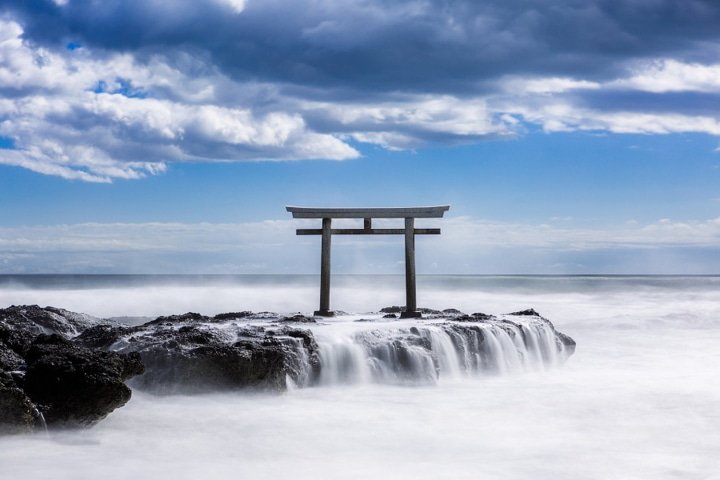 There are numerous sightseeing destinations near Oarai Sun Beach.
Kamiiso-no-Torii, the torii (shrine gate) that floats above the waves in front of Oarai Isosaki Shrine, is a well-known photo spot for its gorgeous scenery. There's also Mentai Park Oarai, a theme park centered around the popular Japanese food mentaiko (spicy cod roe). You can have fun on a factory tour and try unique dishes like mentaiko soft serve or more typical eats like mentaidon (spicy cod roe bowl).
Aqua World Ibaraki Oarai Aquarium is the largest aquarium outside of Tokyo. The aquarium exhibits an array of marine life, including various species of sharks, ocean sunfish, and much more!
The town of Oarai, where Oarai Sun Beach is located, has also been a hot topic as the setting of the popular anime Girls und Panzer. Countless life-sized panels, posters, and figurines of the anime characters decorate the town's streets and stores. It is a haven for anime fans who won't be able to resist these charms.
Feeling some fatigue from swimming or sightseeing? Then take a soak at Shiosai Hot Spring, an ancient fossil and natural hot spring just a few steps away from the beach.
2. Ajigaura Beach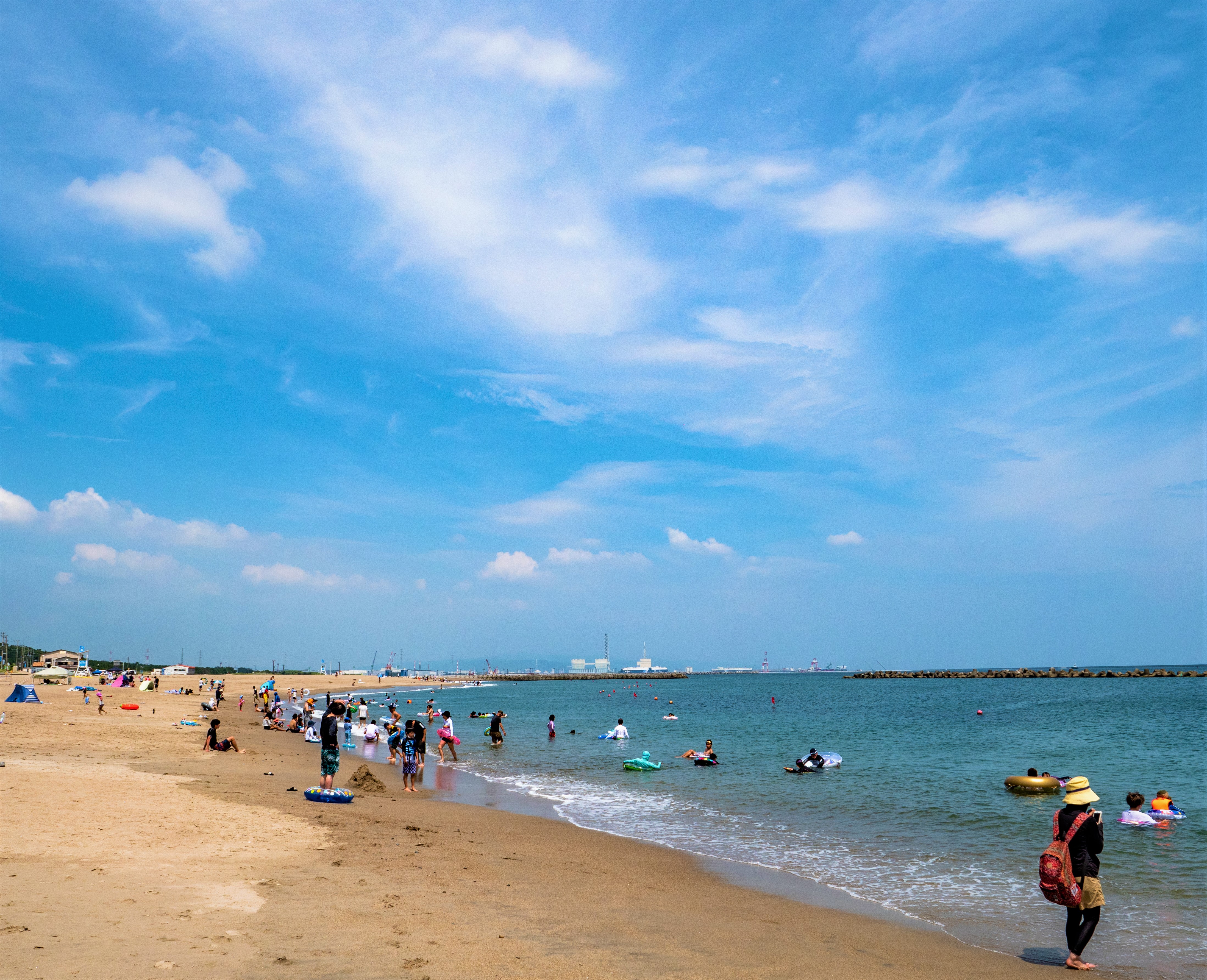 Ajigaura Beach is located along a gorgeous 1.2-kilometer-long coastline. Many events are held on this beach, including the famous Ajigaura Coast Fireworks display that takes place annually in early August. There are even markets occasionally held here.
Hitachi Seaside Park
Ajigaura Beach is a suitable place for those interested in both sightseeing and swimming. It is a mere ten-minute drive to Hitachi Seaside Park, the most popular sightseeing destination in Ibaraki Prefecture.
Sakatsura Isosaki Shrine
You'll also find many hidden sightseeing spots in the area. For example, Hoshiimo Shrine is an unconventional spot erected with the wish that it would "grant everything that you desire (hoshi-mono)." Sakatsura Isozaki Shrine is also located nearby, with a photogenic road leading to the shrine that is densely covered by camellia trees and Japanese bay trees over 300 years old.
Want to stay overnight? Then we recommend the East Coast Fine Glamping, a glamping spot a stone's throw away from Ajigaura Beach. The resort has a charming, luxurious ambiance with an outdoor pool that is temperature controlled. Enjoy dishes made with Hitachi beef and locally-grown vegetables during your stay!
Ajigaura Onsen Nozomi, a one-day hot spring, is also located in the neighborhood. Their spring water contains high concentrations of sodium and chloride, which is effective for ailments such as joint pain and neuralgia.
3. Nikkawahama Beach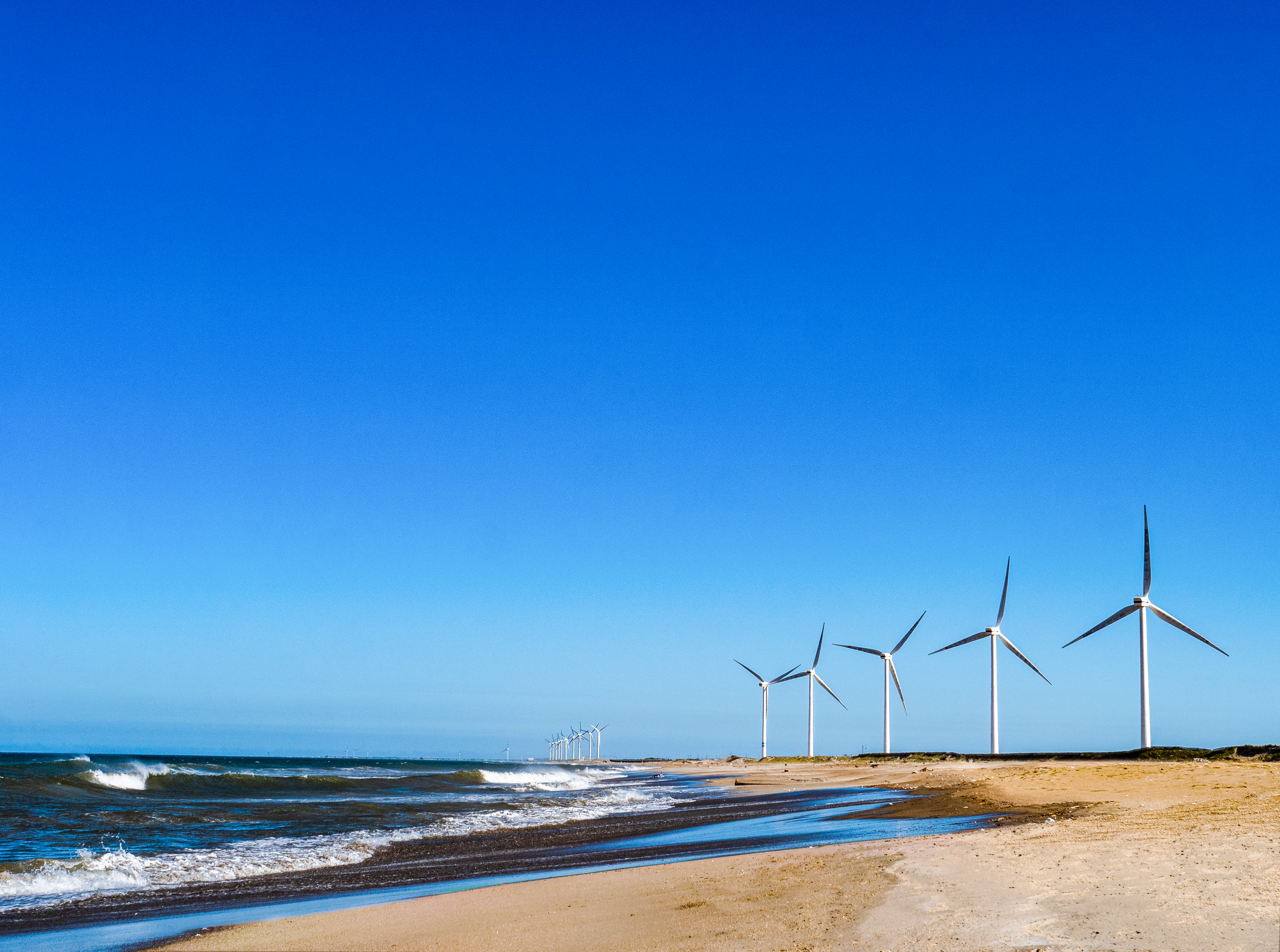 Nikkawahama Beach is located in Kamisu, a city bordering Chiba Prefecture. Various outdoor activities can be enjoyed on the beach, including clamming, surfing, and fishing.
Several wind turbines line Nikkawahama Beach due to Kamisu City's proactive introduction of wind power generation. This beautiful landscape varies according to the time of day and season and has enchanted many photo enthusiasts.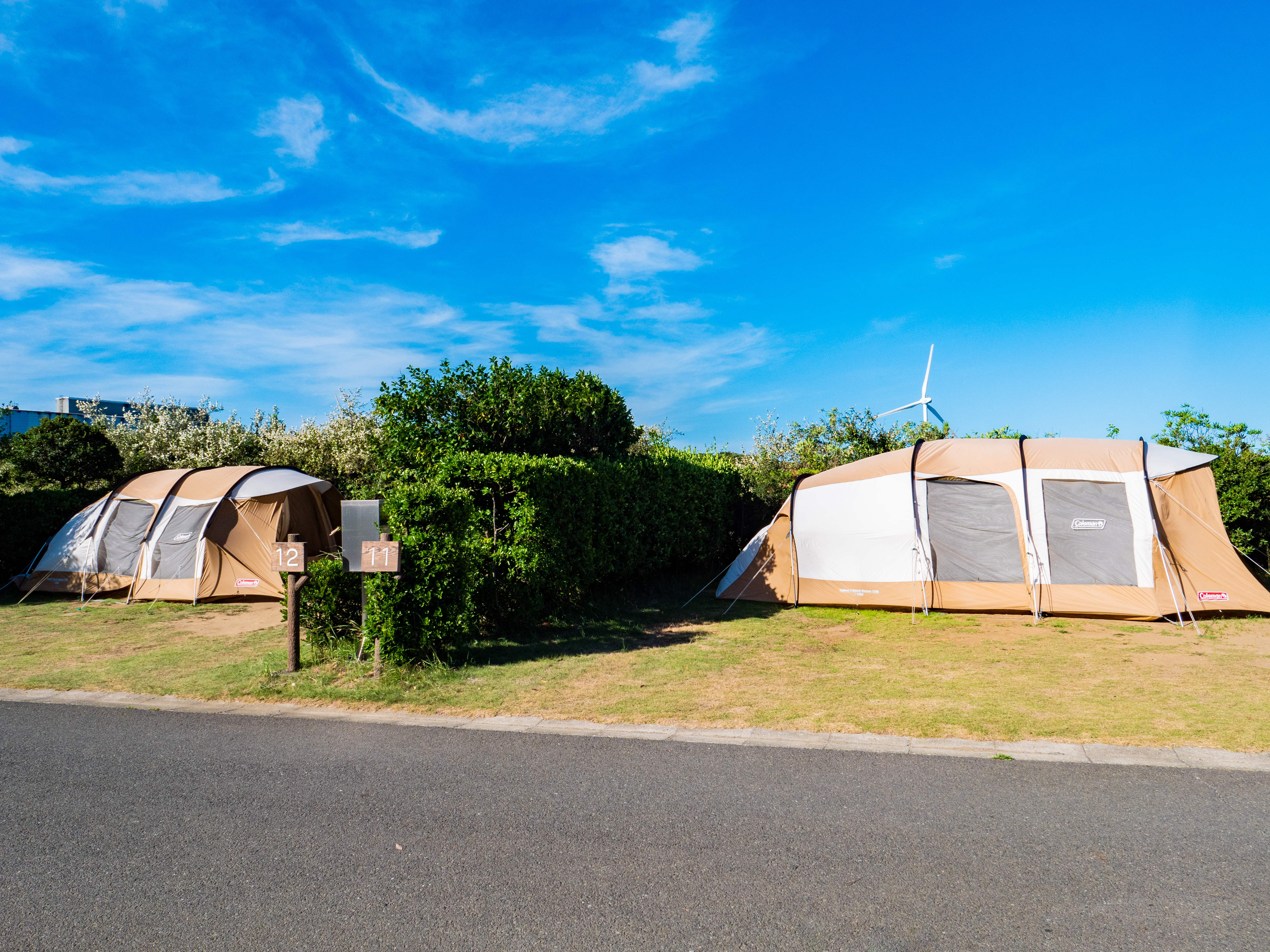 Go camping at Kamisu Municipal Nikkawahama Auto Camp Field near Nikkawahama Beach. Fureai Center Yurara, a bathhouse, is also located nearby. This facility has an open-air bath, jacuzzi, and sauna, making it perfect for detoxing.
4. Kawarago Beach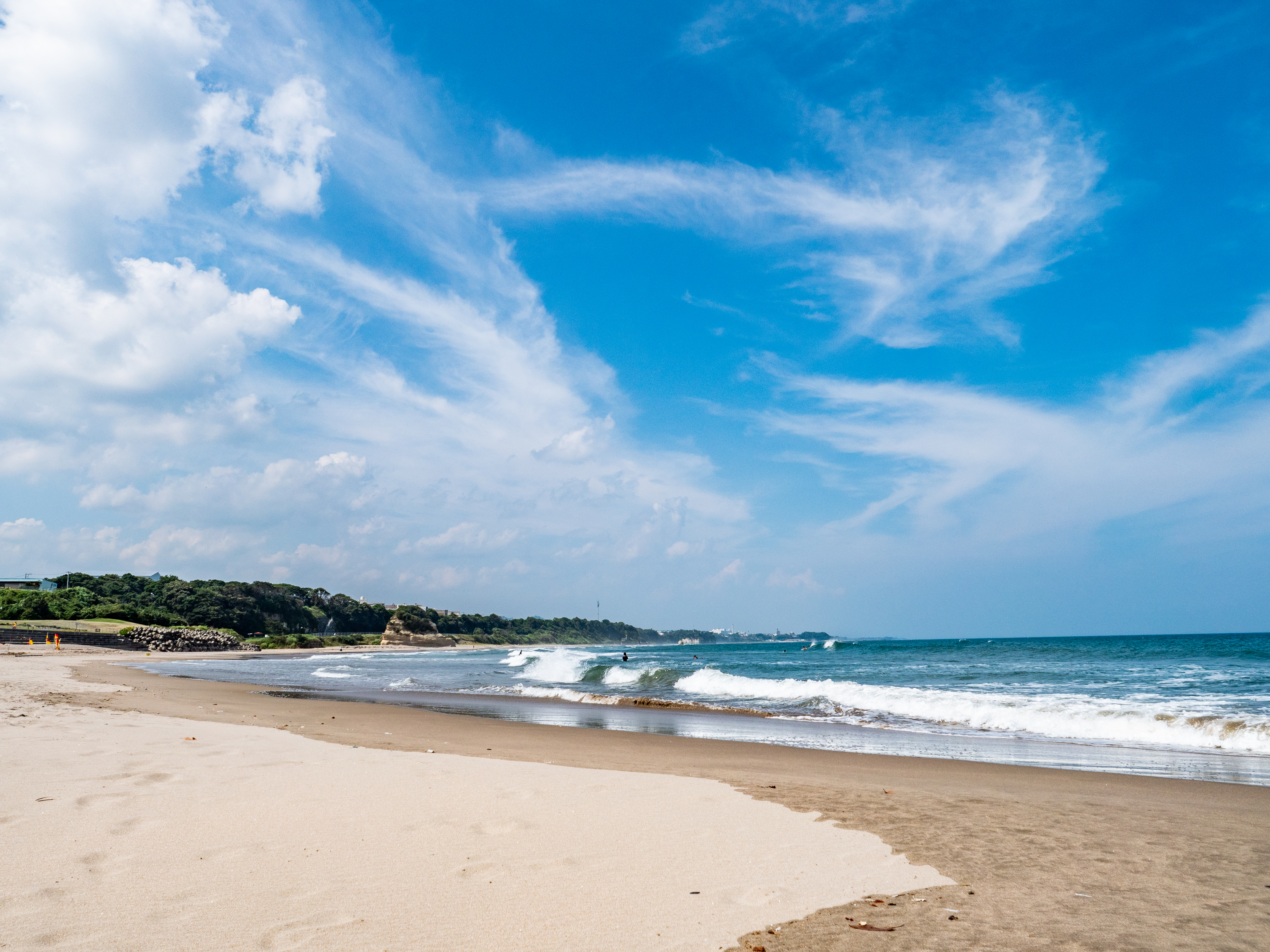 Kawarago Beach is located in Hitachi, the birthplace of the famous electronics manufacturer Hitachi, Ltd. It is one of the most historic beaches in Ibaraki, with beach-goers flocking here since the Edo Period (1603-1868).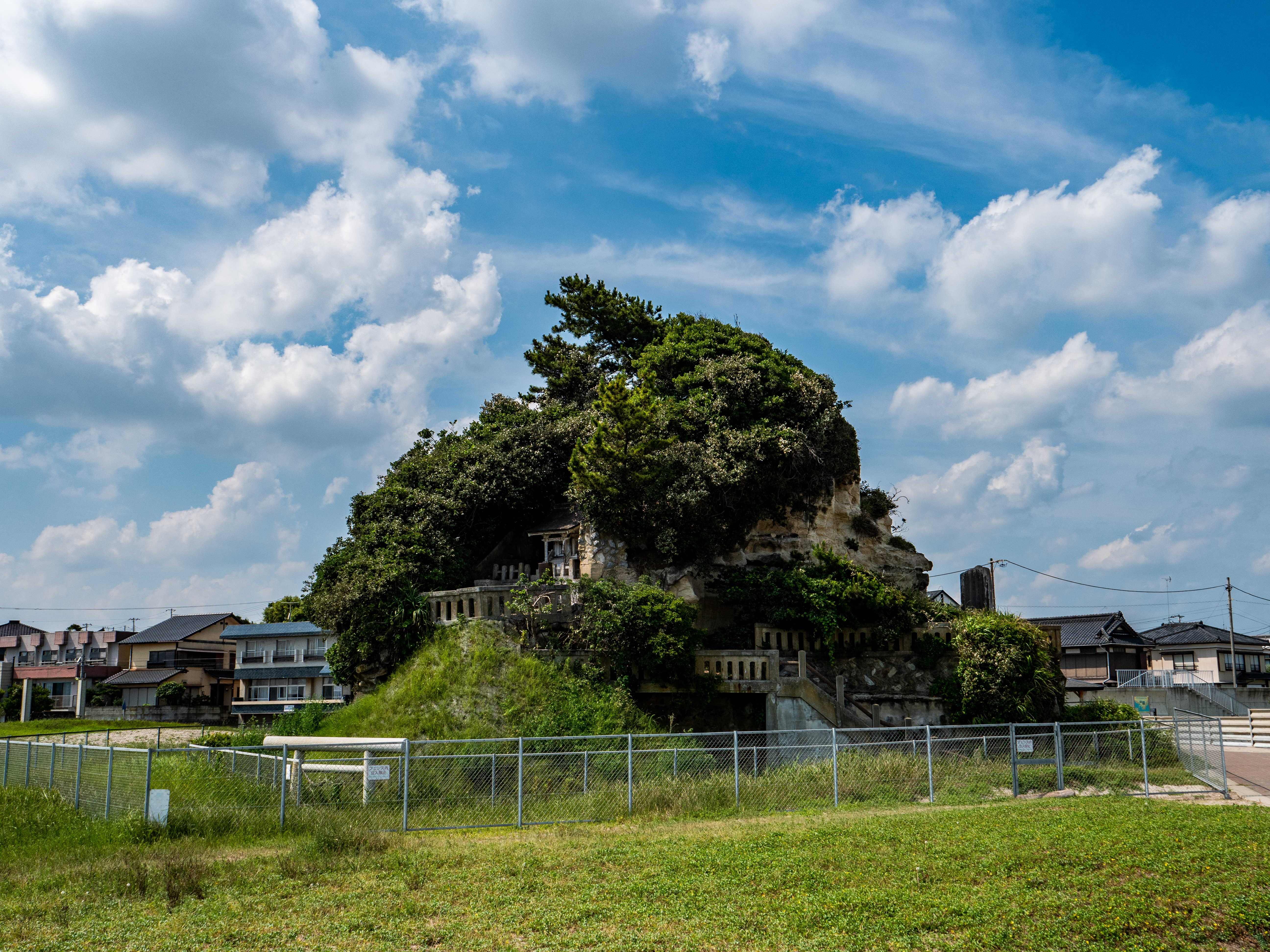 Eboshi Rock, enshrined on the beach, symbolizes Kawarago Beach. The rock was named "eboshi" because it resembles the eboshi headgear worn by nobles in Japan long ago. Up on the rock is a small shrine dedicated to Tsunomiya Myojin, the guardian deity of fisherpeople. Fishers have been coming here to pray for a good catch and safety at sea.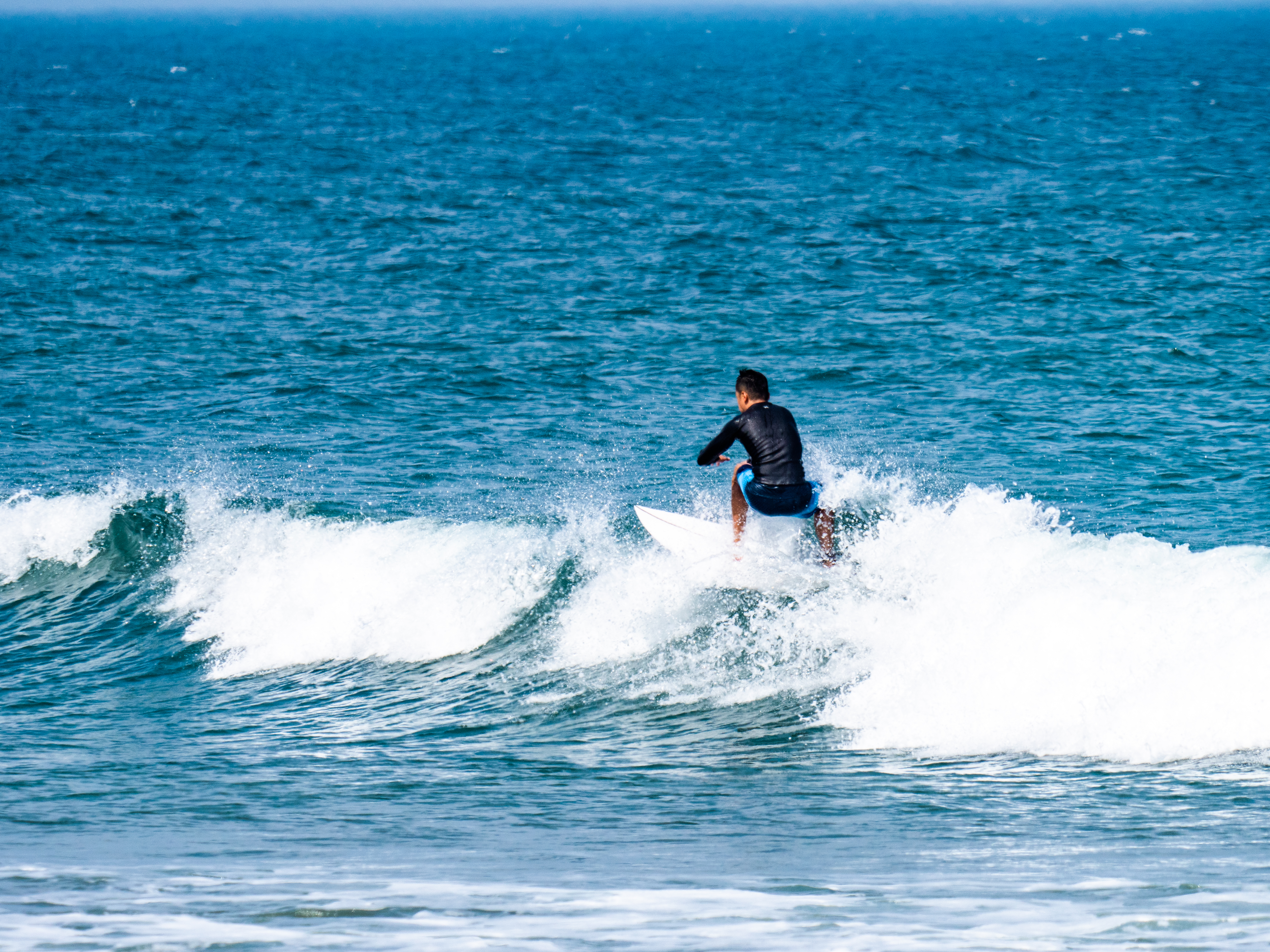 There are several surfing spots in Ibaraki. Among the surfing popular spots, the local surfers highly recommend the beach called "Kitahama" on the north side of Kawarago Beach. Some of Japan's national surfing competitions have even been held here.
Mizuki Surf, a surfing shop near the beach, offers beginner surfing lessons.
5. Hiraiso Beach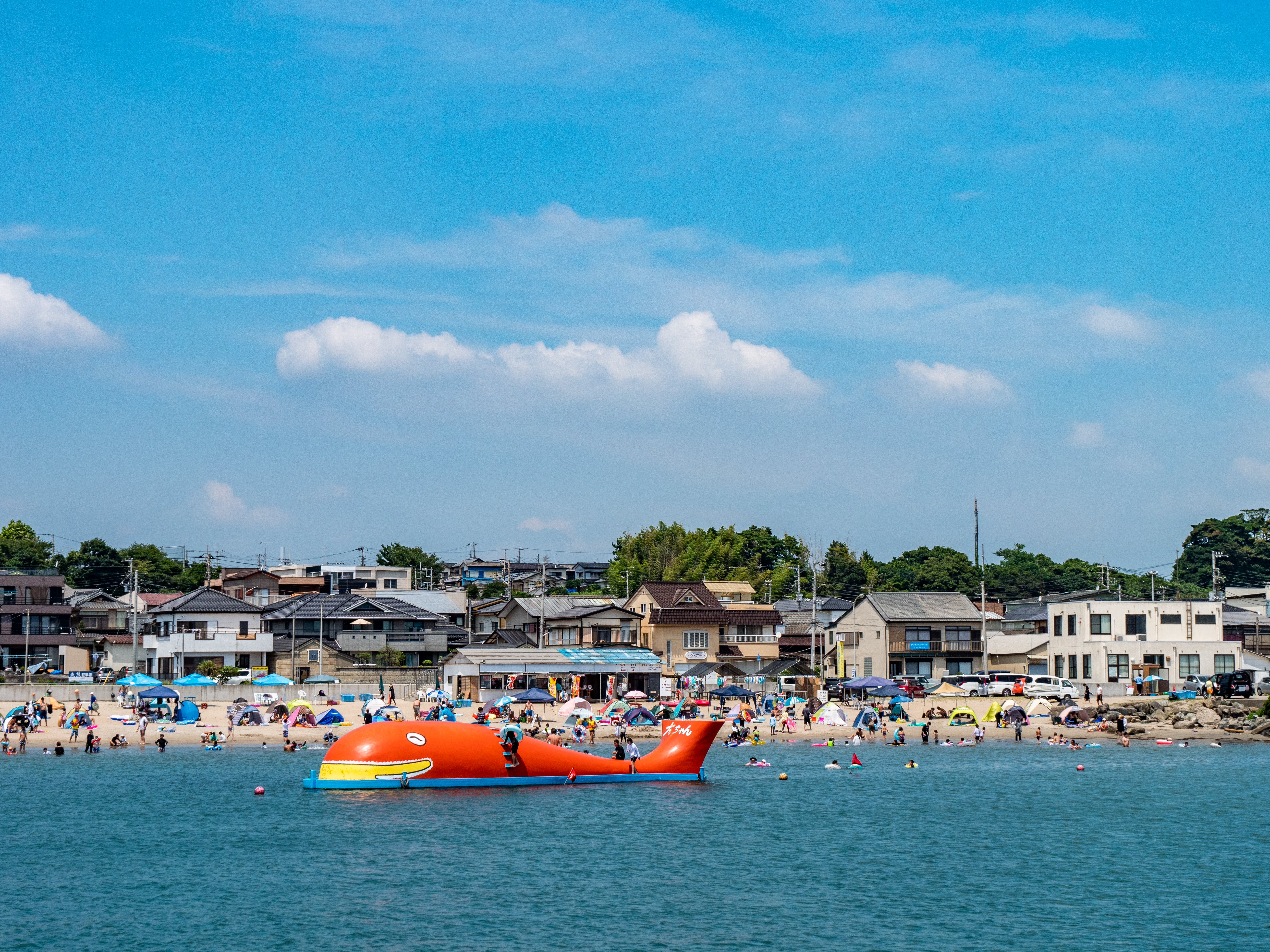 Hiraiso Beach in Hitachinaka is a small beach surrounded by breakwaters. Since the waves are calm, small children can safely enjoy this beach.
Daichan—the large whale-shaped slide—is the symbol of Hiraiso Beach.
The slide was installed with the locals' idea to "create something happy and exciting in Hiraiso that will fill kids with energy!" Its adorable appearance has made the slide an enormous success among children.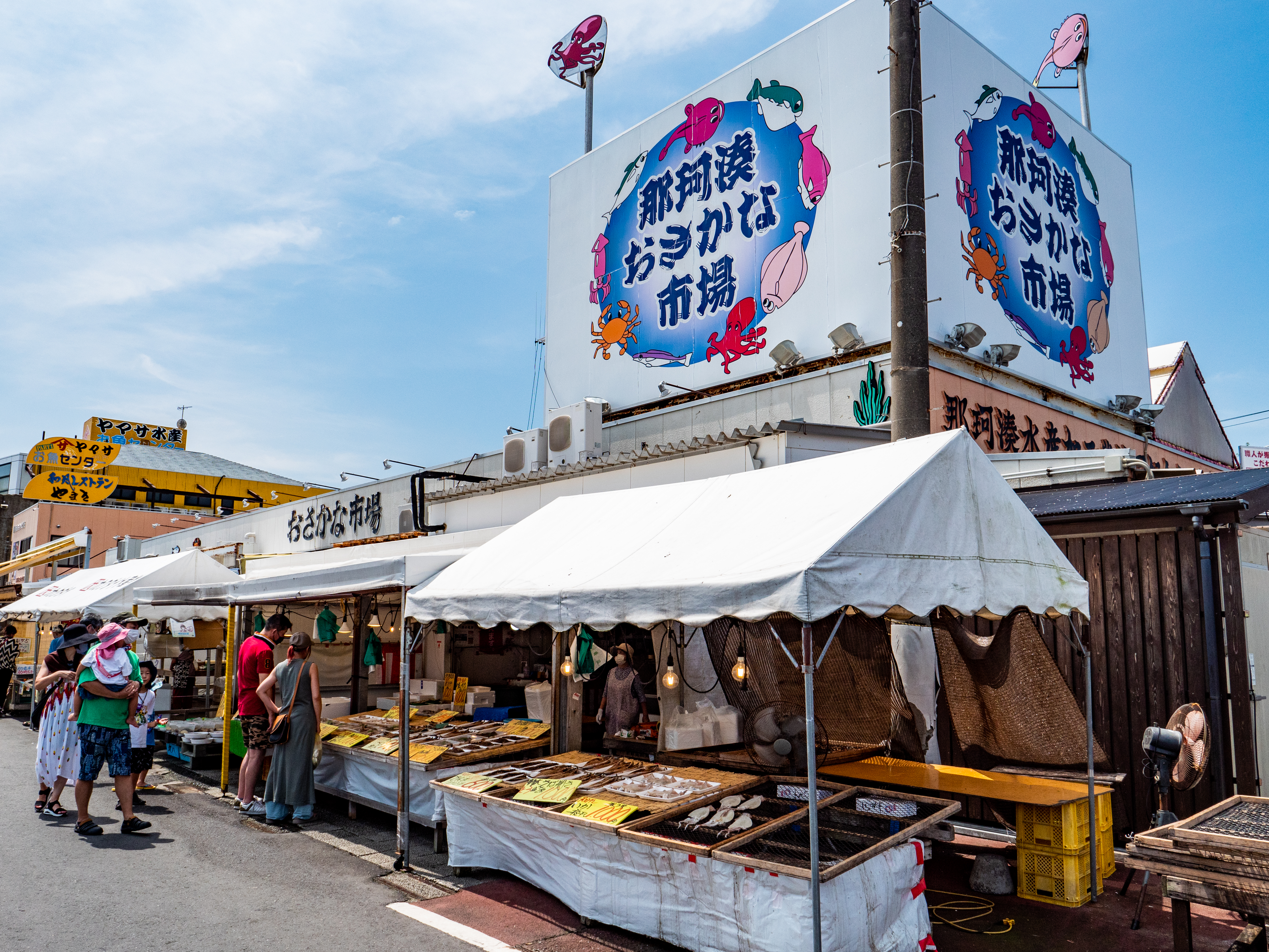 Nakaminato Fish Market is a foodie spot right near Hiraiso Beach. Roughly one million people visit this famous sightseeing market on the outskirts of Tokyo each year. Various types of fish, including local varieties, can be purchased at low prices. There are also many restaurants where you can eat scrumptious seafood dishes.
Hitachi Seaside Park, a popular spot mentioned earlier in this article, is just 20 minutes by car from Hiraiso Beach.
Let's Go Swimming in Ibaraki's Waters!
The beaches in Ibaraki are the perfect place to head out of the city and taste the open air. Why not visit Ibaraki Prefecture for some summer fun this season?