Learn From Ibaraki Artisans! 5 Hands-on Activities and Craft Workshops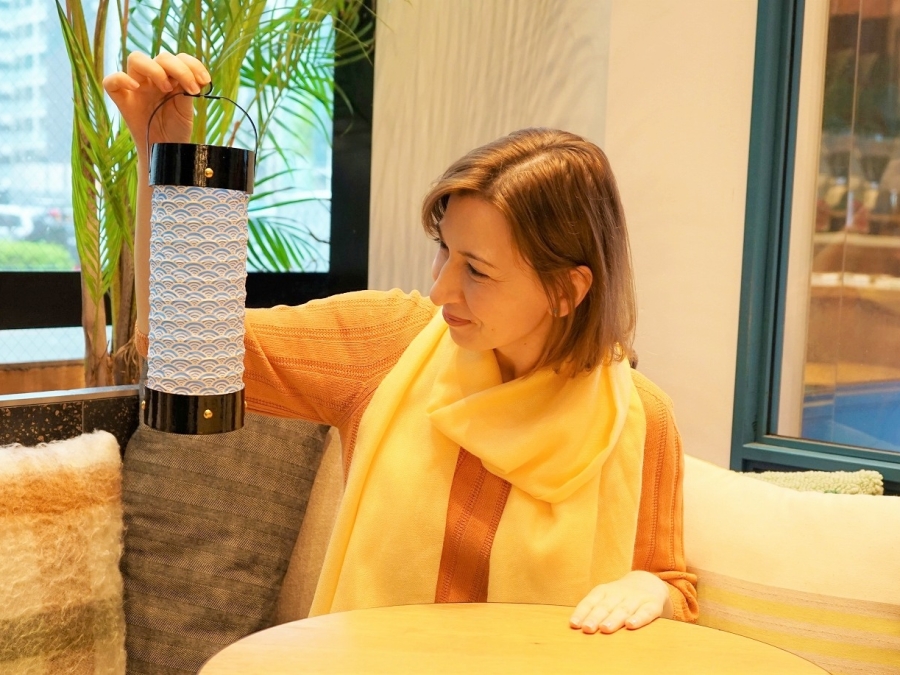 Ibaraki boasts impressive traditional crafts such as Suifu lantern making, Kasama ceramics, Nishinouchi paper, and the processing of local food specialties. Many studios offer hands-on activities for visitors. We introduce five workshops that are both fun and educational.
New Discoveries! Traditional Japanese Crafts and Cuisine in Ibaraki
Pottery work on display at Fukuda Kiln in Kasama. Picture courtesy of Fukuda Kiln
The area that is now Ibaraki Prefecture has flourished since the early days of the Edo period (1603-1868) as a domain governed by one of the three branches of the Tokugawa shogun's clan. Some of the best artisans and professionals gathered in and around Mito, the region's capital. The arts and crafts developed, laying the foundations of a rich cultural heritage unique to Ibaraki.
Many artisan crafts with roots in Edo times continue thriving today; some artisan studios boast a history of at least two centuries! Kasama pottery, Nishinouchi traditional paper, or the foldable paper lanterns made by Suzuki Mohei Shoten are just a few examples of Ibaraki crafts that have been incorporated into contemporary lifestyles and have many dedicated fans today. Ibaraki is also blessed with rich harvests and seafood, and has long since been one of the leading traditional food manufacturers.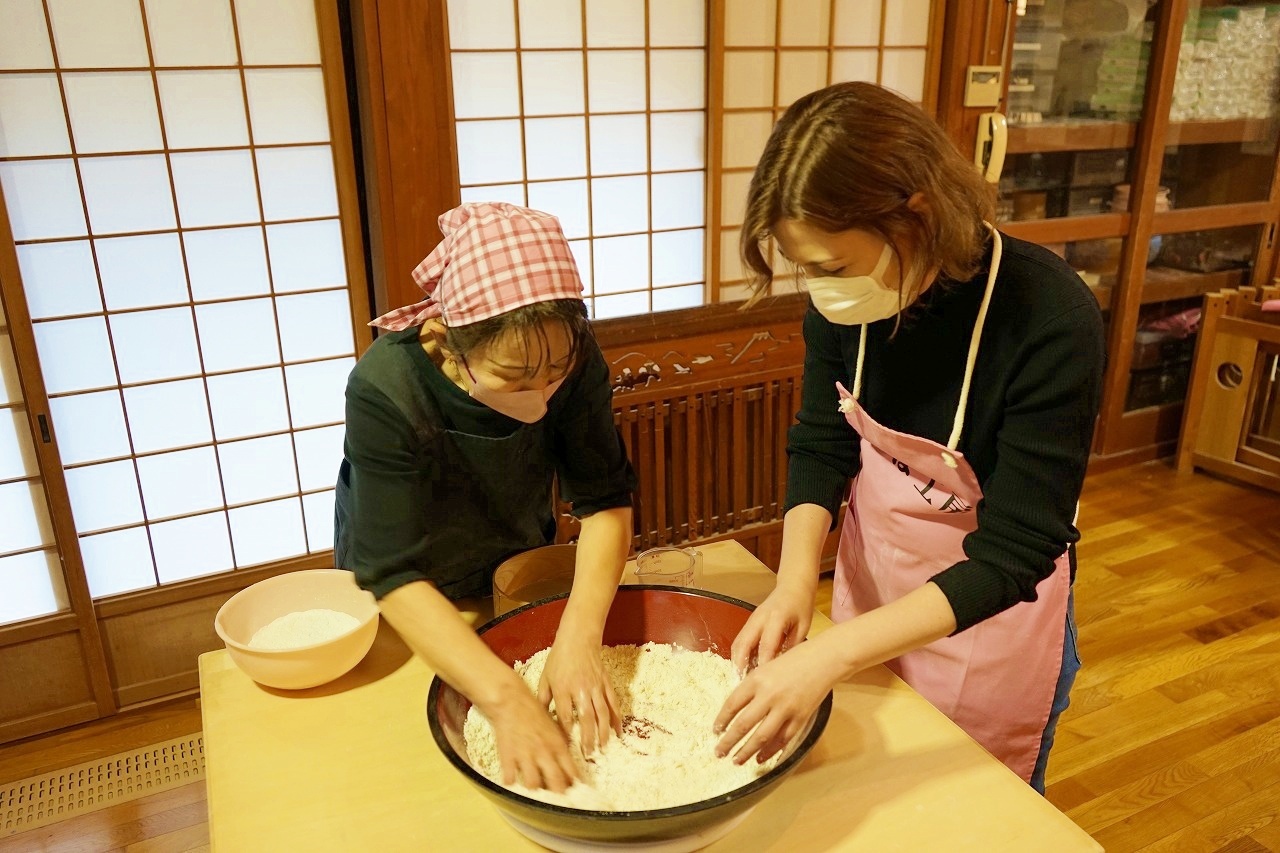 This article introduces five hands-on activities that visitors to Ibaraki can experience in areas known for their traditional craft and ethnic food manufacturing. If you've always wanted to try your hand at creating your own piece of pottery, making Japanese food like soba noodles or yuba (tofu skin), or crafting a paper lantern, then take part in these activities in Ibaraki!
1. Paper Lantern Workshop at Suzuki Mohei Shoten in Mito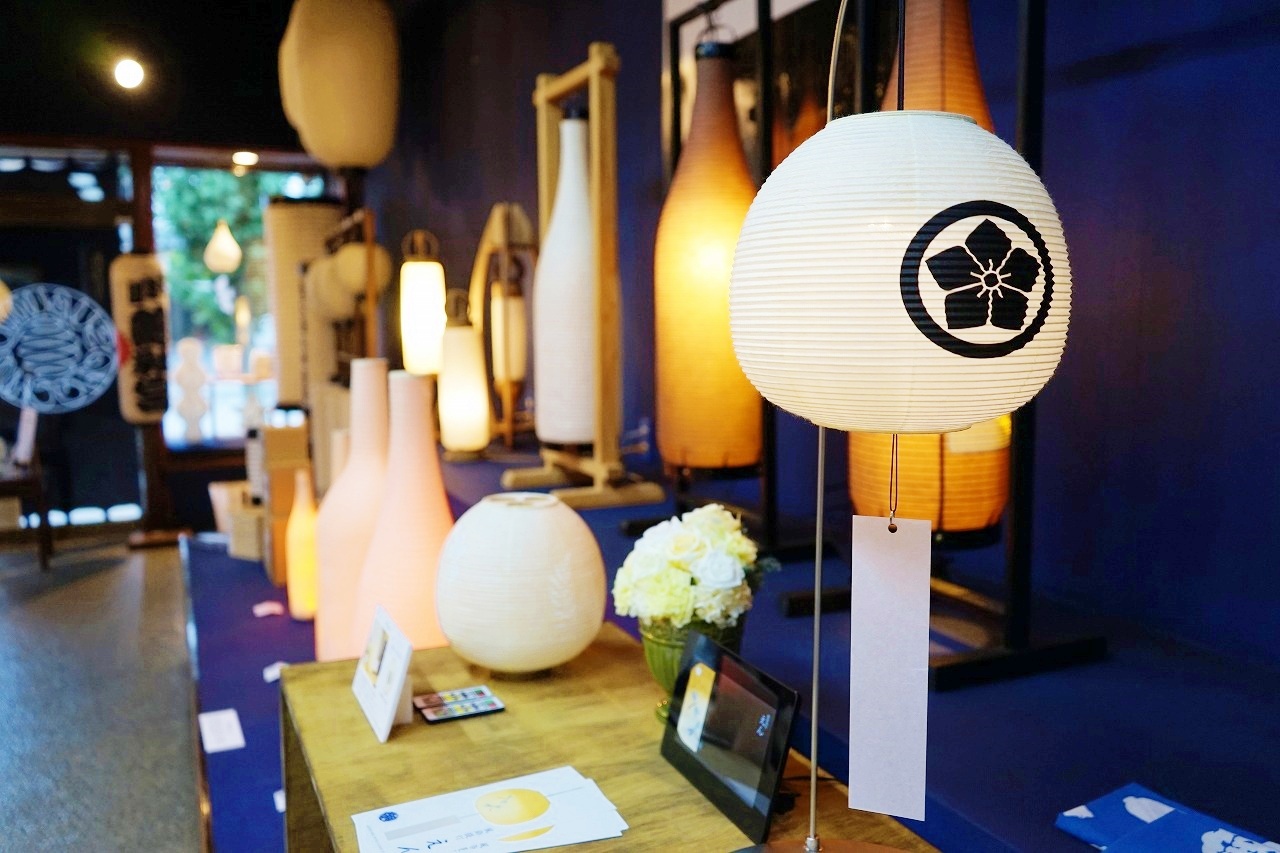 Paper lanterns, called chochin in Japanese, have been made and used since the Muromachi period (1333 – 1573). The items made by paper lantern artisans are in high demand today as lighting fixtures for interior decoration.
Ibaraki is particularly known for Suifu lanterns (*1) made with sturdy Nishinouchi paper, which is also produced in this region. This field of craftsmanship thrived toward the end of the Edo period when many families of low-ranking samurai serving the Mito clan took up lantern making to earn a living during the latter years of the shogunate. As a result, there were once more than thirty studios producing lanterns in Mito. However, only three remain active today.
*1 Suifu is the historical name of the Mito domain.
Suzuki Mohei Shoten, established in 1865, is a manufacturer specializing in Suifu lanterns. In addition to traditional lanterns commissioned for local festivals and events, they also make paper lanterns with unusual shapes, such as wine bottles, birds, or human heads, as well as lighting fixtures that switch on or off at a hand clap. These designer lanterns are ideal for modern interiors.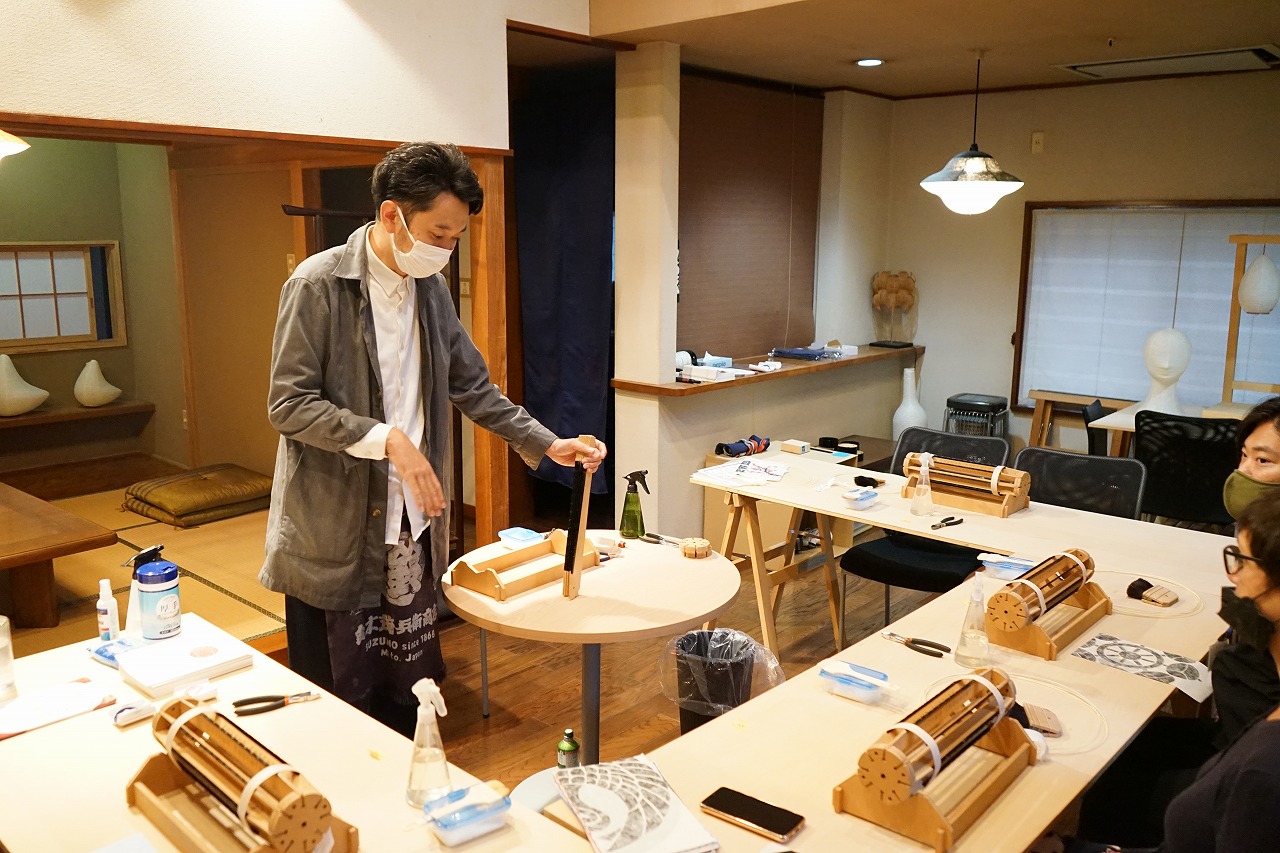 At their Mito studio, Suzuki Mohei Shoten offers lantern-making workshops. Participants can choose the paper they like; paper sheets with colorful patterns or beautiful imprints of historical Japanese family crests are available.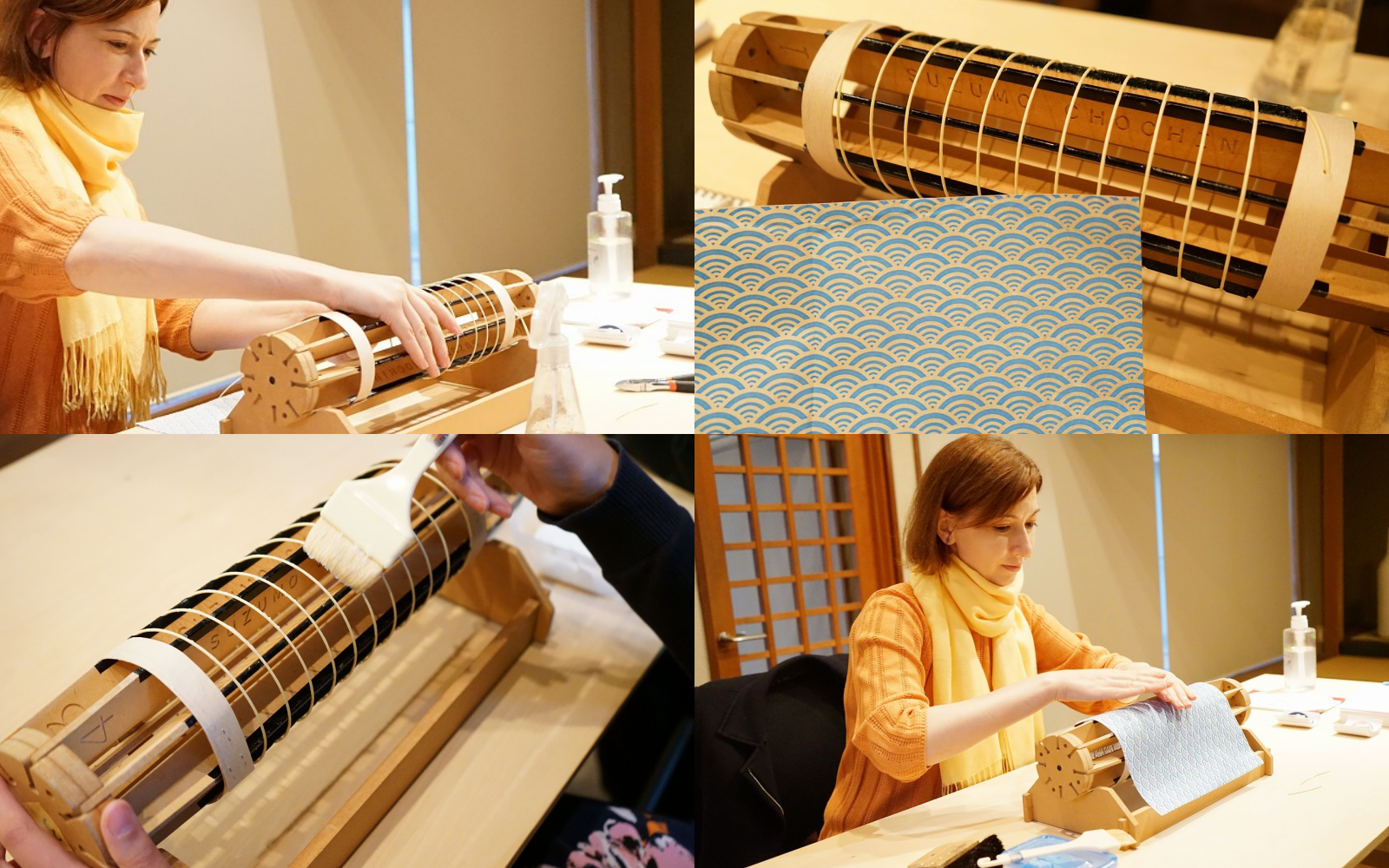 A paper lantern artisan will guide you through all the steps. First, you'll stretch a string around the mold supporting your lantern. Then, after applying a special type of glue on the string's surface, you'll wrap the sheet of paper around the string, ensuring no wrinkles. While you take a short break, a staff member will quick-dry your lantern and remove the mold from the inside. Finally, your portable paper lantern is ready! You'll receive it folded in a gift bag along with a battery-charged candle to put inside the lantern.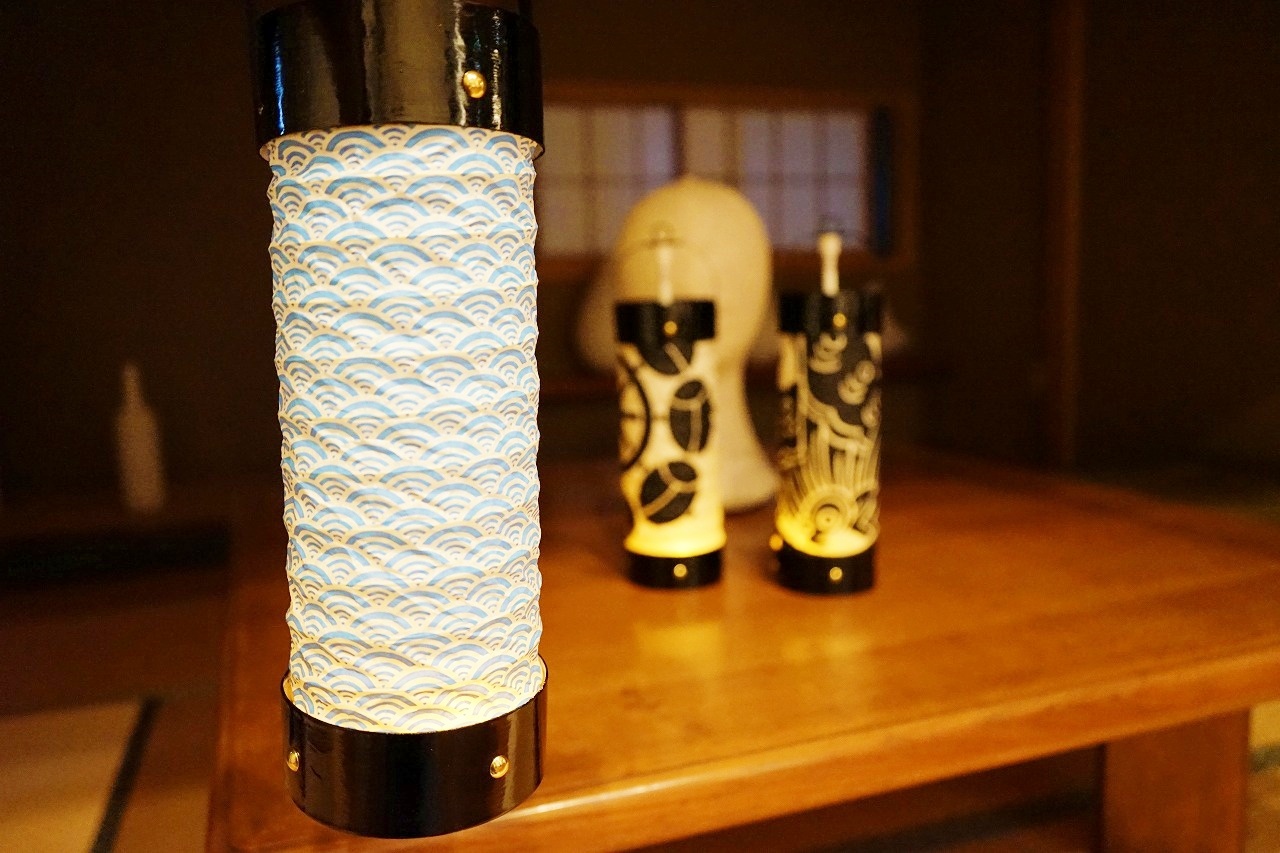 The most exciting aspect of this hands-on activity is that you get to understand the ingenious structure of traditional Japanese lanterns. Although they're light and easy to carry around, they're also incredibly sturdy! You'll find yourself wanting to learn more about the qualities of the traditional paper that makes these lanterns possible.
The workshop takes about 30 minutes and costs 3,300 yen/person. The materials and molds need to be prepared in advance, so please make sure to make a reservation. The workshop can accommodate up to 10 participants in one session. Please note that the lantern-making workshop provided by Suzuki Mohei Shoten can be enjoyed from October until early May on Fridays only, from 10:00 and 15:00. During other months, the studio is very busy supplying lanterns for events.
2. Nishinouchi Paper Design Workshop at Kami no Sato in Hitachiomiya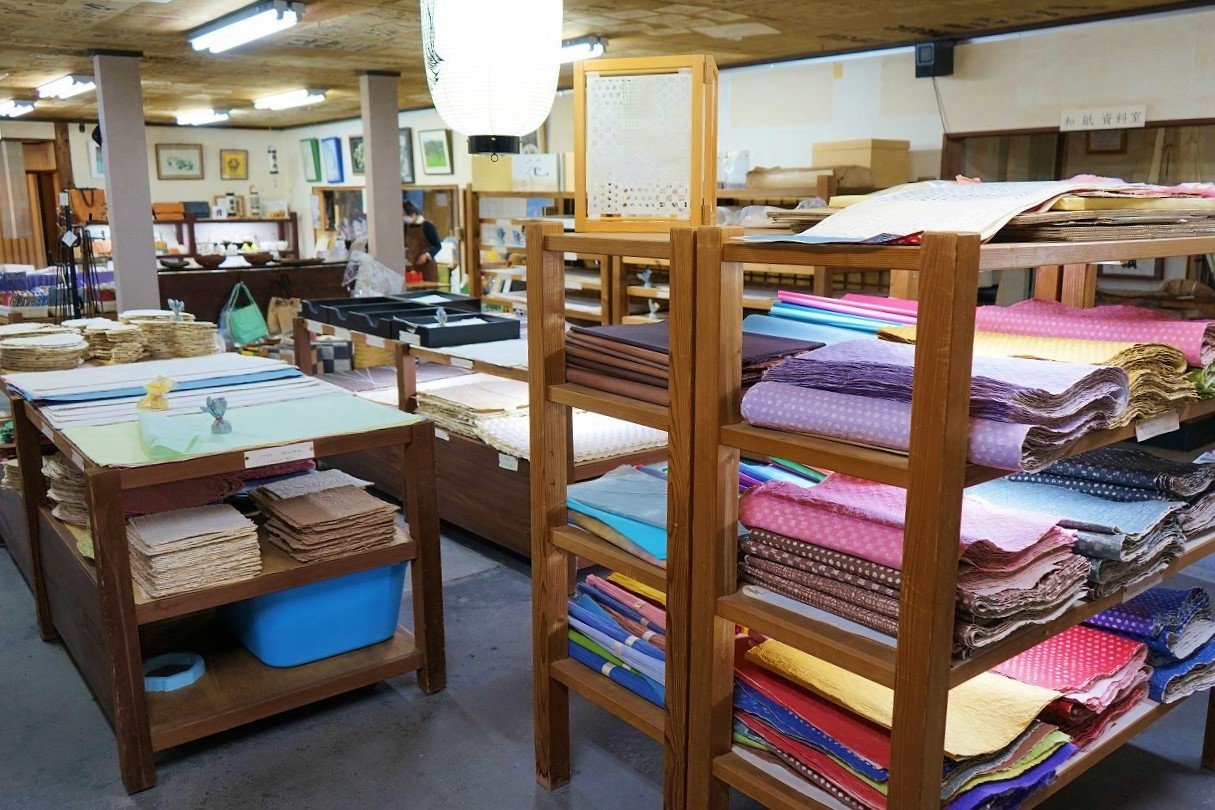 The paper originally used for making Suifu lanterns is made in Nishinouchi, a district in Okukuji, the northern area of Ibaraki. Due to the local soil structure and significant temperature differences between day and night, this area is ideal for growing paper mulberry, called kozo in Japanese. The kozo grown here, in particular, can be made into paper fibers that are thin, short, and very sturdy; it's considered the highest quality paper mulberry in Japan.
The origins of Nishinouchi paper craftsmanship go back 350 years. The Mito domain installed a monopoly on selling this high-quality paper that was in great demand. Just as sturdy as textiles, this paper was used in various fields of everyday life, from making shoji sliding doors and lanterns to uses in calligraphy, publishing, and accounting. Since the ink won't fade even if the paper gets wet, it was widely used in administration for keeping records during the Edo period. In case of a fire, the important accounting books would be thrown in wells and left there until the fire had been put out.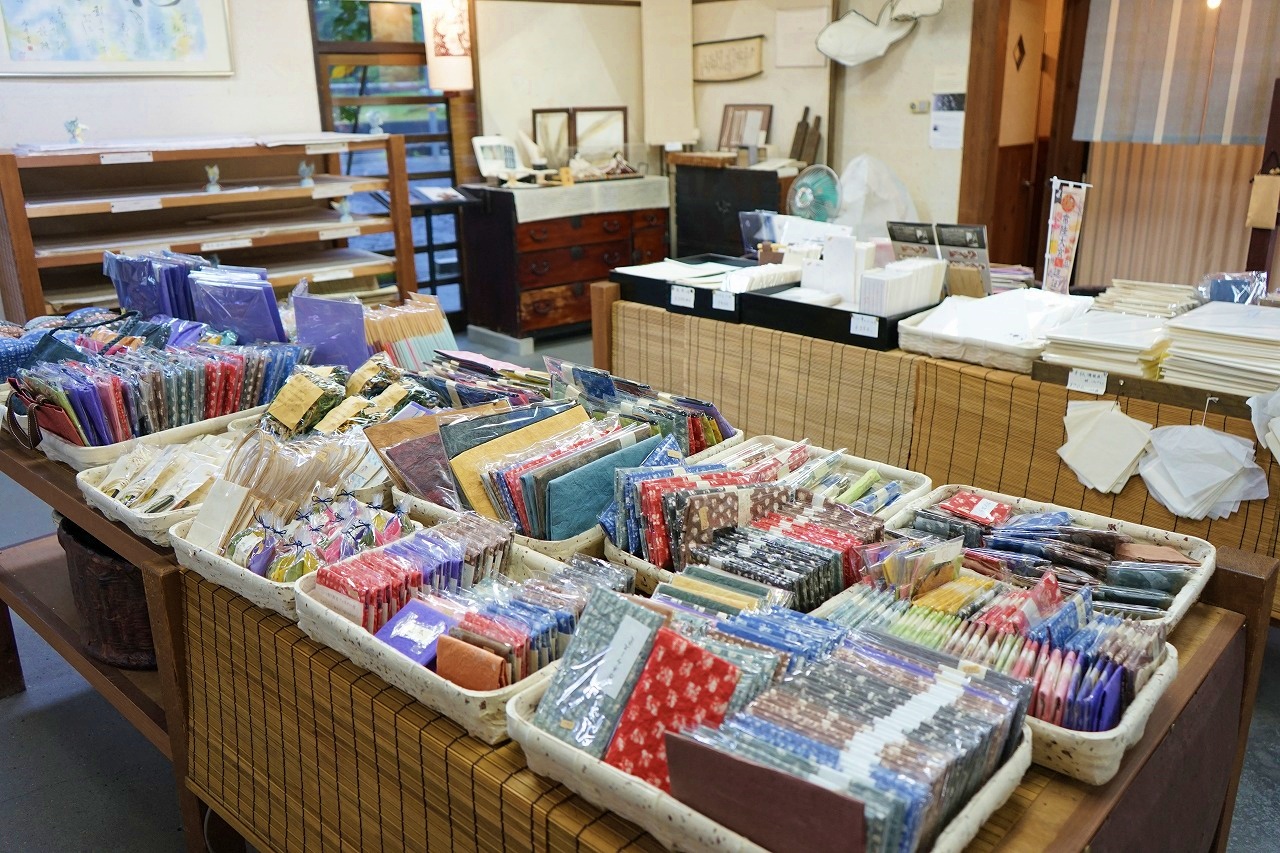 If you visit Kami no Sato (Japanese), a studio specializing in Nishinouchi paper, you can actually see Edo-period registers and records made with this particular type of paper. This studio, established in 1968, is a family-owned facility that produces and sells various types of handmade Nishinouchi paper. They operate a gallery of old records made on Nishinouchi paper, and also provide a paper design workshop.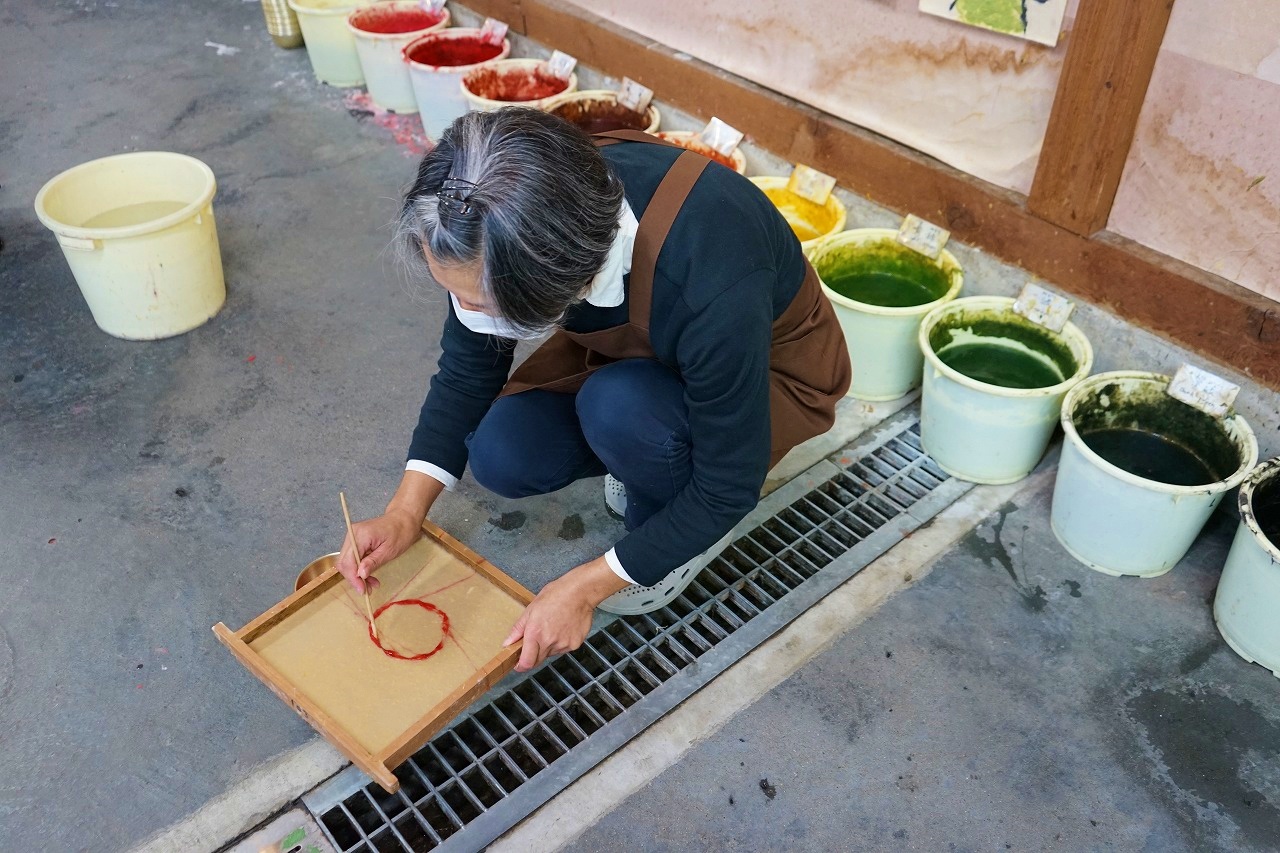 For this hands-on activity, the instructor will first show you how to create simple and detailed drawings by putting paper fibers that are "dissolved" in colored water on a blank sheet of raw paper. There is an incredible variety of colors available! You can use molds to obtain well-defined shapes. When you apply a layer of color, the water drains out, leaving the colored paper fibers where you wanted them to be.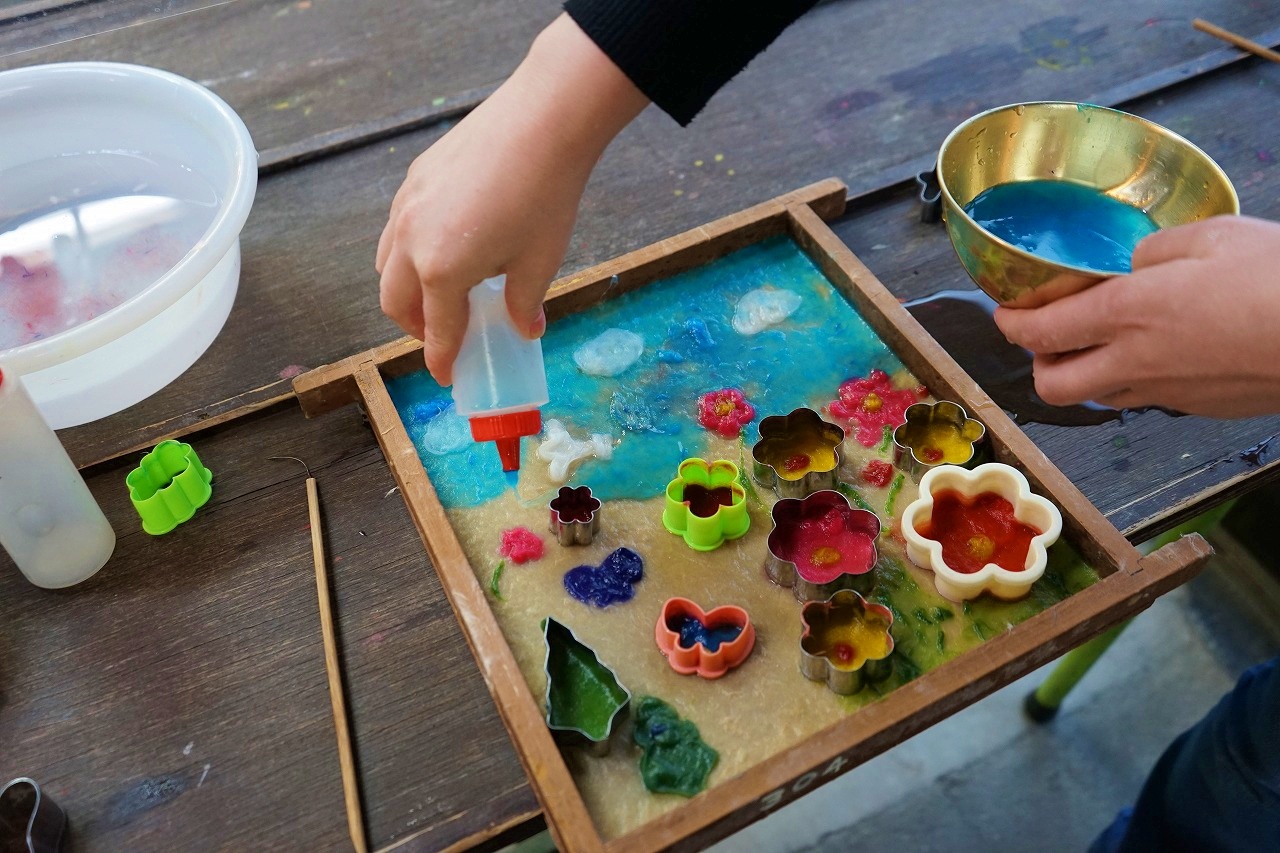 Before you realize it, you'll be getting creative and fully immersed in this activity, making sure you personalize every corner of your paper canvas. It's incredibly fascinating to see the texture of paper fibers up close!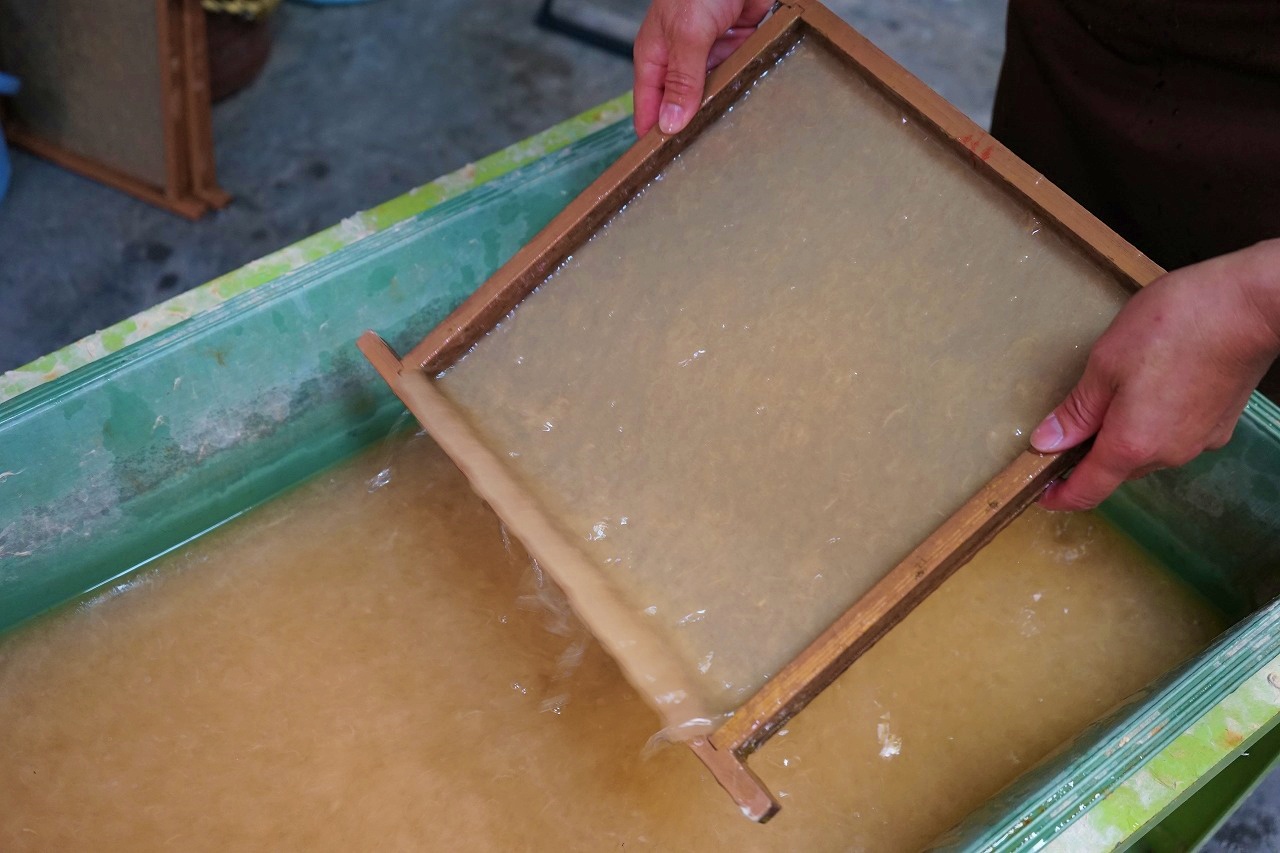 Visitors can also try their hand at making washi paper (*only a limited number of participants can enjoy this workshop at the same time; if you wish to try this particular activity, please contact Kami no Sato in advance). There is a standard procedure to follow in order to obtain a smooth paper with a well-balanced thickness, so make sure to observe and follow the movements of the instructor.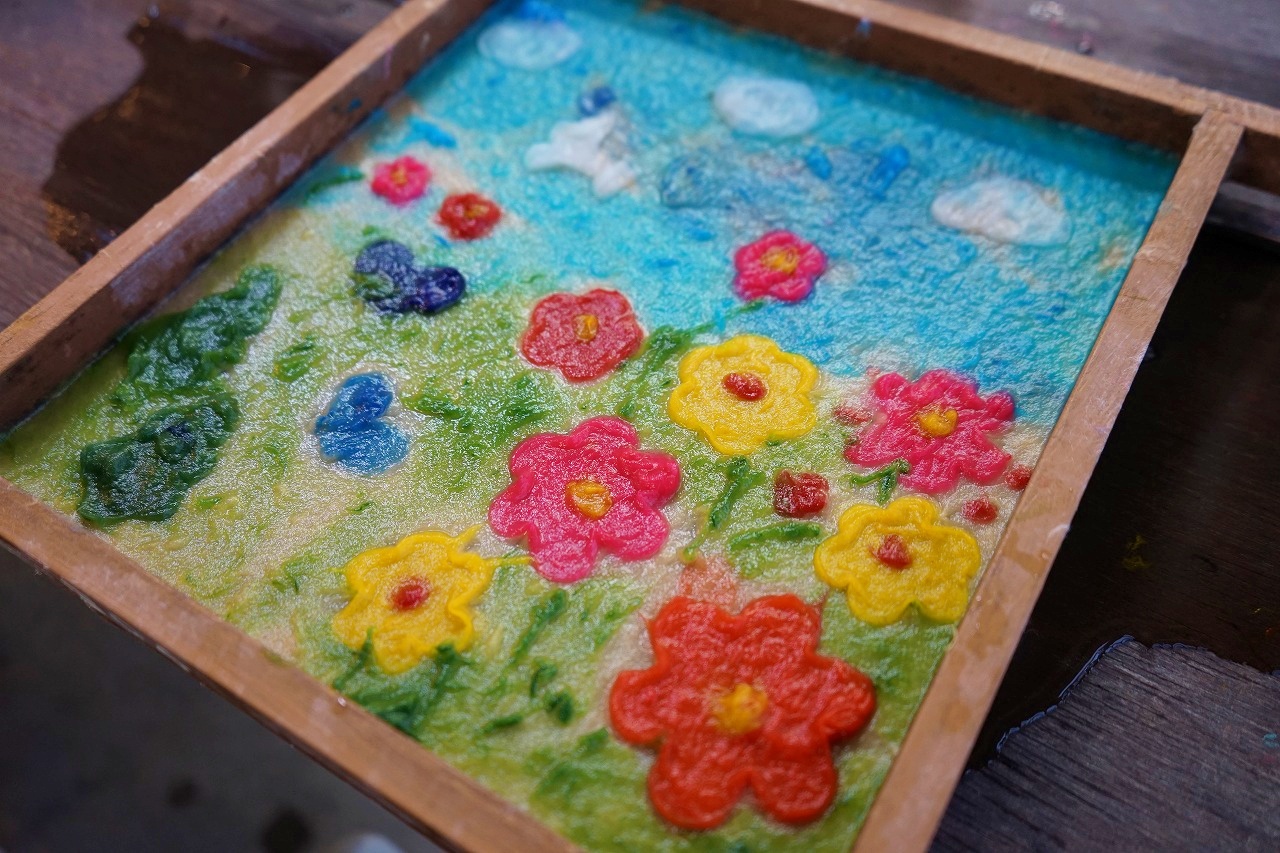 The hands-on workshops at the Kami no Sato craft studio cost 1,300 yen/person and can accommodate up to 20 participants. The created paper needs to be left to dry; therefore, you won't be able to take your work with you immediately. Instead, it will be delivered to your address after a few days.
3. Soba Noodle Making at Soba Kobo in Hitachiota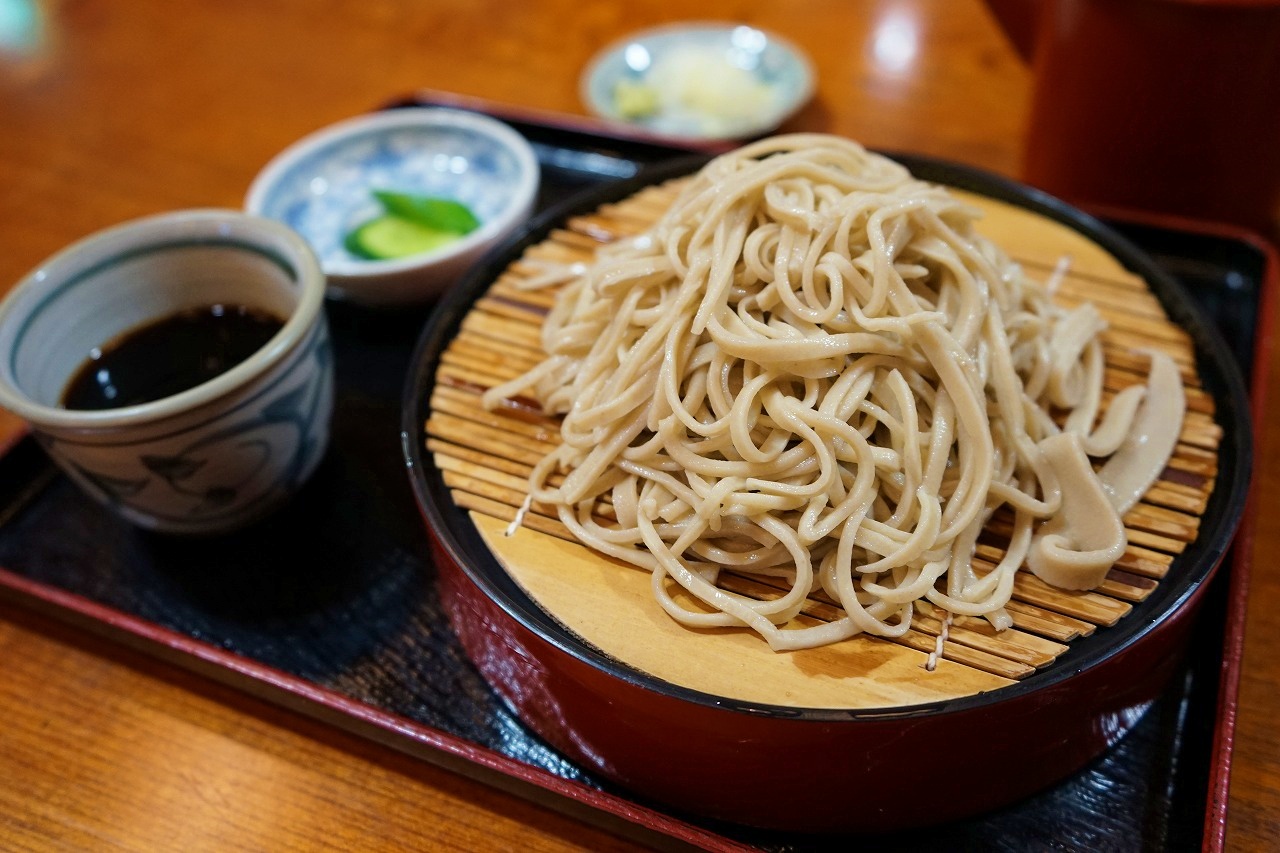 Soba noodles are buckwheat noodles widely loved in Japan. Among all the available varieties, the Hitachi Aki soba noodles of Ibaraki are considered the highest quality buckwheat noodles, with a fragrant flavor and delicate sweetness. Ibaraki has been known as a buckwheat producing area since the Edo period, and the origins of this particular type of buckwheat can be traced to Hitachiota.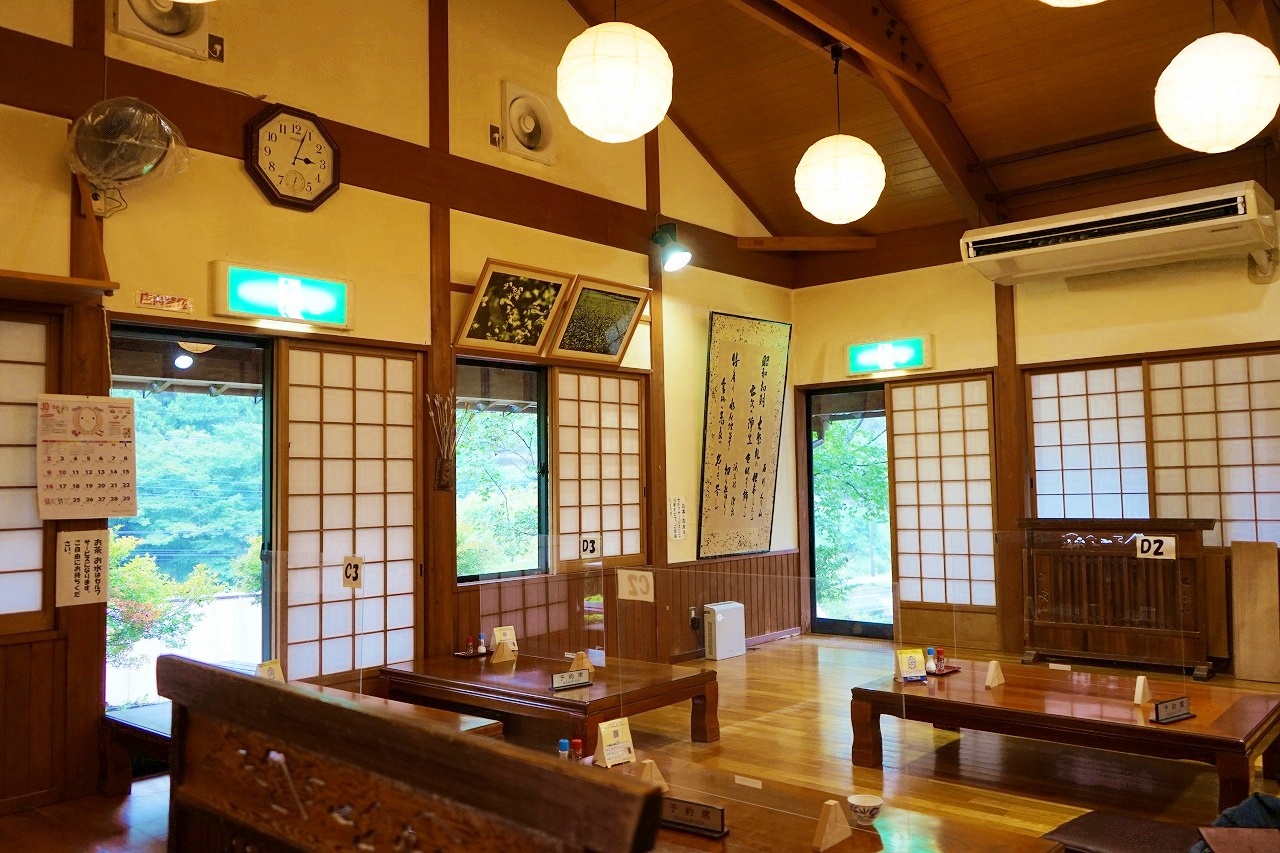 Soba Kobo is a restaurant specializing in producing Hitachi Aki soba noodles. Visitors can also enjoy a 40-minute soba noodle making workshop. The instructor will guide you through all the steps, from making the dough to cutting the noodles. In order to obtain fragrant noodles with a smooth texture, it's important to use very little water when making the dough and make sure that the fluid is distributed evenly.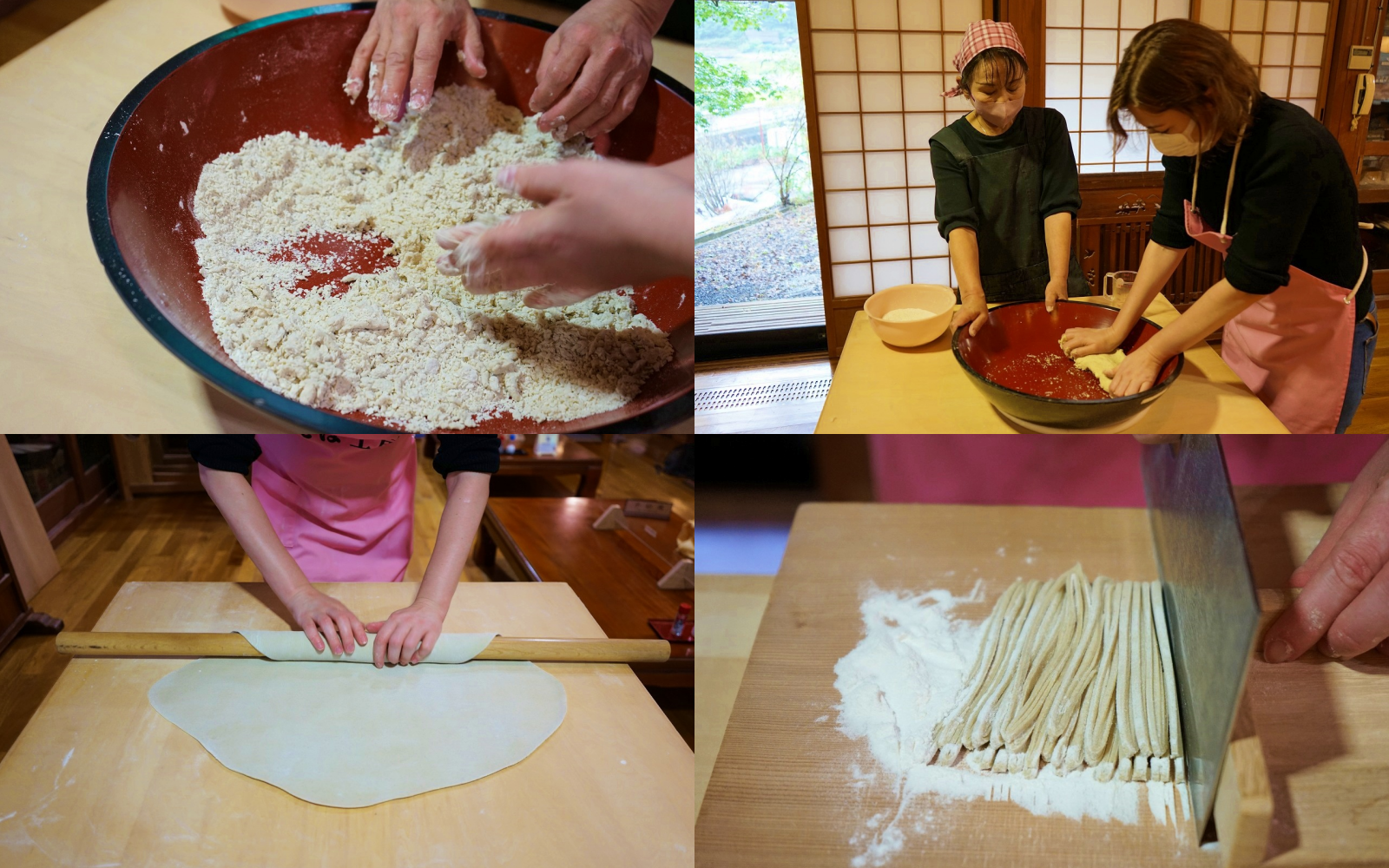 The fee for this hands-on activity is 3,630 yen; the standard amount of buckwheat flour used results in four servings of soba noodles. You can either ask the staff to boil them for you and taste them on the spot or take them to enjoy at home.
Please note that fresh soba noodles do not last longer than a day without refrigeration. We highly recommend enjoying them right after the workshop; you can even ask the staff to add some tempura (deep-fried vegetables or shrimp) for an additional 200 yen. Up to four people can enjoy the soba-making workshop together; prior reservation by phone is required.
4. Hands-on Activity at Yuba no Sato, a Bean Curd Skin Factory in Daigo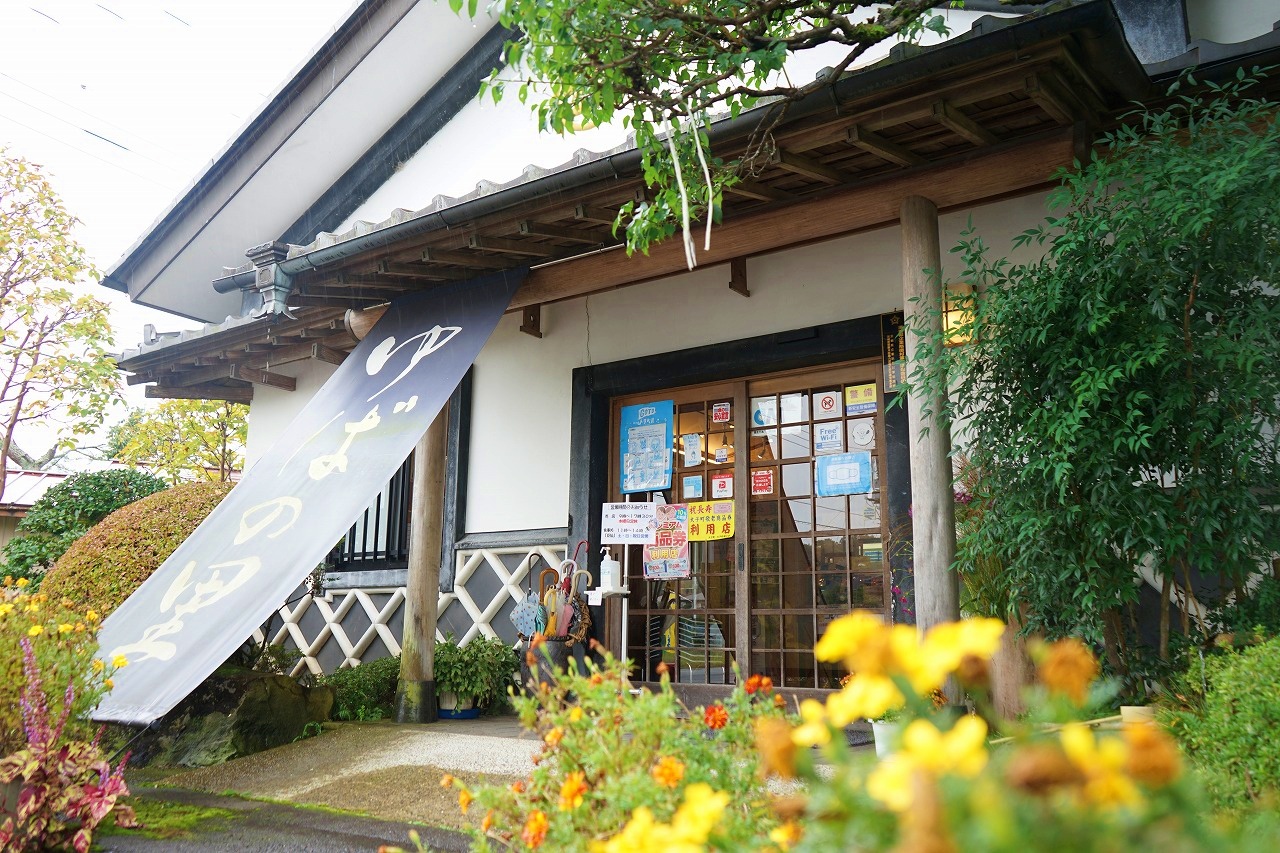 Yuba is the Japanese name for the thin film that forms above soy milk when heated. A traditional healthy plant-based ingredient like tofu, yuba is used in a wide variety of dishes in Japanese cuisine. Due to its natural sweetness and silky texture, it can be enjoyed fresh as "sashimi" or fried and boiled as part of other dishes.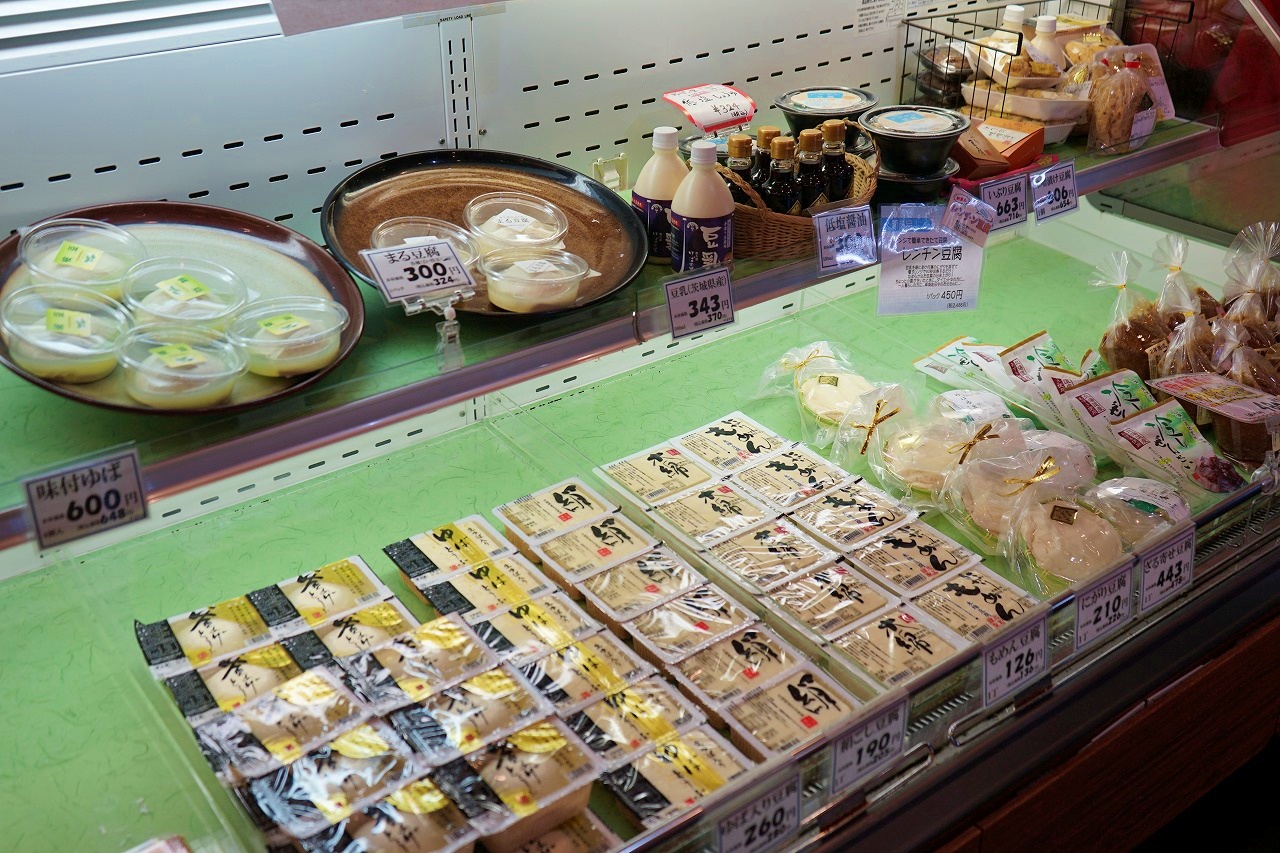 The tradition of making yuba in the town of Daigo started in 1987 during a movement to revitalize local industries. Yuba no Sato, a factory specializing in yuba and other products made from soy milk, was established then. The factory uses local soybeans grown in the proximity of Mt. Tsukuba. They make and sell various types of yuba products, tofu products, and even delicious soy-milk ice cream, which are available for purchase at the shop adjacent to the factory or online (Japanese).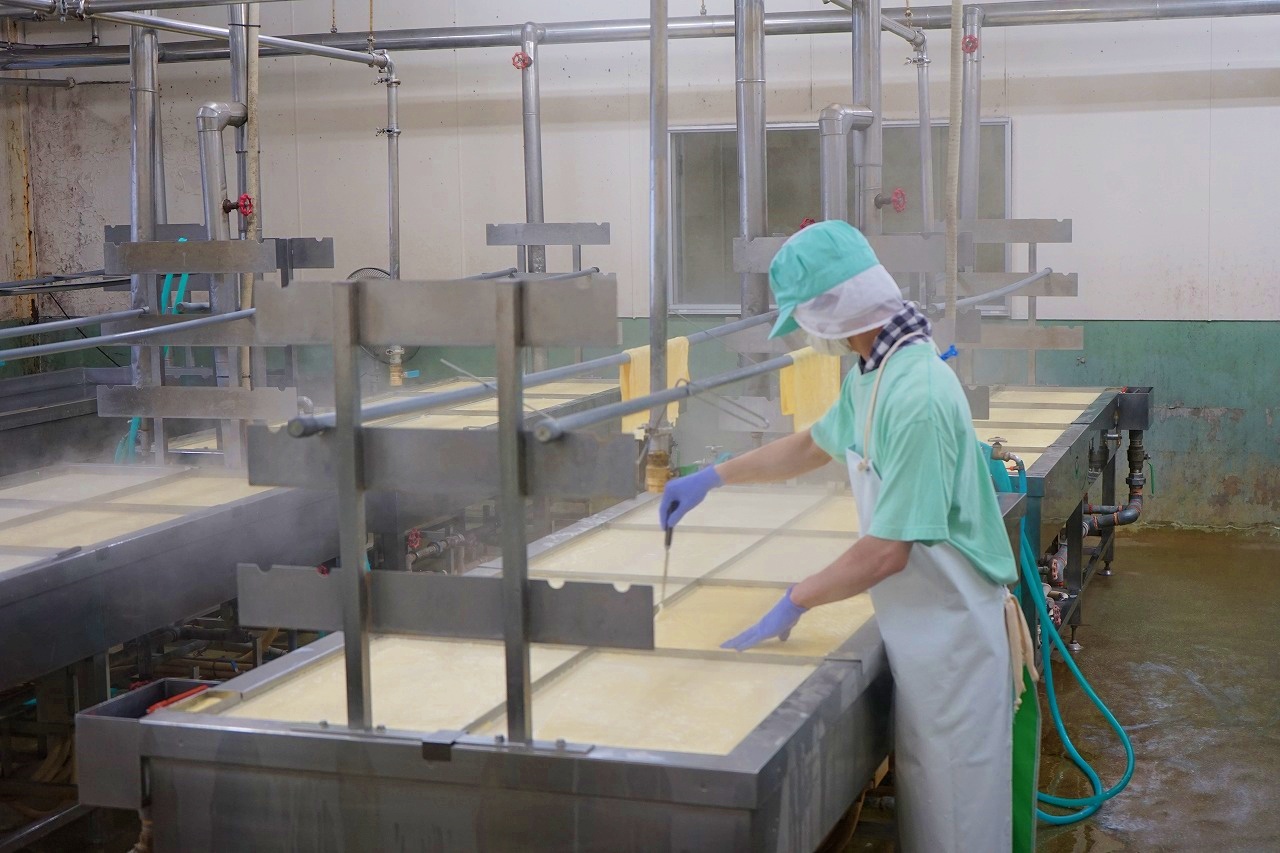 Visitors can actually try their hand at pulling up the thin layer of soy-milk skin on their visit to the factory. This hands-on activity is only available between 9:00 and 11:00 a.m. Up to 10 participants can be accommodated at one time, and prior reservation by phone is required.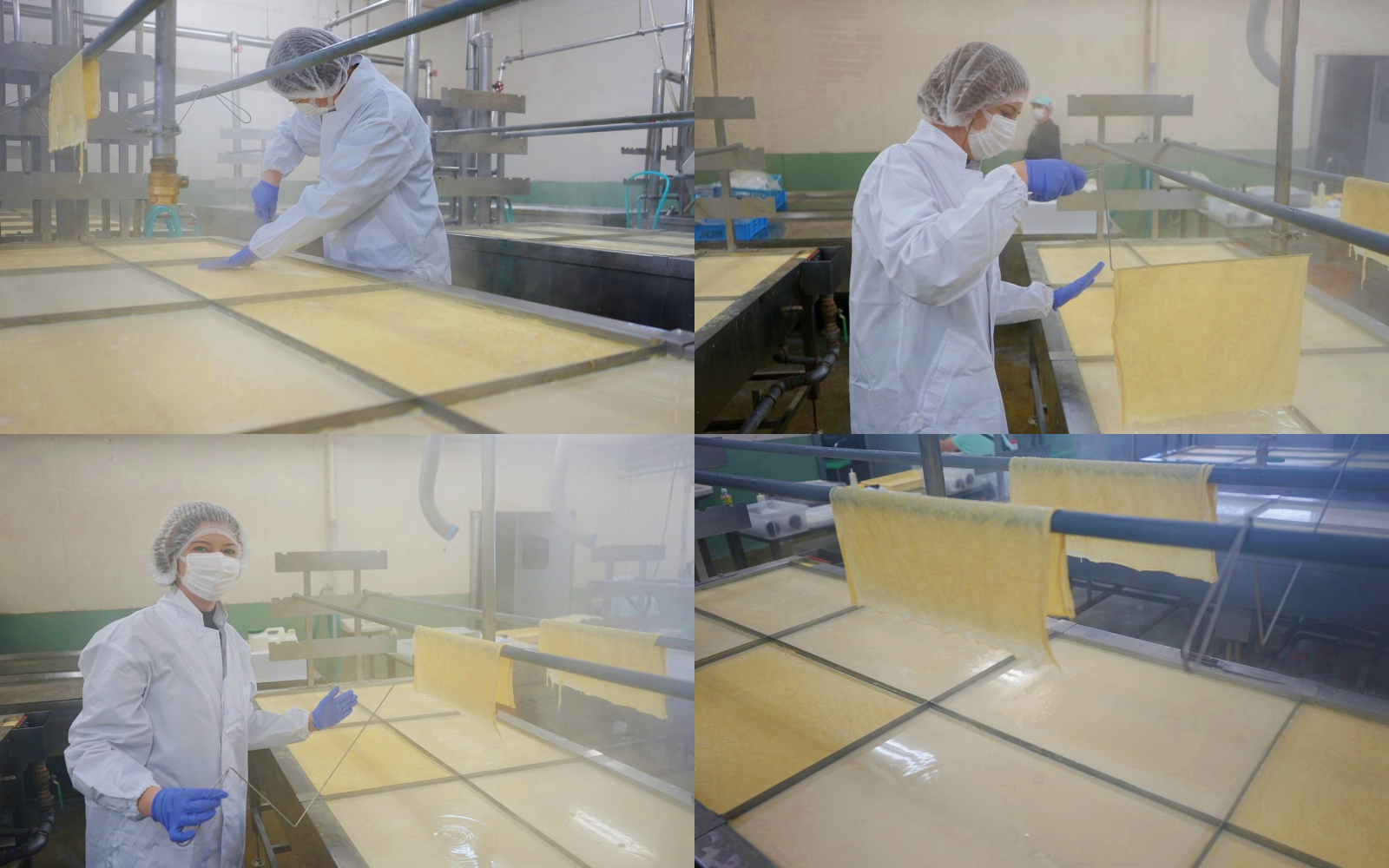 The factory is a highly sanitized environment. So, as a participant, you'll first put on a food processing coat, gloves, a cap, and shoe covers. Please be extra careful, as soy milk is being boiled at temperatures nearing 100 degrees Celsius.
A staff member will show you how to detach the soy-milk skin from the container walls using a knife. Afterward, you'll use a special device to pull up the yuba from the surface of the hot soy milk. This skin is very fragile, so make sure to pull it very gently! Once you've placed your yuba skin on the rack above the container, you've made it!
This hands-on activity costs 1,200 yen; the participants get to take their yuba home or eat it at Tosen, the restaurant within the facility. It tastes great as yuba sashimi with a dash of soy sauce and grated wasabi!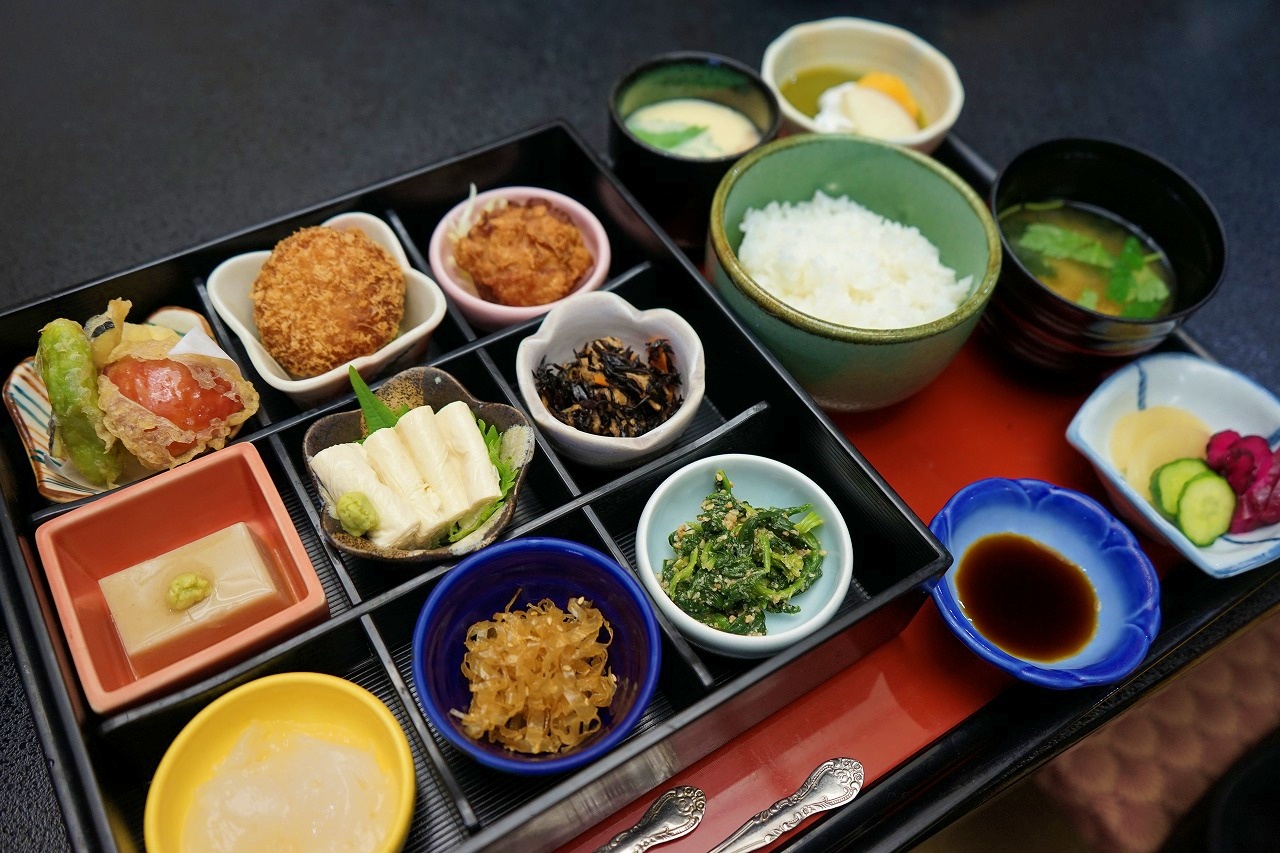 We also recommend staying for lunch at Tosen. The savory Yuba no Sato Zen menu (2,000 yen) contains various small dishes made with yuba, including sashimi, tempura, and chawanmushi (steamed egg custard with yuba and vegetables). It's a delight for the taste buds!
5. Pottery Workshop at Fukuda Kiln in Kasama
Picture courtesy of Fukuda Kiln
The city of Kasama is synonymous with pottery due to the 250-year history of local pottery making and more than 300 artisan studios currently producing ceramics here. However, Kasama pottery can be traced way back to ancient times. Together with its sister city Mashiko in Tochigi, it had kilns even during the Nara (710-784) and Heian (794-1185) periods! As a result, the story of these two cities has been recognized as Japan's Heritage. In addition to the city's numerous pottery galleries and shops, the Kasama Pottery Festival, held every spring for 40 years, is also incredibly popular.
The distinctive feature of Kasama ceramics lies in the quality of the soil. The clay extracted locally contains high quantities of granite (called Mikageishi) and iron, the latter of which brings a red glaze once the pottery items are fired in the kiln.
Picture courtesy of Fukuda Kiln
A studio that offers visitors pottery workshops is Fukuda Kiln, established in 1796. This studio has earned a reputation for its skilled artisans and high-quality products. They are, at the same time, one of the very few kilns that possess the technical skills for making 10-meter-sized ceramics!
Fukuda Kiln provides three types of pottery workshops:
Shaping pottery items without using a potter's wheel (1,500 yen/person)
Picture courtesy of Fukuda Kiln
In this activity, participants can opt for one of the three methods: shaping a tea bowl with their bare hands, layering clay strings to create vases, or making a ball of clay and patting it down to a flat base to create a mug cup.
Creating an item using the potter's wheel (2,800 yen/person)
Picture courtesy of Fukuda Kiln
If you've always wanted to see how an electric potter's wheel works, this is your chance! The staff will teach you how to handle the wheel and create the object of your choice. (*Please note that, due to the number of wheels available, only up to six participants can be accommodated at the same time)
Ceramics design (500 yen/person)
Picture courtesy of Fukuda Kiln
You can decorate a tea cup or plate with an original design.
The kiln has English-speaking staff. Please note that once your creation is ready, it needs to be fired in the kiln for about two months. After that, the product will be sent to your address (*shipping fees need to be paid separately from the workshop fees). Please book the workshop in advance.
Picture courtesy of Fukuda Kiln
Visiting the Fukuda Kiln is a fun and insightful experience in itself! The kiln operates two family museums in its precincts. One is dedicated to the history of Kasama pottery, displaying the evolution of this craft throughout its 250 years of history.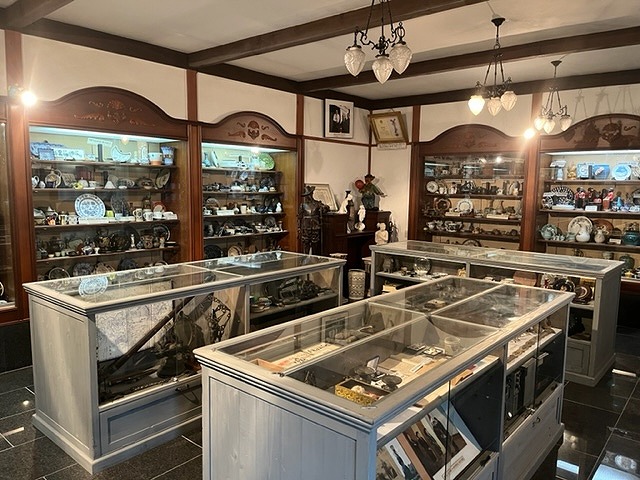 Picture courtesy of Fukuda Kiln
The other museum is home to a collection of ceramics from all around the world. The collection was started by the father of the current owner and was expanded by the son and his family, who are dedicated ceramicists. A visit here will surely enrich your visit to Kasama, the pottery Mecca of Ibaraki!
Explore Japanese Culture Through Hands-on Activities in Ibaraki!
We hope that the workshops introduced above inspired you to take the next opportunity to visit Ibaraki and deepen your knowledge about Japanese culture through hands-on activities. Besides traditional crafts, you can also enjoy fruit-picking activities as well as factory visits. Don't miss out on a chance to encounter authentic Japanese culture in Ibaraki!