Glamping in Ibaraki: 5 Incredible Spots to Experience Japan's Beauty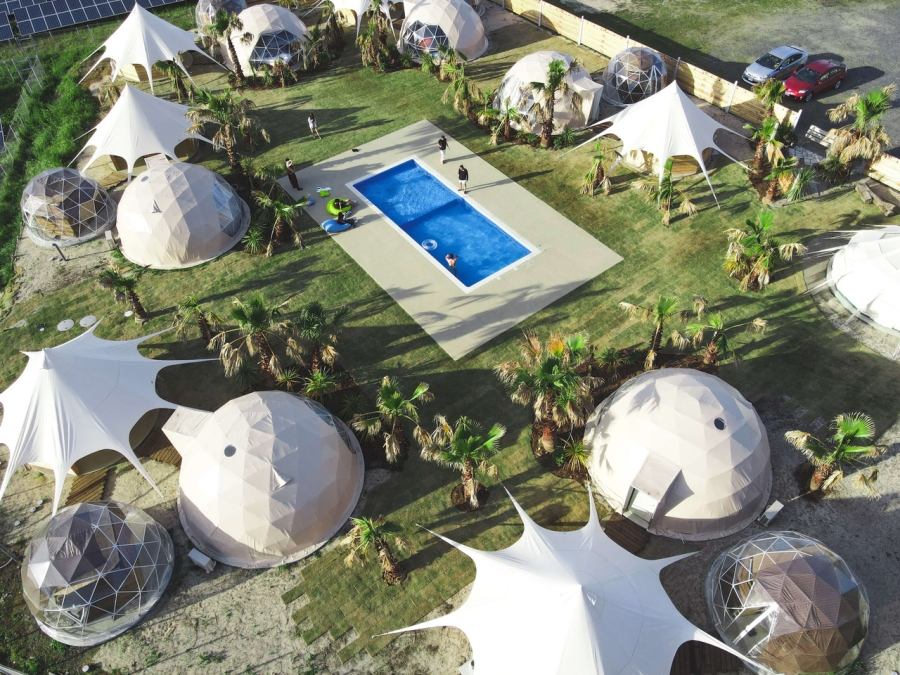 Come and enjoy an unforgettable glamping trip amid the rich nature of Ibaraki! We introduce five glamping facilities that offer style, comfort, and the great outdoors. A great plus is that all these places are easily accessible from Tokyo!
Ibaraki, Japan's New Glamping Hotspot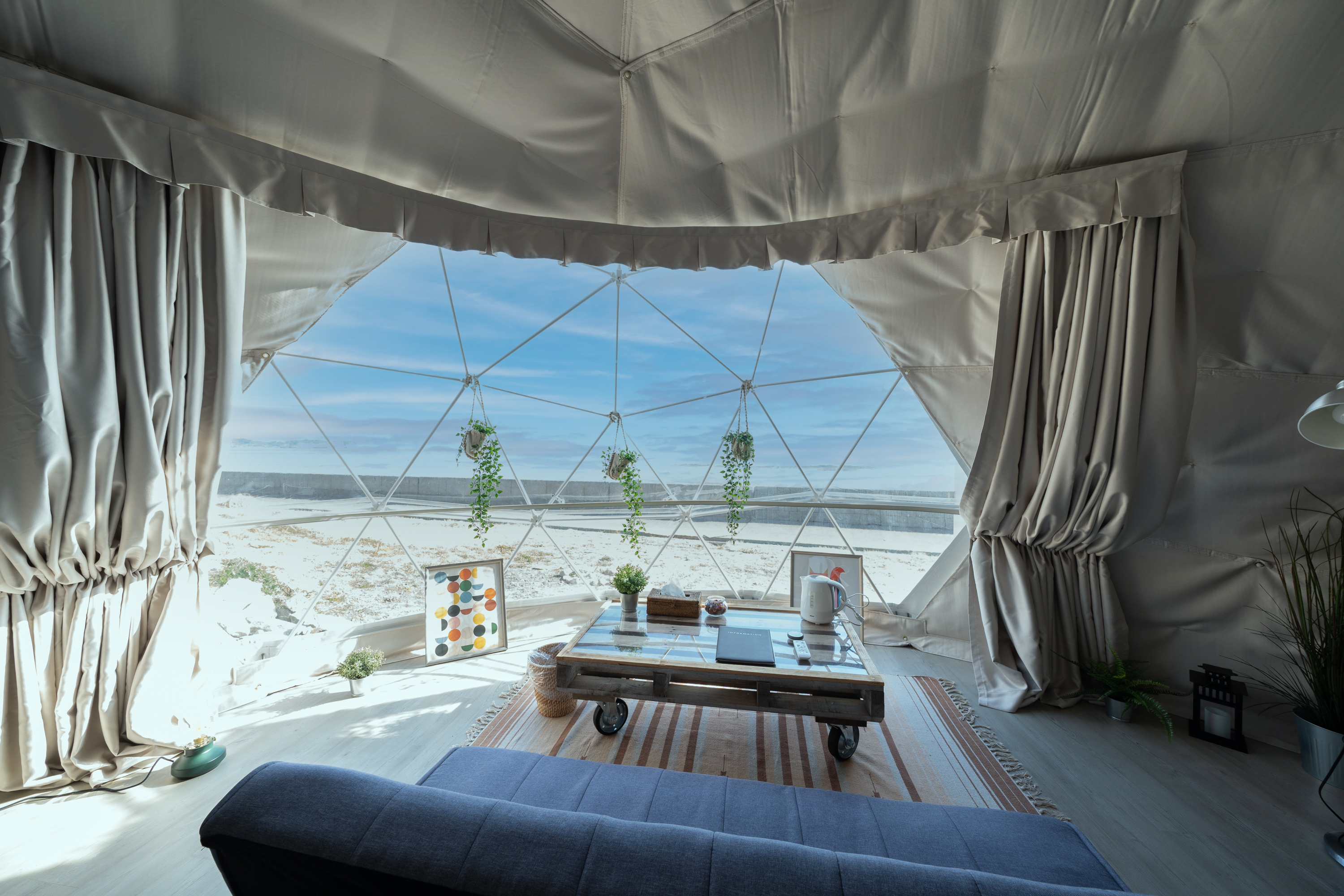 Glamping – short for 'glamorous camping' – is a trend that has taken off in the last few years, but what's the appeal? For many of us, the word 'glamping' conjures up images of luxury bubble tents set against backdrops of stunning natural scenery – a feature that many glamping spots certainly offer!
But perhaps the greatest reason for the appeal of glamping is that it allows guests to escape the stresses of urban life without escaping all of the comforts. Visitors also don't need to deal with the time lost and hassle of setting up tents and cooking facilities.
Despite having 'glam' in the name, glamping itself is not necessarily expensive and is certainly not just a pastime for the wealthy! Many sites are very affordable, particularly when compared to hotels, and have broadened their reach to be accessible to all types of travelers.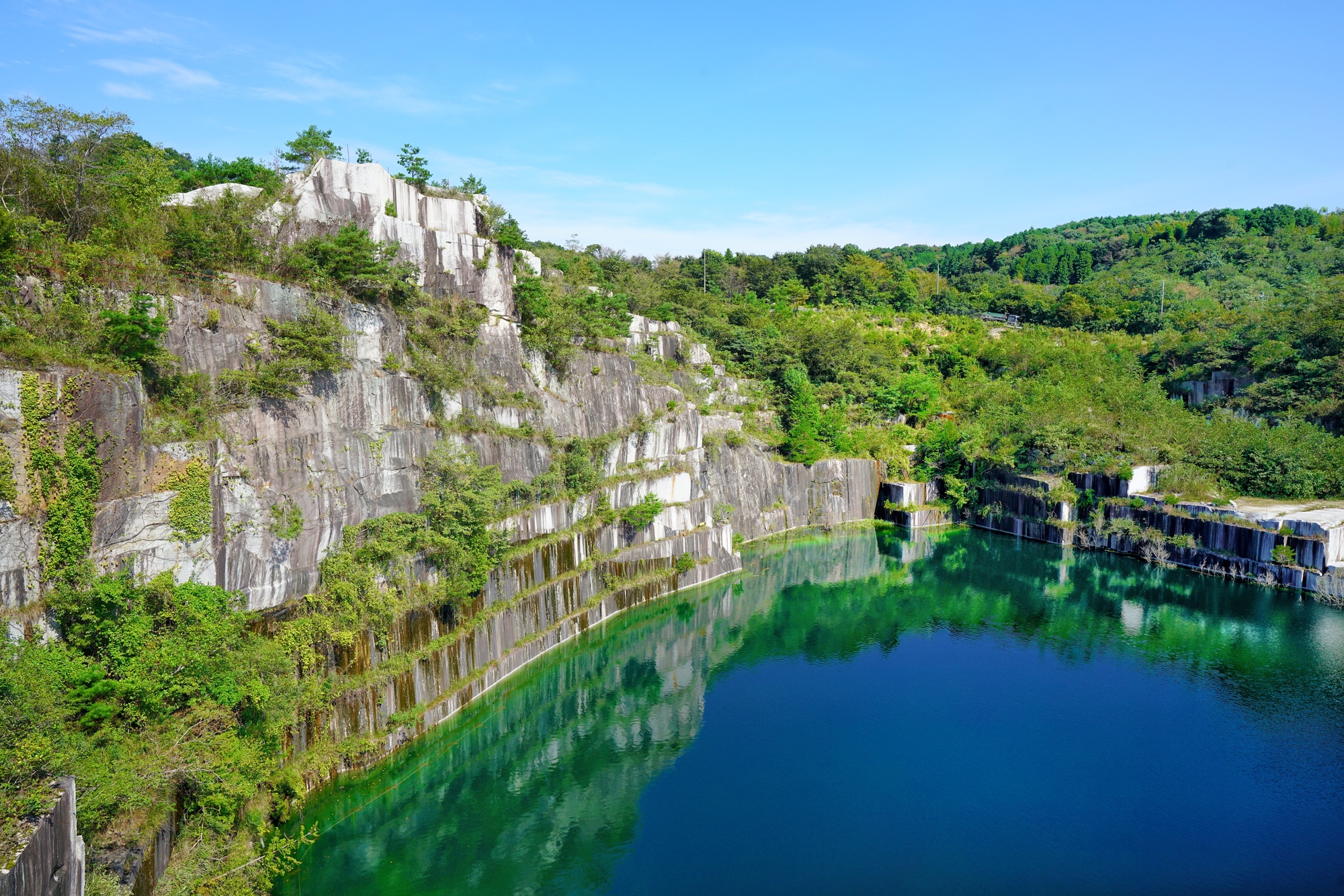 Ibaraki is home to a wealth of splendid natural scenery and picture-perfect parks. Must-see spots include the colorful Hitachi Seaside Park, the awe-inspiring Ryujin Gorge, and Mount Tsukuba, which is popular among climbing enthusiasts. The prefecture is also known for its delicious food, exciting outdoor activities, and exquisite traditional pottery.
Despite being close to the nation's capital, Ibaraki's abundance of natural beauty contrasts Tokyo's fast-paced, neon-lit urban sprawl. It is fast becoming a popular getaway spot for urban residents. City folk flock to Ibaraki for activities such as bungee jumping, walks along the Pacific coastlines, and gazing at beautiful skies largely untouched by the light pollution of the big city.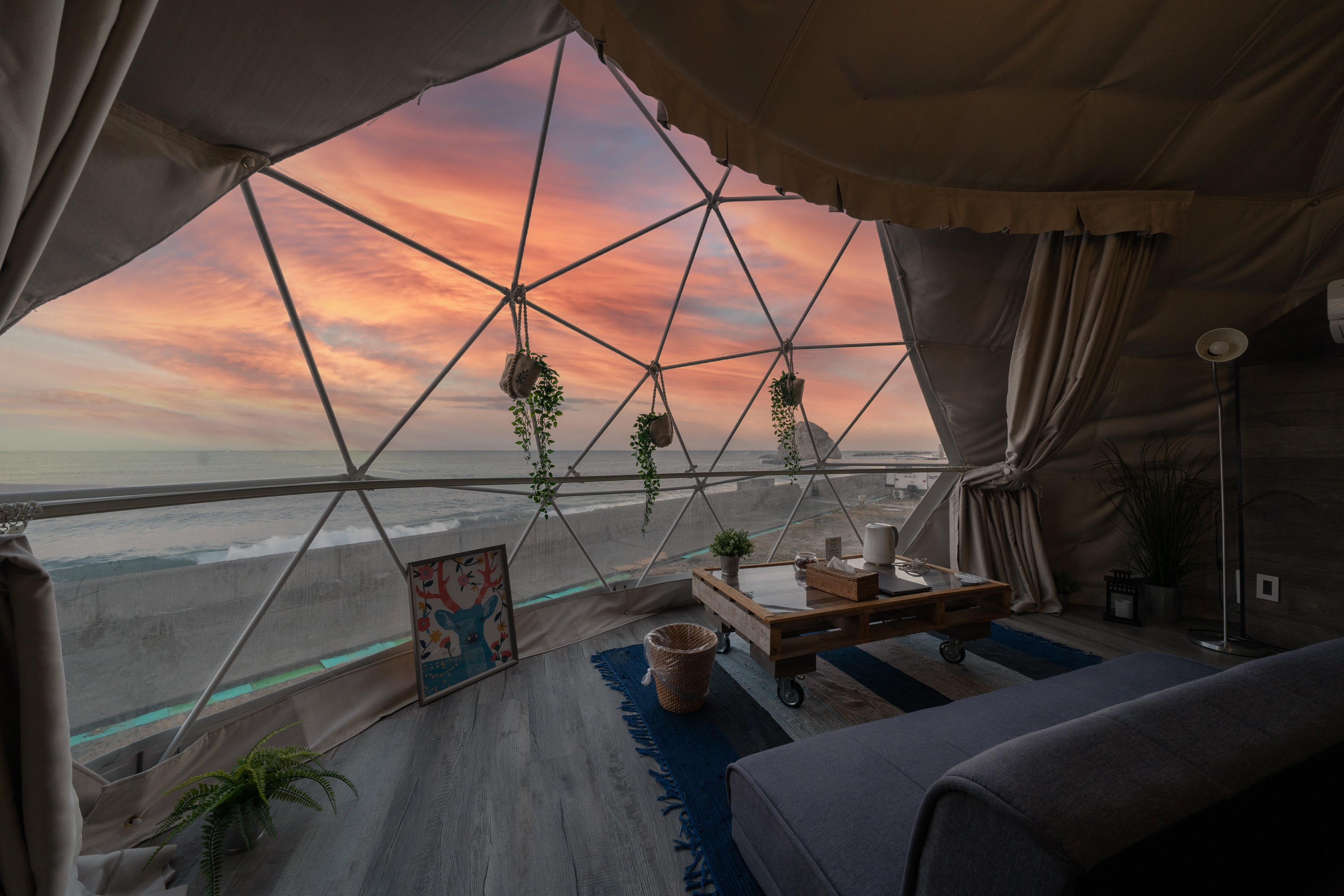 Ibaraki also has the most campgrounds anywhere in Japan and is home to some of the best glamping spots in the country. From innovative facilities to unspoiled nature, Instagrammable accommodation to exciting outdoor activities – Ibaraki's many glampsites offer it all!
Below we'll look at 5 glamping facilities in Ibaraki that are easy to reach from Tokyo and offer something for those of all ages, interests, and budgets!
1. Etowa Kasama: Perfect for Travelers Seeking Stylish Glamping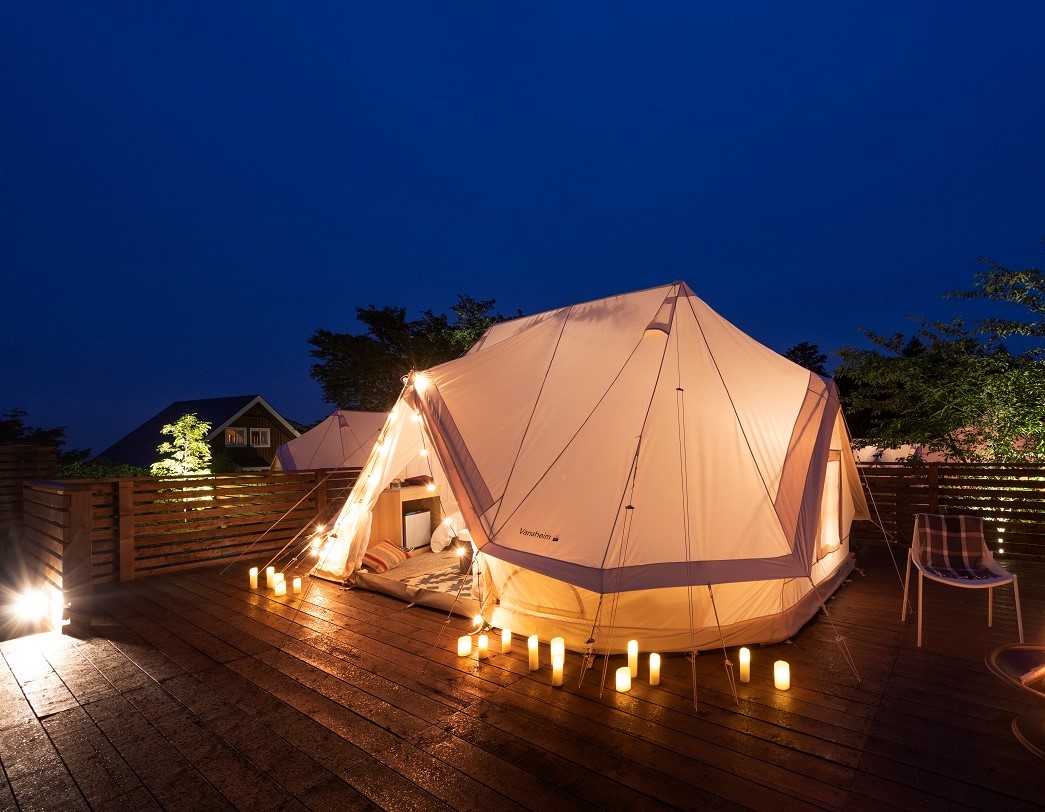 The first spot on our list is a trendy forest hideaway in Kasama, a city famed for its beautiful pottery. Etowa Kasama is located on top of Mount Atago, affording the site panoramic views of the surrounding area.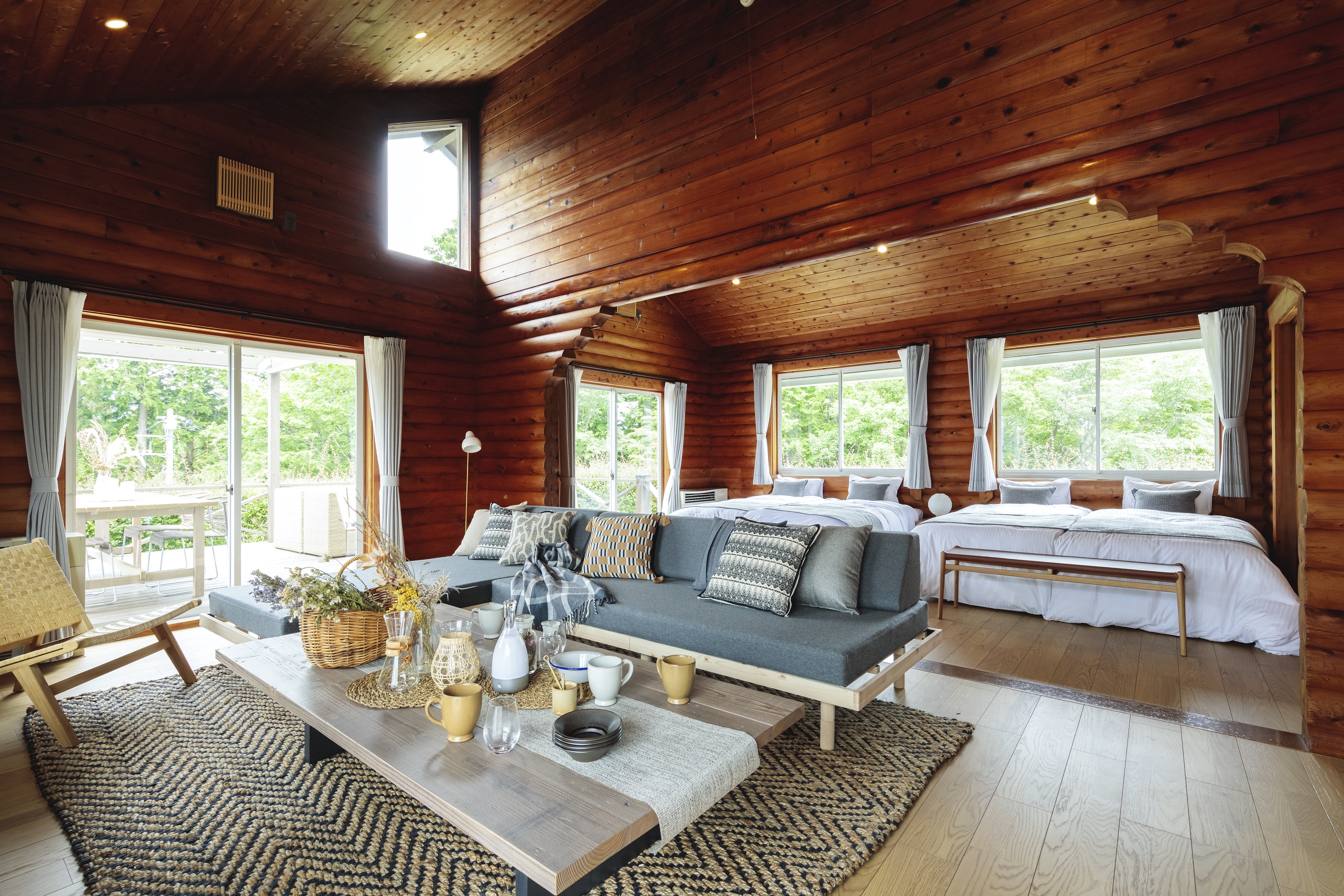 Those interested in the concept of forest bathing will particularly love this spot, as a large part of the concept behind the site allows visitors to escape the city and refresh by spending time in the heart of nature.
The site offers several accommodation options, including stylish tents and Scandinavian-inspired cabins. All accommodation is beautifully designed and includes outdoor dining areas, where guests can enjoy the delicious food Ibaraki offers, such as the famed Hitachi beef. The largest cabins accommodate up to six guests, making them an excellent option for small groups.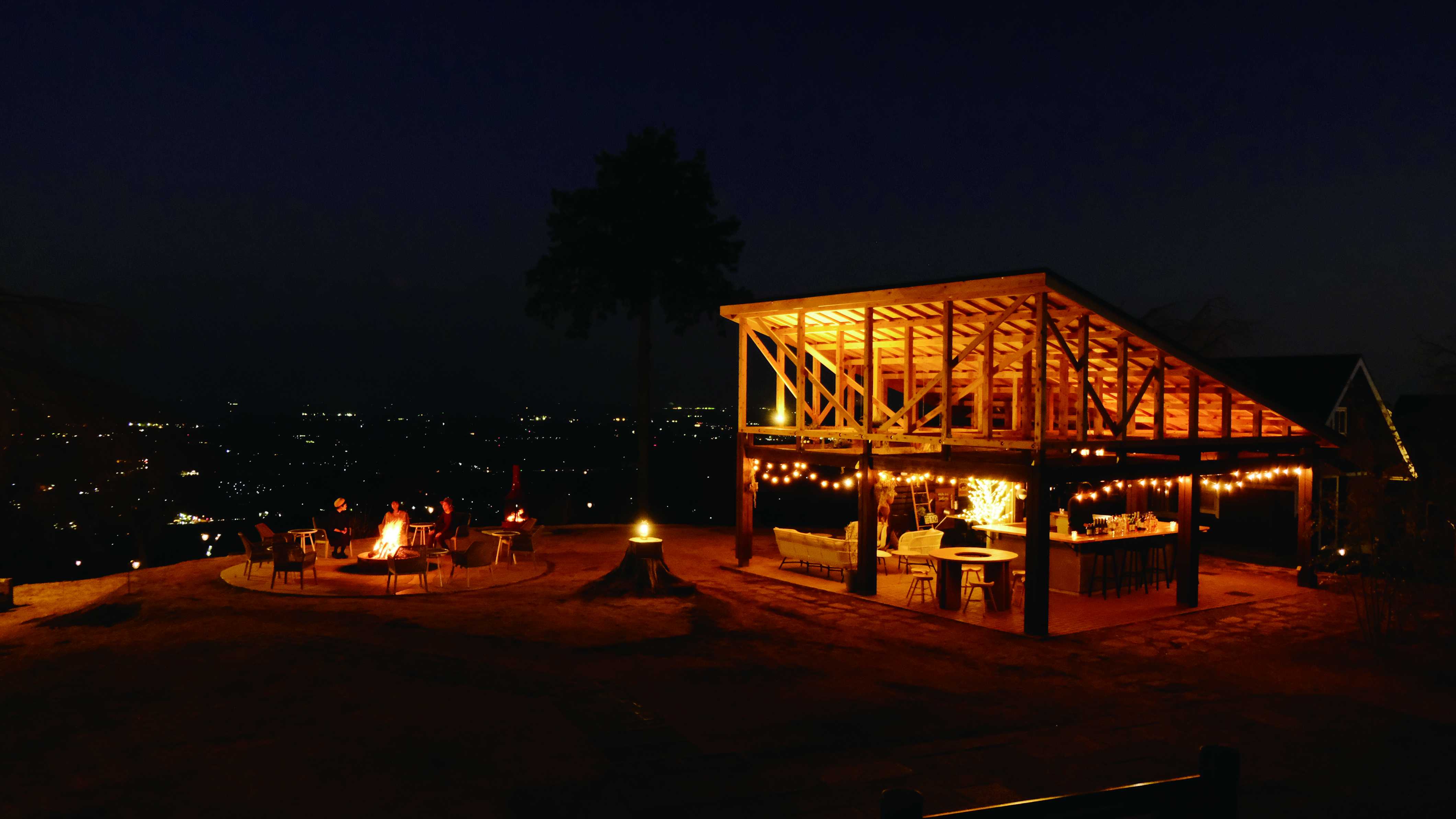 Perhaps what sets this site apart is its fantastic facilities; it features a stylish outdoor bar where guests can enjoy a drink under the starry sky. The site even offers one-day workation plans and unique open-air workspaces for those who need some inspiration!
This photogenic glampsite will definitely appeal to groups of travelers eager to enjoy some relaxed, low-key nightlife and access to a wealth of amenities. So why not escape urban life for a little while with your friends, and enjoy a campfire, drinks, and even a movie in a peaceful forest?
2. East Coast Fine Glamping: A Site with Exciting Activities for All Ages!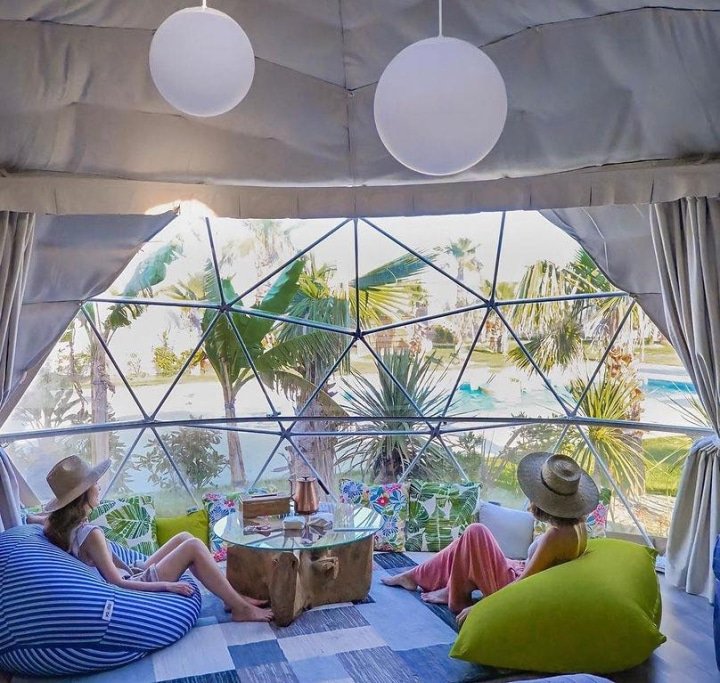 East Coast Fine Glamping is sure to dazzle all who visit both due to its beautiful design and sheer range of family-friendly activities!
Equipped with a temperature-controlled outdoor swimming pool and spa housing open-air baths, this site is great for those who love the water! It is also a mere 10 meters from Ajigaura Beach and a 4-minute walk from Nozomi Hot Spring!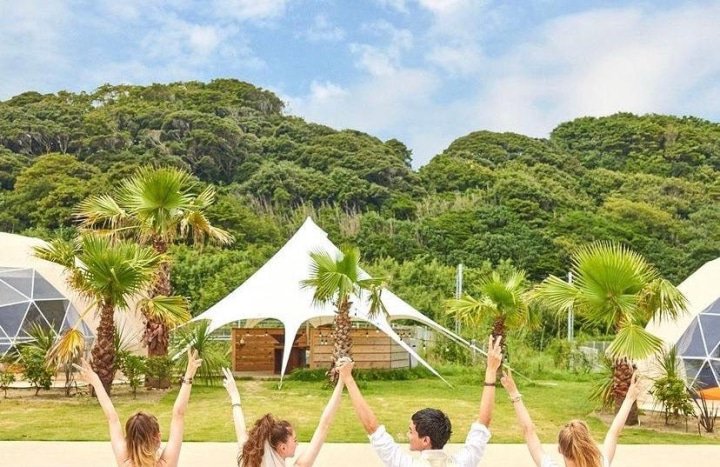 The area provides stylish dome tents with hotel-quality interiors, beds, and amenities. It also features an open-air dining tent with a 'teppan' hotplate and dining facilities. Dining options include the area's famed Hitachi beef and local vegetables.
A truly attractive feature of this spot is its incredibly broad appeal: it allows guests to rest, take beautiful pictures, and indulge in exciting activities and excursions! Kids, teens, and adults alike will be captivated by what East Coast Fine Glamping offers.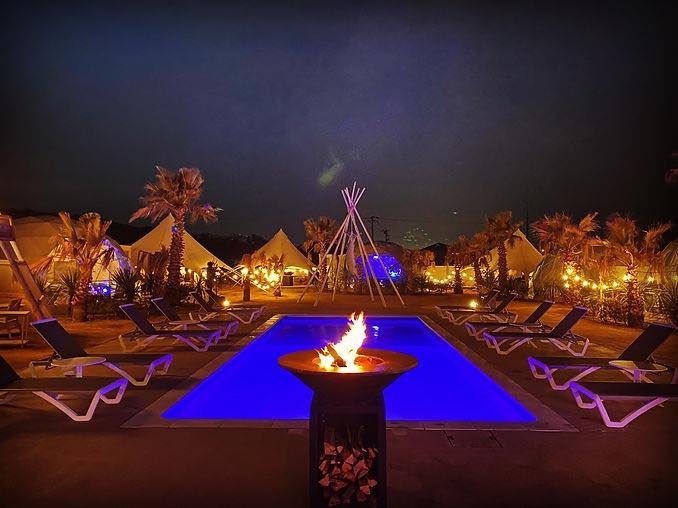 The facility offers buggy rides along a forest course, and the famous Hitachi Seaside Park is within 10 minutes of the site by car. You may have seen this highly Instagrammable spot popping up on your social media feeds as of late, as it is famous for becoming a sea of ethereal baby-blue flowers in late spring. However, the nemophila isn't the only fascination; the colorful flower park transforms depending on the time of year and what is blooming, and it is always worth a visit!
Whether you want to relax in style, enjoy activities with your family or take pictures for your Instagram, this innovative glamping site will not disappoint!
3. Glamping Village Ibaraki: A Gorgeous Stay with Great Ocean Views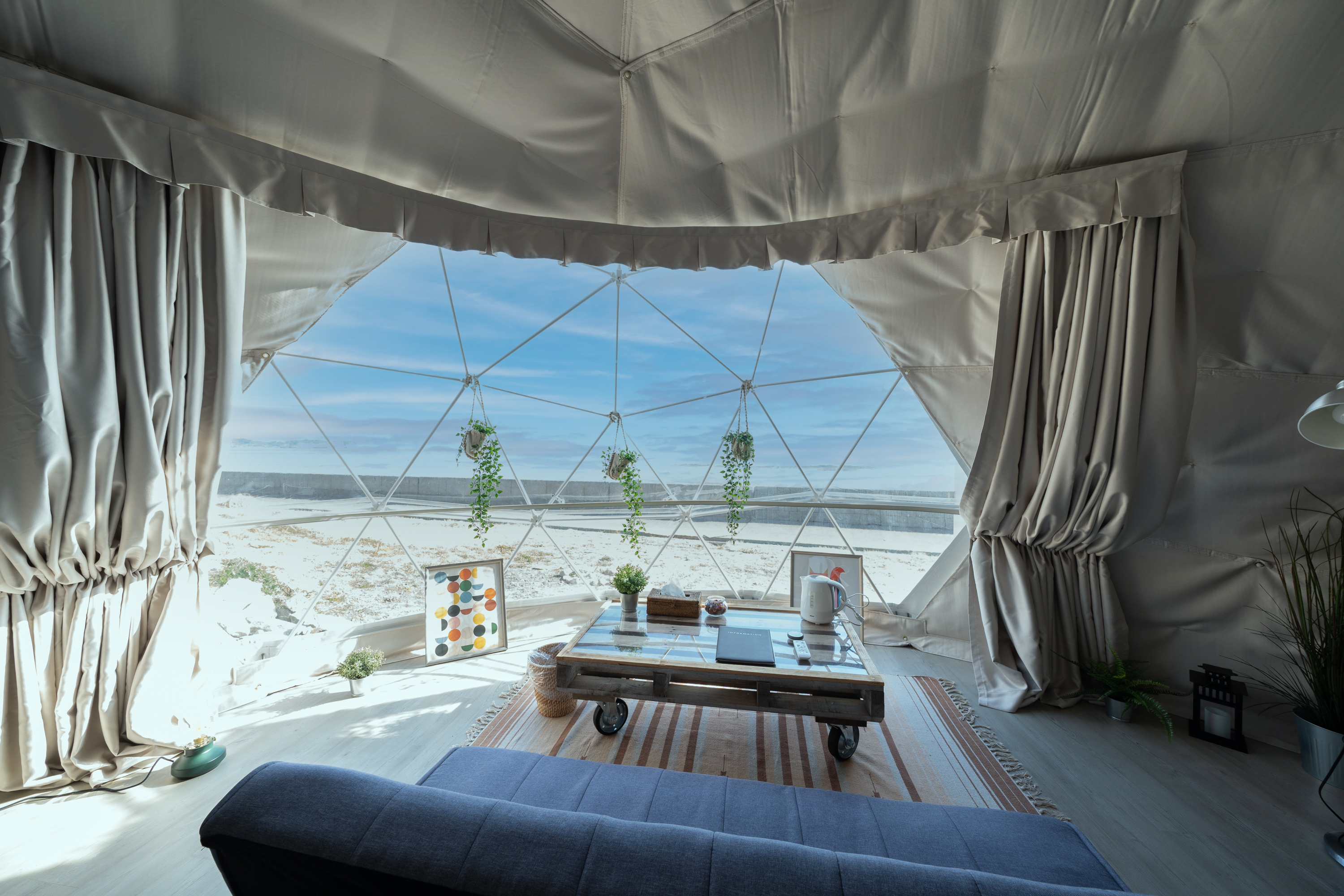 For those who long to escape to the coast and enjoy the relaxing sound of waves breaking on the shore, Glamping Village Ibaraki may be exactly the spot they're looking for.
Offering beautiful accommodation with views of the Pacific coastline, the site is just 10 minutes on foot from the nearest swimming beach, making it ideal as a summer getaway for those who love the sea.
Guests yearning for the open sea can embark on a fishing boat tour, departing from a port just a 10-minutes drive away from the site.
Accommodation options include luxury dome tents and beachside trailers with beautiful interiors and ocean views. The site even has two pet-friendly trailers with private dog parks!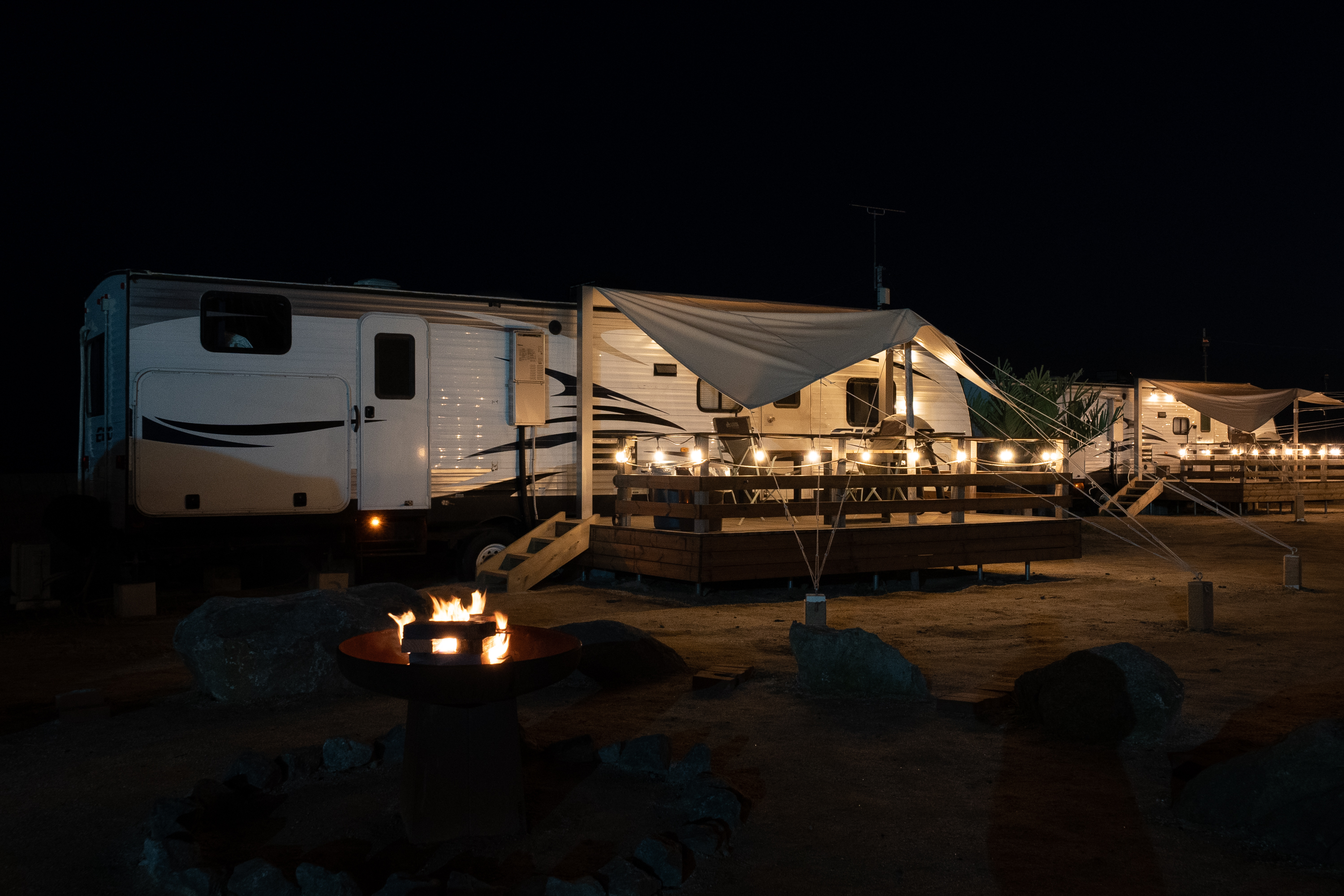 The facility will appeal to foodies as it offers guests a fabulous barbecue course menu with a wide variety of foods, including local produce and Hitachi beef. There is even a barbecue site available for visitors on day trips!
This spot places a significant emphasis on relaxing while surrounded by beauty and offers its guests free access to a mineral bathhouse with views of the picturesque Isohara coast.
Breathtaking sunrises will enchant visitors over an idyllic coastline, enjoyed from the comfort of a luxury tent or relaxing mineral bath.
4. Shikinotsuki: A Peaceful Retreat by the Ocean, Complete with All Essential Comforts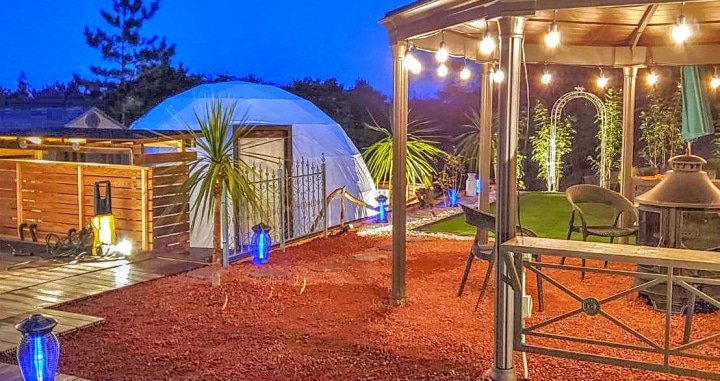 Shikinotsuki literally translates as "The Four Seasons' Moon," a name that helps capture the tranquility and charm of this secluded site.
Opened in 2021, the facility aims to provide visitors with the ability to experience an ideal lifestyle amid nature, entirely hassle-free. Guests don't need to worry about bringing heavy luggage; almost any essential comfort you can dream of is available on-site.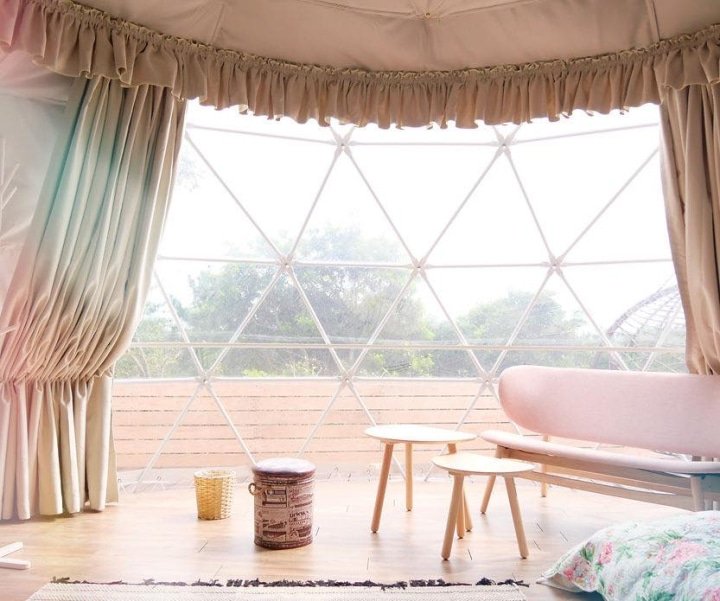 The venue has two stylish dome tents that offer comfortable accommodation in any weather. With these tents just a stone's throw away from the shore, guests can relax to the soothing sounds of the ocean.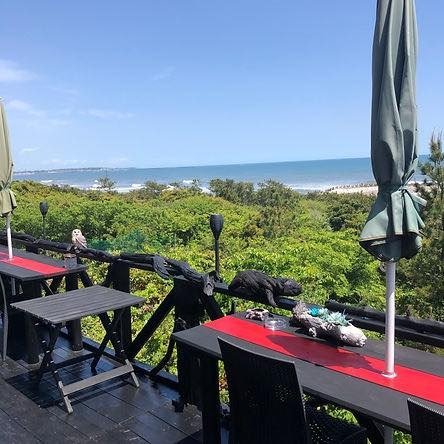 Guests can enjoy a leisurely time in the barbecue garden cooking the barbecue sets that include flavorful meat and vegetables from Ibaraki.
Other great ways to enjoy your time at Shikinotsuki include surfing near the beach located right by the glampsite, fishing, jogging, or viewing the sunrise over the ocean.
This is a great spot for young people who want to enjoy a relaxing resort stay while surrounded by nature. If you and your friends' dream of escaping to a cozy private retreat near the coast, Shikinotsuki is a fantastic option.
5. Hagi Village: Ideal for Those Who Love Nature and Outdoor Activities!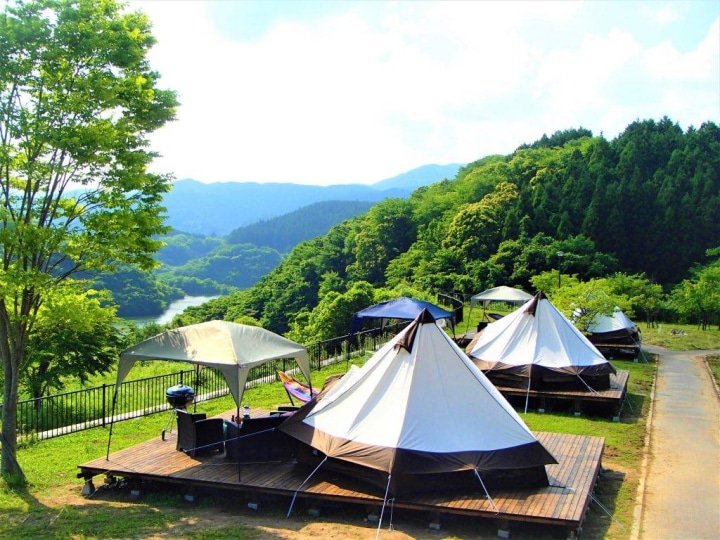 The last spot on our list is Hagi Village, a true haven for lovers of the outdoors. Nestled between the mountains, surrounded by forested areas, and on the shore of the Koyama Dam, this spot offers an escape from the city.
Perhaps the site's standout feature is the wide range of exciting outdoor activities available there; these include canoeing, kayaking, inflatable raft cruises, stand-up paddle boarding (SUP), and even SUP yoga!
Extreme thrill seekers can do the 100-meter bungee jump (the second highest in Japan!) from the Ryujin Suspension Bridge – one of the longest pedestrian suspension bridges in the country!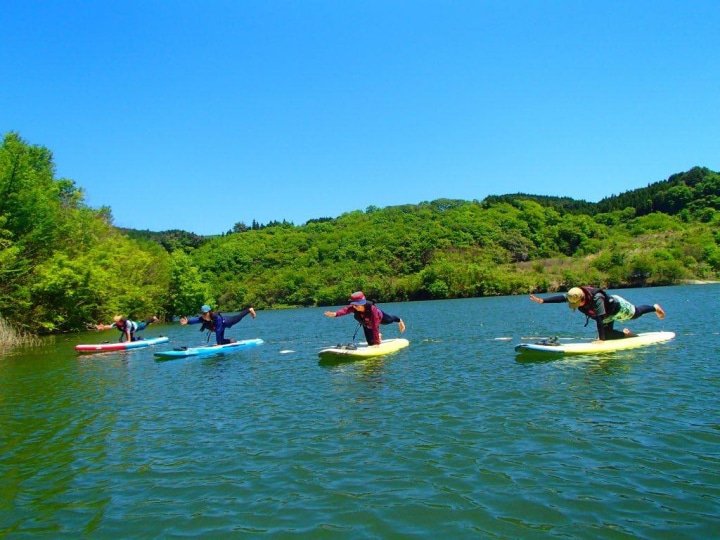 Due to the lack of light pollution in the area, it is sometimes also possible to view the Milky Way at night when conditions are clear.
Though the accommodation at Hagi Village is a bit simpler compared to the other sites featured, it offers all the essentials with provisions such as sofa beds, power outlets, heating, air conditioning, a mini fridge, and hammocks.
This glamping spot is ideal for young travelers on a budget and, in particular, for adventurous people eager to enjoy the excitement of the great outdoors!
Don't Miss Out on Glamping in Ibaraki
Easy to access from Tokyo, Ibaraki's innovative glamping spots offer visitors an escape from the city, the healing power of nature, and highly photogenic accommodation options – all without the hassle and stress of the traditional camping experience!