Exquisite Food and Nature in Ibaraki! Top 10 Barbecue and Camping Spots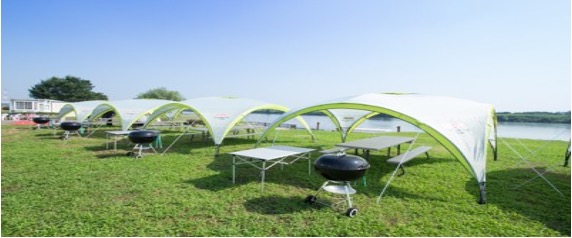 Ibaraki Prefecture is a treasure trove of beautiful nature and tasty ingredients, including wagyu beef and vegetables. It's also the perfect place to enjoy camping and a barbecue on a day trip from Tokyo. This article will introduce ten camping spots with BBQ facilities in Ibaraki.
Campsites with Barbecue Facilities in Ibaraki, Home to Gorgeous Nature and Tasty Eats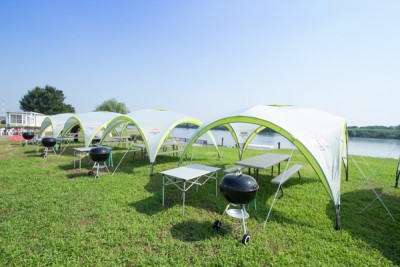 Surrounded by bountiful nature, Ibaraki Prefecture has Japan's largest number of campsites. Barbecue and camping areas are located in various places, from the mountains and seaside to riverbanks and parks. What's more, Ibaraki is a treasure trove of delicious ingredients. You can purchase brand-name meat to locally grown vegetables at supermarkets and road stations.
Visitors can have a barbecue on a day trip or spend the night relaxing in nature while camping. This article will introduce campsites with barbecue facilities throughout the prefecture.
*Depending on the reservation type, barbecue ingredients can be purchased at the campsite, or barbecue and camping equipment can be rented in advance. Please check the respective website for details.
1. Kazoku Camp Mura Hanazono Auto Camping Ground (Kitaibaraki)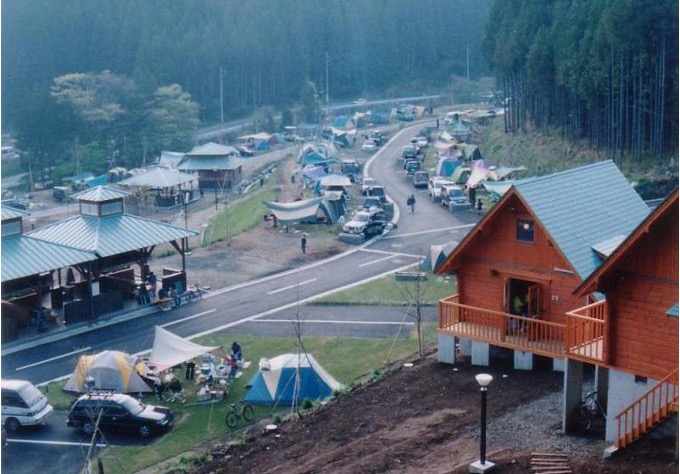 Kitaibaraki is often associated with the art critic Tenshin Okakura and poet Ujo Noguchi, who were both active from the late 19th to early 20th century. Kazoku Camp Mura Hanazono Auto Camping Ground is where you can enjoy barbecuing and camping while experiencing the nature these two famous figures adored.
The grounds feature a beautiful landscape with the Hanazono River flowing nearby. There are tons of natural wonders to see in the neighboring area. This includes Mt. Eizomuro (882m), the tallest mountain in Ibaraki, Hanazono Shrine surrounded by a large thicket of trees, and Hanazono Valley.
2. Daigo Wide Area Park Auto Camp Ground Green Villa (Daigo)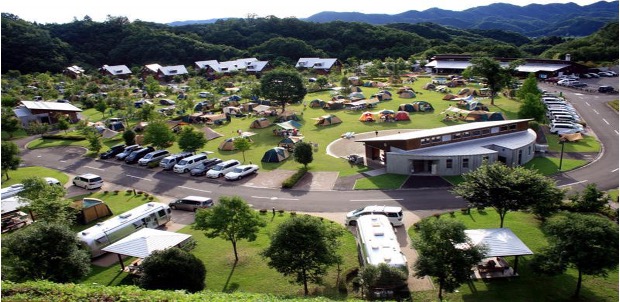 Daigo is located in the nature-rich Okukuji area and is home to many attractions, including Fukuroda Falls, one of Japan's three famous waterfalls. Green Villa, the town's auto camping ground, has several types of campsites. There are spacious private tents, cabins that feel like vacation homes, and camping car areas.
Fureai no Yu is a hot spring with onsite open-air baths separated between men and women. You can even enjoy a barbecue while camping! Other facilities include a heated swimming pool and adventure playground, making it ideal for camping with one's family.
3. Park Arcadia Kevin Village (Hitachiomiya)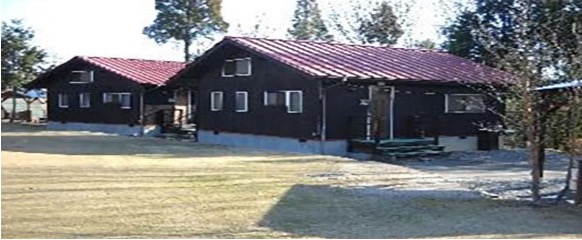 These vast grounds are home to eight barbecue facilities and a putter golf course with 18 holes. Other activities include an adventure playground in the forest, a planetarium, and a forest science museum where campers can participate in a free woodworking experience.
As its name implies, Kevin Village has 13 cabin lodgings furnished with air conditioners and bidet toilets. Enjoy a comfortable stay while in the heart of nature.
4. Shirosato Outdoor Activity Center Fureai no Sato (Shirosato)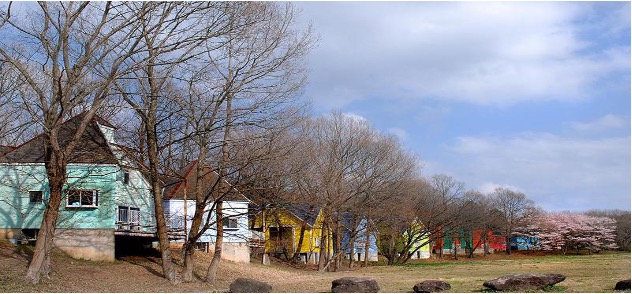 Fureai no Sato has a selection of accommodations, including cabins and cottage-styled bungalows. The barbecue facilities also come fully equipped. Some options include a roofed area with built-in gas stoves and a charcoal area to barbecue under the trees.
There's even a full-scale observatory on the grounds with a Newtonian telescope with a focal length of 400mm. Not to mention, there's a hot spring facility with a heated swimming pool! The center also hosts activities like fishing and pizza-baking classes on national holidays.
5. Hinuma Nature Park Camping Ground (Ibaraki Town)

This nature park is located on the banks of Lake Hinuma. There are unmarked tent sites and an auto camp with an AC power supply. The auto camp is sectioned off into separate lots by trees.
The park has five plazas filled with unique open spaces. Seseragi Plaza is home to water creatures such as freshwater crabs and frogs, while Sun Plaza features a panoramic view of the lake. There's also a walking route where you can admire seasonal flowers and wild birds, making for great fun with the family while spending time in nature.
6. Oarai Sun Beach Campsite (Oarai)

This campsite is next to Oarai Sun Beach, a popular swimming attraction. You can enjoy barbecuing while breathing in the salty ocean breeze.
There are several options for camping. The Hands-Free Campsite has permanent tents and tarps provided for use. The Hands-Free BBQ Course provides a staff member who will do everything for you, from starting the fire for your barbecue to cleaning up afterward. Even beginners at camping and barbecuing can have a safe and relaxing experience. The campsites are also fully furnished with 24-hour hot showers, barrier-free restrooms, and outdoor showers onsite. Have a wonderful time during your stay, combined with some ocean fun!
7. Tsukubane Auto Camping Ground (Ishioka)

This campground is located 320 meters up on Mt. Tsukuba, a popular hiking spot in Ibaraki. It has various accommodations, including cabins for a villa stay, a grassy area to pitch up tents, and an auto campsite. There's even an area called the Komorebi Site for some quiet solo camping among the trees.
A distinct feature is the circular barbecue pits in the roofed barbecue area. Four grill pits are made from a building stone from Tochigi Prefecture called Oya stone. This stone is said to produce far infrared radiation that improves the taste and quality of the food. Campers are also allowed to have an authentic barbecue experience.
Campers can enjoy grass sledding, playing in the adventure playground, birdwatching, and insect collecting in the outdoor square. Gaze up at an incredible starry sky when night falls.
8. Fontaine no Mori Campsite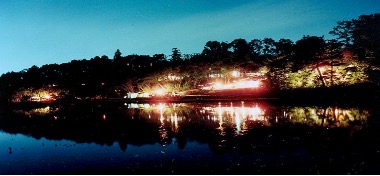 About an hour from Tokyo, this outdoor field is located in a lush forest. There are various accommodations, including an auto camp, a tent camp, and log cabins.
Fontaine no Mori is unique for having facilities and hands-on experiences for campers to tap into their playful side. There's a billiard hall, climbing walls, and even a fruit-picking experience when certain fruits are in season.
9. tama umi terrasse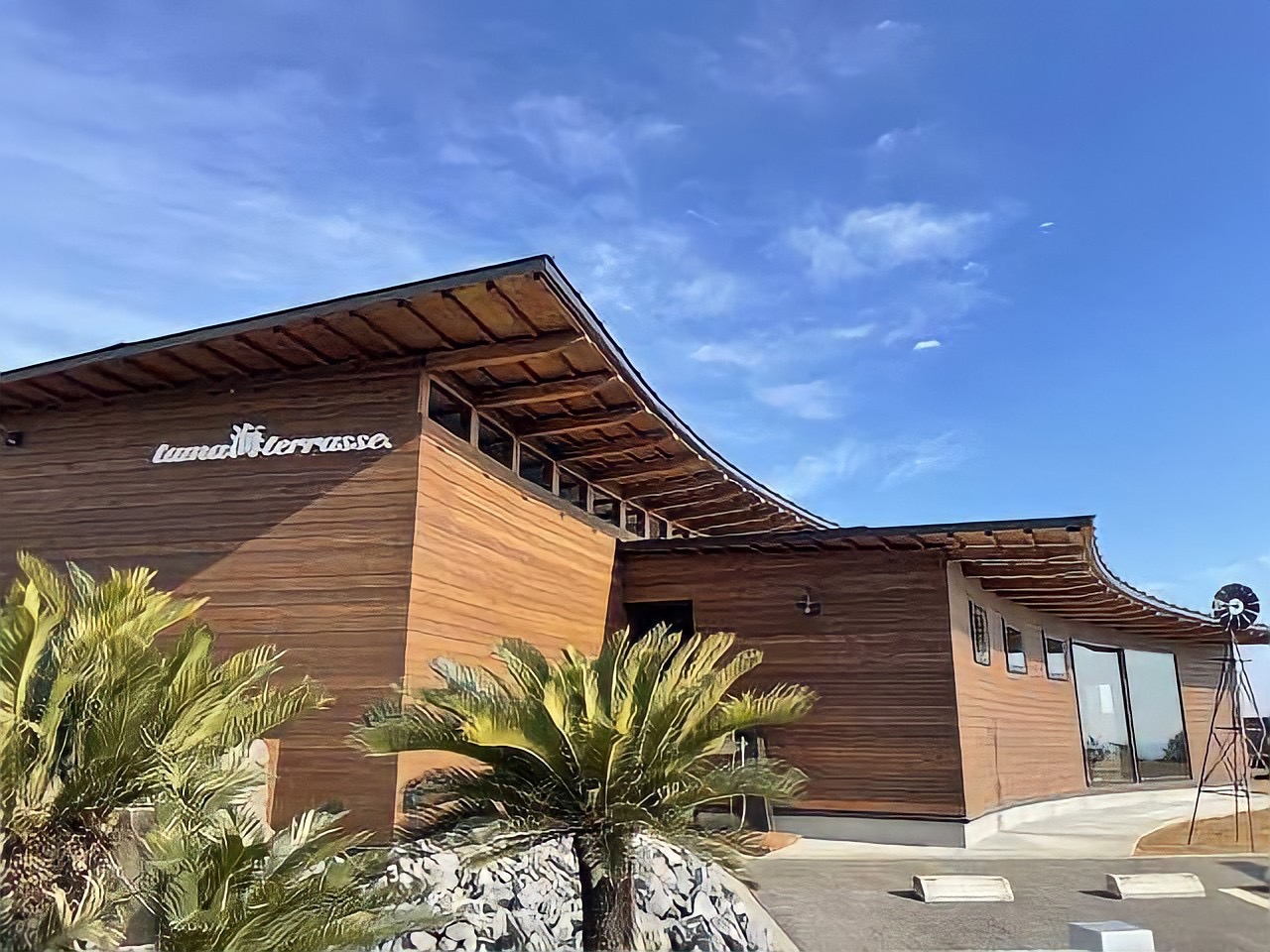 This gorgeous campsite by the seaside was created under the concept of "A mature place to quietly experience nature and time." There are several campsites available. The Sea Site features a large panoramic view of the Pacific Ocean, while the Forest Site is a spacious space near the parking lot. Guests can also have a barbecue here.
tama umi cafe is located next to the campsites. Get a taste of parfaits and shakes made with fruits from Hokota City alongside shaved ice and craft beers!
10. Kamisu Municipal Nikkawahama Auto Camping Grounds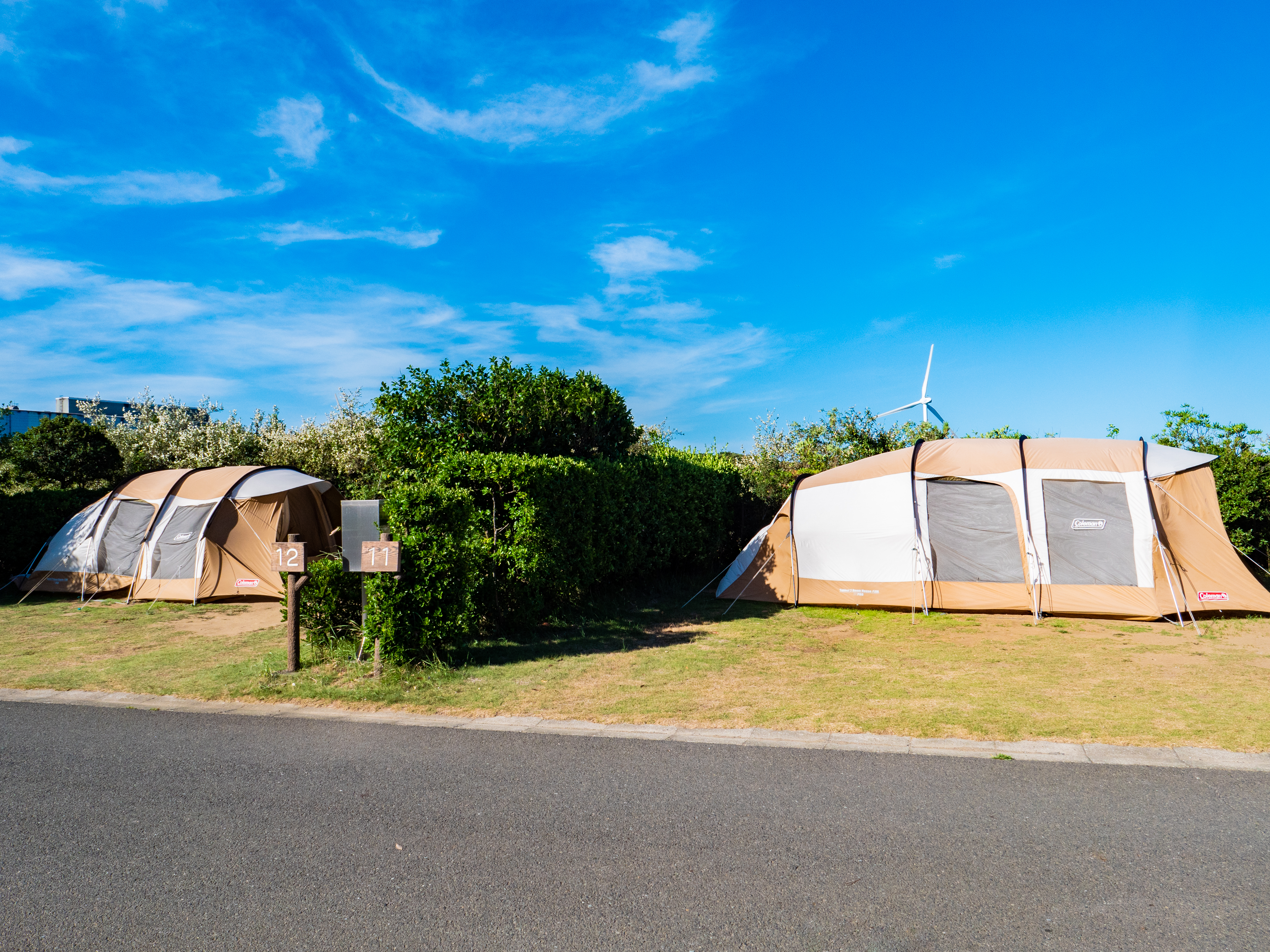 This auto campground is located in Kamisu, a city bordering Chiba Prefecture. You'll find your typical tent sites and barbecue area. Some cottages can even accommodate up to nine people.
Nikkawahama Beach is only three minutes on foot from Nikkawahama Auto Camping Grounds. The sandy scenic shore is lined with a row of wind turbines. No wonder many photo enthusiasts visit here. You can also enjoy outdoor leisure activities like clamming, surfing, and fishing. Nearby is the Fureai Center Yurara, a municipal hot spring facility where you can relaxingly soak in a large bathhouse.
Go Camping to Enjoy Ibaraki's Bountiful Nature and Food!
Blessed with bountiful nature, Ibaraki is the perfect place to enjoy barbecuing while camping. Enjoy the great outdoors to the fullest by referring to this Ibaraki Guide article!