Splendid Foliage and Food! 9 Must-Visit Autumn Spots in Ibaraki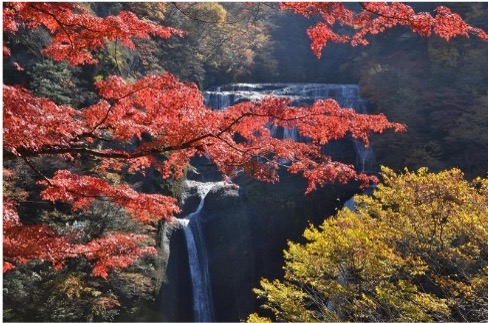 Ibaraki Prefecture is located near Tokyo and boasts incredible scenery and delicious food. September to November is the autumn season in Ibaraki, which means that it's the best time to visit for foliage and seasonal specialties. The following is a list of nine things to enjoy if you visit Ibaraki in autumn.
Autumn Destinations in Ibaraki
Many people long to view the autumn foliage in Japan at least once in their lifetime. There are many places to appreciate this scenery in Ibaraki, which is accessible two to three hours from Tokyo. The season brings a well of delicious food as well.
This article introduces recommended autumn spots and food in three areas: the northern part offers a variety of nature-rich sites, the central area where the prefectural capital Mito is located, and the southern spot close to Tokyo.
*Although the foliage season in Ibaraki Prefecture usually peaks in November, some sightseeing destinations can be visited from October to early December. Those interested in this year's forecast should check the Ibaraki Guide website (Japanese).
Northern Ibaraki
Hananuki Gorge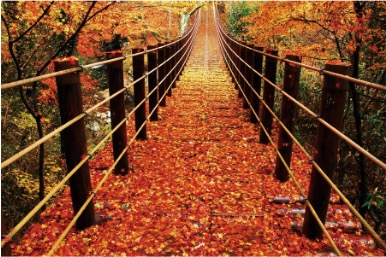 Hananuki Gorge, located in Takahagi City, is a famous sightseeing destination. Many tourists visit it during the autumn foliage season.
The gorge is known for its stunning views from the suspension bridge. There is a promenade by the bridge where visitors can listen to the soothing sound of the river while admiring the foliage.
Hitachi Aki-Soba Noodles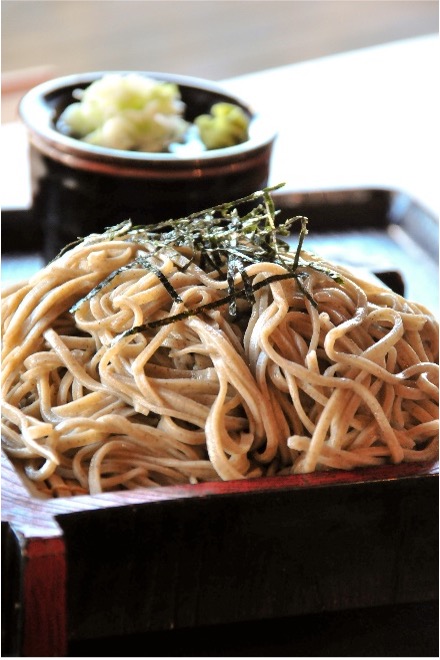 Soba, or buckwheat noodles, are a popular healthy dish in Japan. However, many may not be aware that Ibaraki produces brand-name soba called "Hitachi Aki-soba."
This type of soba, known for its rich aroma and gentle taste, is used at famous restaurants across Japan.
Hitachi Aki-soba was cultivated originally in Hitachiota City, located in northern Ibaraki. The city is home to the Ryujin Suspension Bridge, , famous for its autumn foliage views. Visitors can order Hitachi Aki-soba at most nearby restaurants, so be sure to try this local specialty.
Fukuroda Falls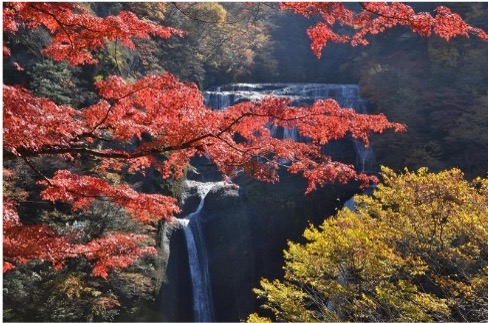 Located in Daigo Town in the Oku-Kuji area, Fukuroda Falls ranks among Japan's three major waterfalls alongside Kegon Falls in Nikko. This waterfall measures 120 meters in height and 73 meters in width. Since the gushing water cascades over four tiers in full force, it is also nicknamed "Yondo no Taki" (Four Times Waterfall).
Although the scenery changes seasonally, it is especially stunning in autumn with the foliage in the foreground. This area also has hot springs, making Fukuroda the perfect spot to visit at this time of the year.
Dried Sweet Potato (Hoshi-imo)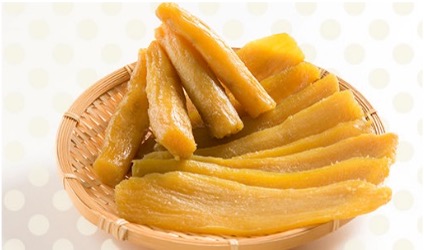 Ibaraki's soil is ideal for cultivating sweet potatoes. Since there is little rainfall during the winter, the prefecture has grown hoshi-imo (dried sweet potato) for a long time. This local specialty is known for its refined taste. Likewise, Ibaraki produces 90% of the hoshi-imo in Japan.
While there are many sweet potato varieties, hoshi-imo can be categorized into two types. Hira-boshi is the sliced version, and maru-boshi is made from a whole potato. The taste changes according to the varieties and types, so please try the different kinds available.
Hitachinaka, a seaside city in northern Ibaraki, is known for producing sweet potatoes. Fortunately, hoshi-imo can be purchased at any souvenir shop in the prefecture.
Central Ibaraki
Ibaraki Prefectural Archives and Museum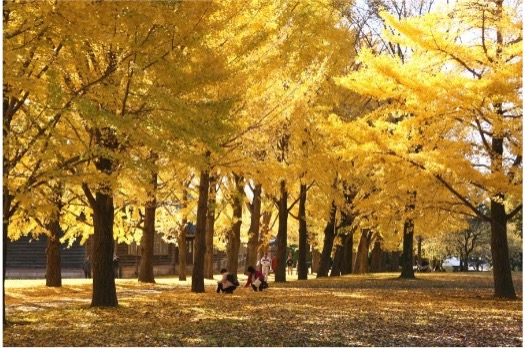 This facility is located in Mito, the prefectural capital of Ibaraki. There are various historical buildings here, including the former Mizukaido Elementary School built in 1881 and a private household from the Edo Period. No wonder it's the perfect spot for a stroll.
In autumn, the ginkgo trees color the ground in yellow hues, turning it into a famous photogenic spot attracting many visitors. The trees are occasionally lit up at night.
Kairakuen Garden: Momiji-dani Park
Kairakuen in Mito City is one of Japan's three most famous scenic gardens.
Momiji-Dani Park, an expansion of the garden, is famous for its autumn foliage. There are around 170 maple trees that fascinate visitors with beautiful fiery colors reflected on the pond's surface. Kairakuen also neighbors Lake Senba, so it might be fun to stroll around this beautiful body of water.
It is a 20-minute bus ride from JR Mito Station to Kairakuen Garden. With many lodging facilities and eateries near the station, the area is an ideal place to stay.
Ibaraki Chestnuts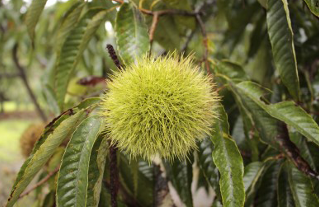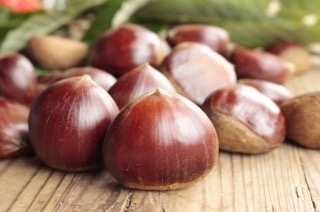 Ibaraki Prefecture is known as the largest producer of chestnuts in Japan. Kasama, a city in central Ibaraki, is a famous production area.
The best season for chestnuts is from September to October. Plenty of cafes and restaurants in Kasama serve menus featuring roasted chestnuts, chestnut confections, and kuri-gohan (chestnut rice).
Kasama is known for its ceramic ware, with many pottery-related attractions in the city. It is also home to Kasama Inari Jinja, a prominent shrine in Japan. Be sure to savor some chestnut dishes while visiting this area.
Autumn Fruit in Ibaraki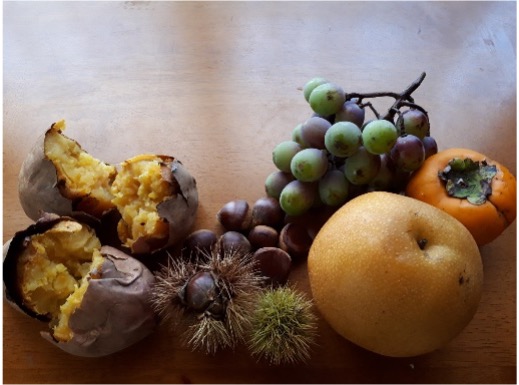 Although Ibaraki once ranked second in Japan's agricultural production, the prefecture continues cultivating various fruit types.
Autumn is a peak season for fruit, particularly grapes, pears, persimmons, and apples. There are many tourist farms in the area where visitors can harvest these fruits. Those interested in tasting their freshness firsthand with family and friends should try fruit picking!
Southern Ibaraki
Mount Tsukuba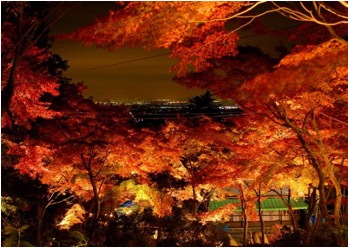 Mount Tsukuba is one of the most popular spots in the prefecture. With over 1,000 species of plants, visitors can enjoy mountaineering and hiking year-round.
In autumn, the mountain is covered with seasonal foliage. The autumnal view can be admired from the ropeway and cable car, which operates a different route from the mid-slope to the summit.
Tsukubasan Shrine, located halfway up the mountain, is another spot that should not be missed. There are hot springs in the area, where visitors can relax after hiking or sightseeing.
Ride the JR Suigun Line to Enjoy Ibaraki's Autumn Scenery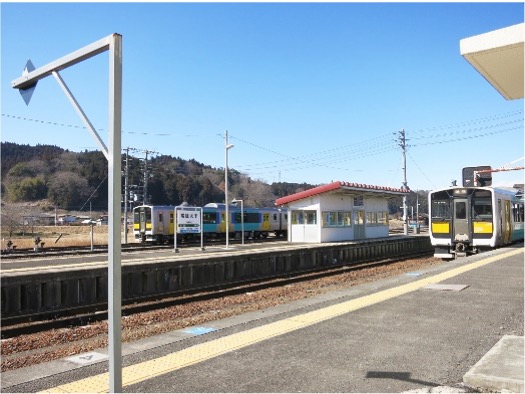 Visitors can also take in the fall scenery in Ibaraki while aboard trains.
We recommend taking the JR Suigun Line, which runs from JR Mito Station to Fukushima Prefecture. The train line takes passengers to Daigo Town, which is home to Fukuroda Falls and the Ryujin Suspension Bridge. It also heads to Hitachiota, famous for its Hitachi Aki-soba (buckwheat noodles). From the train window, visitors will be treated to scenery filled with forests, rivers, rice fields, and magnificent foliage.